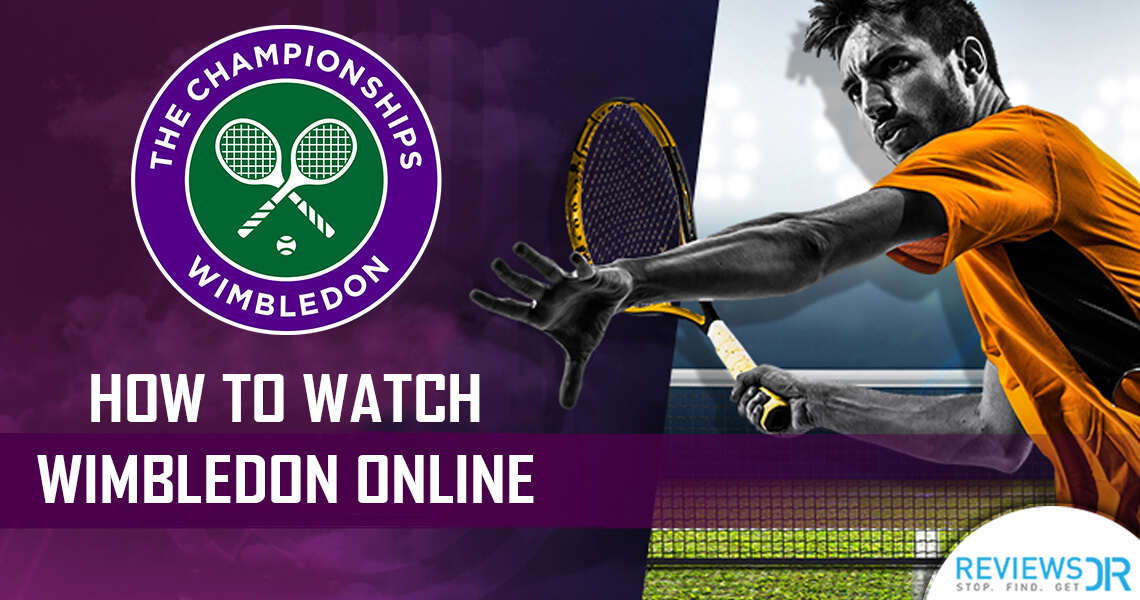 As the tennis season gets into summer, Wimbledon -the year's biggest tournament- is back, means the entire world would go tennis mad for a fortnight between July 2nd to 12th 2018. So, pack your bags and get ready to catch all the action in person at All England Lawn Tennis and Croquet Club in Wimbledon, London, United Kingdom. If you can't make it physically to London, you can still catch the action live online with a  VPN. The 2018 tournament would be the 132nd edition of The Championships, the 51st in the Open Era, the 125th staging of the Ladies' Singles Championship, and the third Grand Slam tournament of the year.
It is going to be the grass-court tournament and organized by All England Lawn Tennis Club and International Tennis Federation. Do you know? Eight-time winner, Roger Federer, and Garbiñe Muguruza will be going to defend their respective singles, to win the total prize money of £34,000,000; men's and women's title will earn £2.25m. July 2nd is just around the corner, making it to the London would be difficult in the short period; so, how about watching this year's Wimbledon championship live online without disturbing your comfort and convenience? Sounds pretty cool, isn't it?
Yes, the most coveted of the four Grand Slams, attracting the best of the world's tennis talent, from Roger Federer and Serena Williams to new French Open champions Simona Halep and Rafael Nadal too. And (hopefully, injury-permitting) Andy Murray, would easily be available across your favorite screens. Scroll down and get your screens connected with Wimbledon 2018 now.
Where To Watch Wimbledon Championships Live Online
As usual, BBC will be screening the live matches of Wimbledon championship on BBC TV, BBC Red Button, BBC iPlayer, Connected TVs, the BBC Sports website, and BBC app for two weeks. So, if you're in the UK during the Wimbledon season, pay £150.50 and get yourself connected with the world of BBC.
Daily live matches will feature across BBC One, BBC Two and BBC Radio 5, while 16 live HD streams on BBC Sports website and app, iPlayer and via the Red Button on Connected TVs. For the first time, you can watch Wimbledon in the BBC's ground-breaking, 4K Ultra HD on BBC iPlayer; it will be the stunning experience to stream tennis actions in the highest quality like never before.
Other than the host broadcaster BBC, approximately 2500 presenters work in the broadcast center, some of the well known are;
ESPN – USA
Supersport – South Africa
Eurosport – Romania, Russia, Turkey, Iceland, etc.
Seven Network, Fox Sports & SEN – Australia
Find the list of all the other broadcasters here.
All these channels are restricted to their respective regions, broadcast the granted coverage; the only handful of channels are allowed to air the entire Wimbledon season, based on the broadcasting agreement. There's no guarantee that designated channel in your region would broadcast in your locality due to some regional restriction; restrictions, restrictions, could we ever live a life without the fear of restrictions? Yes, at least virtually.
How To watch Wimbledon Live Online From Anywhere?
With the help of the best VPN, we all can enjoy our internet freedom without the fear of being intervene. While sitting enjoying an isolated island, you can access the Wimbledon and/or even the US-only content easily. A VPN hide your IP address and let you assign the IP of any region based on your interest and help you stream the world's content in your favorite screen. So, get around with all the virtual restrictions and watch NFL 2018, FIFA 2018, UFC Cowboy vs. Edwards, and all the other international sports' events live online from anywhere in the world.
Using a VPN help you kick off all the virtual discrimination, but frankly speaking, finding the best VPN from the sea of VPNs is not that easy; you can quickly fall prey to the claims VPN providers offer. We, ReviewsDir always shoulder the responsibility to protect your cyber privacy and security from cyber threats especially while you're traveling the WWW with the VPN visa. Scroll down and get yourself protected with one of the top-recommended VPNs mentioned below;
Decided your well-suited VPN, now get it with this procedure;
Click download to get it installed in your preferred device
Sign up or sign in with your credentials
Launch the VPN and select your desired server, in this case, select the UK server
Voila! Welcome to the world of global media with no restrictions at all.
Now Go to BBC iPlayer and sign in.
How To watch Wimbledon Live Online On Kodi?
Kodi community is expanding so dos their demand of world's content, watching everything on a single platform was never that easy; thanks to the Kodi and its addons to fulfill our varied entertainment needs. Now watch the championship from kickoffs to the end on your Kodi via an official Kodi addon, BBC iPlayer. Install the addon from the repository and launch Kodi to proceed. To install;
Launch Kodi
Go to Add-Ons
Now packages installer (box icon)
From there, Install from Repository
Select video addons
Then, scroll down and find the addon you want
Select "iPlayer WWW"
Click Install
Wait! The add-On will notify its existence shortly
BBC iPlayer add-on is now ready to use, access it via video addons on the Kodi home screen
The addon is free for anyone living inside the UK, don't worry, if you're not in the UK, scroll up and hit download button against the VPN provider you trust and get yourself in the UK. Now, access to iPlayer WWW to enjoy the smooth streaming of Wimbledon from anywhere.
Let's comment on the Wimbledon 2018, before wrapping up;
So, Wimbledon 2018 Is All About,
Mark your tennis calendar for the Championships that are held from Monday 2nd July – Sunday 15th July; the women's final will be on 14th July followed by the men's final on 15th July. The men's and women's tournaments begin on 2nd July, whereas the wheelchair, juniors, and invitational matches will commence on Saturday 7th July.
Get your VPN intact as BBC will going to start Wimbledon 2018 live coverage from 11;30 am each day with full highlights each morning and evening.
Who Are The Top Seeds?
The Wimbledon seedings will reveal at the end of June. Roger Federer and Rafael Nadal are expected to be the top, with Federer missing the court season to focus on Wimbledon, while Nadal claimed his 11th title at Roland Garros. Other male seeds will likely include Marin Cilic, Novak Djokovic, Alexander Zverev, and Grigor Dimitrov. Injury-hit Andy Murray dropped to number 47, whereas, Kyle Edmund is expected to be Britain's top-seeded player.
The women's top seeds might include Caroline Wozniacki, Simona Halep, and Garbine Muguruza. It's not clear that whether Serena Williams – a seven times Wimbledon winner – will take part in the draw and seed.
A Big Question, Is Andy Murray Playing At Wimbledon 2018?
Andy Murray is out of action since he had a hip operation in January 2018. The former British and the world's number one withdrew from a Wimbledon warm-up event, but his hopes are keeping alive that he will attempt to compete.
However, the good news is that Murray will be playing at Queen's this year; isn't the ideal warm-up for Wimbledon, what do you say? Share your opinions with us.