Note: Don't sweat! Take a deep breath! There's a way. You've got 30 days before WhatsApp shares your data with Facebook and you're just 1 minute-read away from knowing the solution to this data sharing issue of WhatsApp. So, stay with us and read along.
What's up with WhatsApp & Facebook & all this tension related to your personal data?
The most popular messaging app in the world – WhatsApp, made headlines with its recent deadline when it announced in its official blog post that as a part of improving its ads and product experiences, WhatsApp will share its users' data- including your phone number, with its parent company Facebook within 30 days of their announcement. It is to be noted that WhatsApp has some interesting stats that can amaze us. This has increased tensions all across the World and people are seriously worried about their privacy now. So what's in WhatsApp mind?
Why WhatsApp, Why?
Both the companies have arrived at this decision because this new policy will help businesses find potential customers and help you in getting connected with the world in a better manner. But don't get confused, WhatsApp will not share or sell your data to advertisers.
(But can you believe them? Do you have a choice?)
Can You Do Something About It?

HELL YEAH, YOU CAN!
But still, if you are worried, and I am sure there are a lot of people out there who will not be comfortable with this sharing of their WhatsApp data with Facebook, we have two solutions for you:
1: Opt Out when asked for updating WhatsApp Terms and Privacy Policy: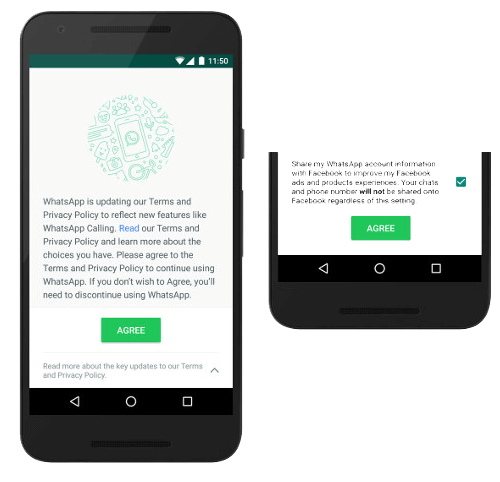 Just when you think you are too cool to read WhatsApp Terms and Conditions, well, this is where shit just gets serious. If you are prompted to update WhatsApp Terms and Privacy Policy, click on the "Read more about the key updates to out Terms and Privacy Policy" option down below. Then simply uncheck the checkbox shown above. Congratulations! WhatsApp will not share your data with Facebook anymore.
2: WhatsApp Account Settings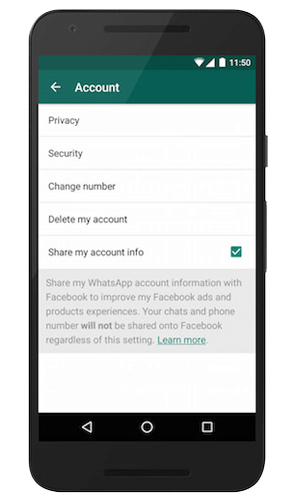 If you've already accepted the new privacy policies of WhatsApp and are now regretting it, don't worry! You can still make things right.
Go into Settings > Account > Share my account info from inside the app
Simple uncheck the box at the bottom to opt-out of this data sharing scheme
Well, now you know how to not let WhatsApp share your data with Facebook. If you are not on Facebook or you don't have a Facebook account, then this news is pretty much redundant for you as this data sharing only affects those individuals who have a Facebook account.
We will keep on updating you on this matter, till then stay secure, stay safe and take good care of your personal data.
Bonus Video: 5 WhatsApp Tips and Tricks you may not know: