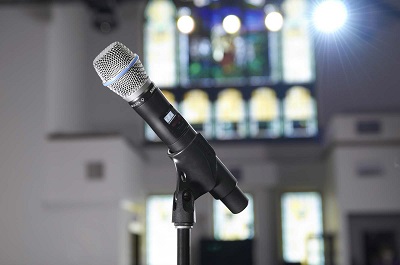 Living in the era of wireless technology, wireless microphones have gone popular. We see a lot of wireless microphone tech everywhere whether it's a TV show, a concert, a presentation or a seminar.
Everybody hates the distractions and the limitations caused by cables and looking at this, we've got portability in almost every kind of gadget. We had only personal computers that needed continuous power to work. Had to bear cables, we shifted to portable computers that were usable for a good time once charged.
Same in the microphone tech, we had wired microphones and then the generation shifted to wireless tech.
According to a report by Best Studio Mics, the trend towards wired tech is continuously dropping.
Wireless microphones have brought attention to everyone as soon as they entered the market:
Advantages of Wireless Microphone
The first wireless microphone was manufactured in 1957 by Raymond and the whole industry loved the tech.
Why?
Just a single word, flexibility.
Setup: Wireless microphones don't need any special knowledge regarding the setup. You simply turn on the microphone and start using it instantly, saving a lot of time.
Placement:

The biggest issue with wired microphones is their cables. They need extra care to avoid clutter and tripping hazards. Last but not least, cables are hard to rearrange, too. With a wireless microphone, you get flexibility over placement.

Presenter Environment:

Wireless tech works great for presentations and lectures so the presenter or tutor can move around the room as they speak.
Wireless microphones save a lot of drill work. With wired tech, the floor is drilled to make sure the wires reach all spots where mics are located. Drilling multiplies the expense, noise and dust.
In classrooms or interactive sessions like seminars where Q/A sessions are held, portability of mics is needed. Audience engagement is needed and for that, they need access to the sound system so that you may hear in the crowd what they say. Wireless microphones ensure audience engagement.
Their flexibility to mute separate mics can't be resisted. Users can mute individual mics instead of muting the whole system. This ensures no distractions, side conversations, and unwanted noise. Wonderful? Huh!
Disadvantages of Wireless Microphones
Although wireless microphones have got a lot of advantages, there are some drawbacks as well.
Sometimes, the wonderful experiences wireless microphones provide are ruined when the requirements change:
#1. Power:
What if you've got no time to charge your microphone and you reach the event where you've to manage the recording system. You'll lose your customer as your wireless mics have betrayed you.
Power is the separative layer in between wireless and wired mics. Wired mics consistently need power, wireless don't. They've got built-in batteries that require hours of charging to make your recording system work.
Most of the users complain about battery efficiency as their standby time and potential to charge faster goes down.
The solution can be purchasing a bulk of batteries to lessen the issues regarding power. But, wireless mics have got power as a big concern.
#2. User interaction
Pulling the microphones from charging, putting them on the table, switching units on, or remembering to unmute the mics, all come under the umbrella of user interaction.
Everybody in the meeting room has got its own mic and he has got full control over it. What if you start your meeting without turning your mic on and the audience can't stop you telling that your voice is not hearable.
So, user interaction has to be considered while choosing a wireless microphone.
#3. Radio Station:
Wireless microphones are like radio stations and everybody has got similar access to the sound system.
This destroys the authority culture; the boss and the employee has got the same access. With everybody having microphones which act like radio stations, it becomes difficult to
stop the unwanted noise coming from someone who's outside.
To handle the sound system, you have got no option, no authority over there.
Wrap Up
The technology is growing and the wireless tech has got a name in the market. Wireless microphones are recommended for most of the situations and don't require any special knowledge to operate. On the other hand, a few complexities are there; we discussed a few.
So, which one do you prefer? Wired or wireless?