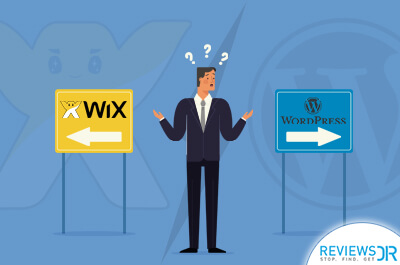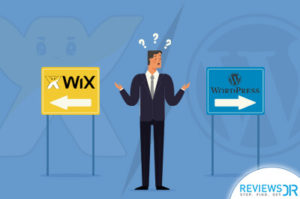 Looking to create your own website? An efficient content management system CMS is the first thing that comes to mind. Multiple CMS are present online but only two are most frequently talked about; so, why not compare the both? Let's begin the race of Wix vs WordPress, where WordPress is the leading CMS with more than 75 million websites worldwide.
With the introduction of Wix, the world of CMS has started getting much attention and users are believing it, a better version of the content management system that the market leader – WordPress. But before making any assumptions, it's highly suggested to look at both the platforms pros and cons to ensure objectivity while comparing Wix vs WordPress. The key is to analyze both the CMS's and ensure which performs well, give more features and provides the most comfortable maneuvering across.
Wireframe, Design and Layout
If you are launching a website, then the first thing that is noticed by your concerned readers is the design of the page. This acts as an important role in the success of your content. Every publisher or website owner needs a page wireframe that is eye-catching and user-friendly at the same time to stand out from its competitors.
Let's talk about how Wix and WordPress cater to the design needs.
Wix
Wix among the many is a smooth Content management system which has more than 500 pre-installed templates to pick. All the Wix designs are packed with a great deal and fully responsive, written in HTML coding. Users can enhance their website by using the built-in tools to customize their website according to their requirements, items placement, layout and pay per click. No matter what your website category is, Wix caters to all needs in terms of providing numerous designs which have divided categories into arts & crafts, eCommerce, business, gaming, hobbies, blogs, personal, etc.
However, where there is a bonus, there is a flaw as well to Wix! The biggest drawback is once you have chosen a template, you cannot further change it or switch from it to another one. You can alter it or modify it in any way you desire using the pre-existing tools, but the template is irreversible.
WordPress
When it comes to Wix vs WordPress, WordPress has placed a thousand free and paid themes for users to click, select and create. The themes come along with limited support schemes, but they enforce and go through a strict reviewing process, to begin with. Everything free has a limit, the paid themes come along and offer plenty of features and a premium support plan to avoid any hindrance.
WordPress is the most used and enjoyed CMS of all time whose themes range from small-scale websites to fully functional large scale ecommerce websites. Majority of the themes present come with a customization option for you where users are free to create their own masterpiece using the existing child themes and plugins. WordPress has a whole search engine filled with themes which can be downloaded from WordPess.org. For paid themes, WordPress has its designated shops such as StudioPress and Themify. Having a WordPress, CMS also means you don't have to be a developer to input all of these themes; just pick and adjust them.
Wix vs WordPress – Who Is The Winner?
Wix has a limited approach towards being a good CMS, it has good themes, but the user will be bound for life with that particular theme. While WordPress on the other hand has a broader perspective in regards to themes and layout. Hands down WordPress has it all, and without any limitations and restrictions the design and layout is far better than Wix.
Wix or WordPress – Who Wins Better Search Engine Optimization (SEO)
Wix
Without a proper lookout for search engine optimization, a CMS would fail terribly no matter how good its wireframe or features are. This is an area where Wix stands out compared to other CMS websites. Bloggers or publishers can change and tweak attributes, page titles and a variety of headings can be picked. But be a look for the domain as in a free plan the custom domain is not easily ranked on the search engine. This is a common dilemma with users who have problems when they post pictures which do not reach the targeted audience.
These images will at times generate cryptic tags as (d4cccb26731e9~mv2.png) which messes with the SEO ranking system.
WordPress
WordPress, on the other hand, has lesser options to choose but for a better SEO response, it's recommended to intake Yoast plugin for full SEO capabilities. Yoast, in short, is a free, power pack tool which helps users with their Google Analytical integration making your website easily rank on google as well.
Wix vs WordPress- Who's Winning?
It can easily be deduced, WordPress has far better SEO capabilities as every detail can be customized with the help of a plugin.
Easy to Maneuver – Wix vs WordPress
Users require fast and easy tackling of the website. When it comes to beginners; they don't want to spend time learning and get around the CMS. Both Wix vs WordPress have inbuilt in codes which decreases the effort to code.
Wix
This powerful CMS packs a solid tray of tools to help construct a good website. It offers a proper option to drag and drop tools where with a simple click, add and drop users can start editing the entire interface. Through that, website creators can, write content in any way possible, add images and videos as well without coding. For beginners, this feature is a blessing as it does not require any thought process and technical coding.
WordPress
The famous WordPress has a better understanding of the way content is managed. It includes a visual editor to help write and edit content using the present themes in a WYSIWYG environment. By default, WordPress falls back with the drag and drop option previously mentioned in Wix. Then again, WordPress itself is a big domain and getting around the entire overview of visual post edits, and navigation menus is a great deal which requires some of the many tutorials for beginners.
Wix vs WordPress – And The Winner Is…
This is where WordPress has let its guard down, and Wix by a considerable margin is a winner. Within Wix, bloggers and publishers do not require to install any plugins to create any website. While in WordPress the plugins need to be installed first before moving ahead. However, if you consider powerful page builders like Divi, a standalone Wix CMS would be now match of WordPress.
Plugins and Apps Accessibility
Plugin and apps are not built in applications, instead, these are third-party extensions which can be added. There is a game of words as WordPress calls these third-party Plugins, while in Wix they are called 'Apps.'
Wix
Wix has a robust bouquet of more than 200 Apps that offer unlimited features for all categories and uses including gallery, email, comments, and contact forms. Most of the apps are free of cost for the user and have a lite version present for it. For other apps; they require a monthly payment plan which varies in prices.
WordPress
As a normal regime, WordPress has more than 55,000+ free plugins available and accessed in the WordPress.org plugin directory, while unofficial plugins are in different numbers. In addition to all the premium plugins available on other marketplaces.
If a user wants to create a new contact form or sell online courses; there is a plugin present for all the needs and requirements. When it comes to WordPress, the user has full control over anything that needs to be done for their websites immunity.
Wix vs WordPress – Who Wins The Deal?
WordPress is better off than Wix, although Wix's library is emerging, but it still has lesser options than the prestigious CMS – WordPress.
Wix vs WordPress – E-commerce Domains
E-commerce is the next big thing, and publishers look for essential features in Wix vs WordPress where beginners see for the most convenient CMS to build e-commerce.
Wix
Unlike other CMS, Wix has a paid plan for its ecommerce domains; means the free plan is not worth for ecommerce because it lacks much of the important features. To switch to the paid plan, WixStore is present for the users where only PayPal and Authorize.net are the only mode of payment. Few of the third-party apps are available online, but those will incur more cost than the actual price of the CMs itself.
WordPress
Coming down to WordPress; things are handled much easier as its super innovative and creative manner, creating your Online store using the WooCommerce tool which powers most of the ecommerce sites in the world. Plugins are available in bulk for ecommerce and these plugins comes with the attached themes to work along with the plugins smoothly.
Wix vs WordPress – The Winner Is?
If your basic and main purpose is to build an attractive ecommerce website, then WordPress is the right CMS for you. Wix doesn't offer the flexibility and diversity which WordPress provides.
Pricing Plans and Cost
Talking about the last most important asset for Wix vs. WordPress; the cost of building a website is the first decision made to ensure and create an objective of what type of site is required. The entire cost of building the website depends on how much the user wants to spend. Like its said; 'the more, the merrier.' But ReviewsDir does not believe in incurring more cost. We think there should be a balance in value and functionalities to give users the best experiences ever.
Wix
Wix caters a more basic website build free of cost. But Wix includes multiple advertisements on the top, sidebars and bottom of the page making it a big hassle for the website owner. Furthermore, Wix does not give the luxury to pick a custom domain name; instead, it offers a simple domain for example username.wix.com/sitename. That's not it, the basic features which a CMS should offer are not present (ecommerce and Google Analytics).
Ads are a major bummer where the premium plan needs to be upgraded. The premium plans provide different storage capacities depending upon which plan you take.
WordPress
WordPress is the most popular CMS because it's free. To run a WordPress website, you need to buy your own domain name and web hosting to install it. WordPress provides a basic plan keeping in mind the users budget that initially starts with $2.75 per month with a custom domain name. Keep in mind the pricing plan may exceed if you go for a premium theme or plugins. However, the free themes are in such abundance that the user will never want to buy a custom paid theme.
Wix vs WordPress Who is Winning Our Pockets?
WordPress smacks Wix in this domain as well because of the flexibility in pricing plans. The cost is incurred with the number of resources you pool in to use.
Among the two, WordPress is a far better option because of its pricing plans and the amount of features it provides with zero cost attached. Creating a website has never been easier this easy in the past. Thanks to WordPress hundreds of websites are emerging daily with a petty or zero investment.
Final Verdict
Comparing the core features we reached to the conclusion that WordPress is far better then Wix.