Want to change audio or video formats, or looking to create HD videos from an existing SD video? Give WonderFox HD Video Converter Factory Pro multi-purpose software, a try.  Let's start with an idea, why do you need the converter software? We all know that different devices support different formats; you never know the compatibility of your existing device, until and unless you come across a message stating – Content unsupported.
It's usually happened when you download content from the web, and your TV or mobile does not support the format you downloaded from the internet. Therefore, you need to convert that; if you would know, you won't download that or download the supported content.
Why WonderFox Converter?
Though the internet is loaded with so many free software solutions, don't forget that free solutions always end up paying you more than the priced editions; your file may be corrupted or converted in an unwanted format. So, that's why we always recommend you to try out a priced version like WonderFox HD Video Converter Factory Pro because of it's incredible features – reliable support, high conversion speed, lifetime software updates, the ability to create good quality HD videos from SD videos, and what not.
Let's look at Wonderfox HD Video Converter Factory Pro closely.
WonderFox Soft Inc. founded back in 2009 with multimedia software programs including audio/video converting and some editing tools. The company has more than three million customers globally. Wonderfox HD Video Converter Factory Pro is not just a conversion software but also supports video editing features and also helps in compressing videos. Read our WonderFox HD Video Converter Factory Pro reviews to learn more about its main features.
What Is WonderFox HD Video Converter Factory Pro?
It is a video converter equipped with advanced video conversion technology to convert videos between SD and HD including  HD AVI, HD MKV, HD MP4, etc., even to 4K/UHD.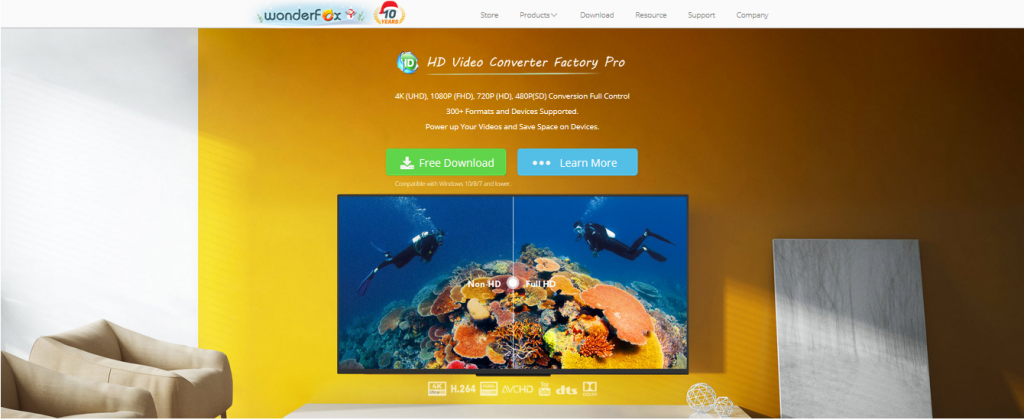 It supports 300+ videos, audio, and device formats, and also the newest encoder technology H265(HEVC), VP9; convert any format to any format including AVCHD, HDTV BDAV, multi-track HD video M2TS, MKV to any other video or audio format.
A video converter is simply no-no if it doesn't convert a file into the file type you need. Luckily, HD Video Converter Factory Pro has over 300 file types, including the following audio and video formats;
HD AVI
HD MP4
HD MO
HD TS
4K MKV
4K MP
HD MPG
HD WMV
HD MKV
HEVC
MP3
WAV
FLAC
ALAC
DTS
AVI
MPG
MPEG
MP4
H.265
VP9
M4A
AC3
AAC
WMA
OGG
H.264
VOB
MOV
FLV
APE
MKA
AU
AIFF
FLAC
M4M
M4R
MP2
MPA
MKV, and so on.
Keep in mind that you won't need all of those, but this software offer exactly what you need; means that you can play all of your content in any setting with this magical software.
Apart from the converting and downloading content, WonderFox HD Video Converter Factory Pro also performs essential video editing functions, including;
Clip: Cut part of a movie to collect the classic sections.
Crop: delete unnecessary information and remove bars.
Merge: merge videos into a file to make a unique film for your loved ones.
Effects: Apply video effects like lighten, mosaic, blur, darken, brightness, old film, cartoon style, and so on.
WonderFox – HD Video Converter Factory Pro Features
As already said it is not a converter alone, rather has too many features; have a look!
Supports up to 300 devices.
5X compression Rate; you can reduce video file size up to 80%.
Built-in Audio converter that supports DOLBY, DTS, and Lossless.
Batch Support; up to 10 tasks.
Download & Upload Videos.
30X  to 50X conversion speed.
Fix Audio and Video synchronous problems.
Ringtone maker.
Volume Booster; increase or decrease the volume of an original video file.
Auto upload files and shutdown after upload.
Helps in removing or adding subtitles during conversion.
These are the prominent features of WonderFox HD video converter, apart from basic video and audio conversion; there are still some other features to be highlighted in detail, scroll down.
Easy-to-Use Interface
The interface is clean and user-friendly, with a little difficulty in learning the video converter effectively. The home UI affords all the required options to help you get your tasks done easily and quickly.
One of our favorite things of HD Video Converter is it's extraordinarily simple, self-explanatory user interface; if you know how to use a mouse, you can run this software, enjoying all the power of complex software suites. Still finding difficulty using it, particularly with advanced features? There are tutorials right in the software, fetch it sny or contact the tech support, which is just an email away.
On the top left, you will find the options "Add files" and "Download Video" to perform the different conversion and download task respectively. The right space is all about settings, and everything is placed at your fingertips.
Faster Performance
A standout benefit of this HD converter is its reliable and fast performance. It converts videos quickly without slowing down your PC. Our tests suggest that this solution is more rapid and lighter than most of its counterparts.
The process of this software isn't exactly wizard-driven, but still incredibly intuitive; quickly add one or multiple files to convert into different formats, don't forget to trim, crop, add special effects and subtitles to the respective file before conversion. Best of all, it's entirely self-explanatory.
Great Conversion Speed
This is the fastest video converters we've ever seen that convert to most formats in mere minutes; while taking a bit longer to convert to high definition formats like UHD, beating most of the competition out by a wide margin.
Wonderfox claims that their conversion speed is 30 to 50 times than usual. Its conversion speed is up to the claim. But FHD or UHD conversion would take some time; select remaining options to surprise with its speed.
Using AutoFit option, you can convert 323MB video file from Mp4 to MKV within seconds; some other free software takes 14 minutes to convert.
How to Use WonderFox HD Video Converter Factory Pro:
Using this tool is simple. Like other tools, you can choose everything from home interface, to convert an Audio or video, follow these steps:
Open WonderFox HD video converter factory pro.
Click on Add Files > Add Videos / Audios.
Now, Choose the formats and related preferences.
And finally, Click Run.
*Be noted that before clicking the "Run" button, you can additionally edit the file from the list of possibilities.
To clip – scissors icon
To crop – the corresponding icon to manually specify the boundaries of the video.
To rotate the vertical video – turn button.
You can also mirror the video vertically and horizontally. Once the changes made, press Ok.
The conversion is super fast, especially when integrating GPU acceleration in WonderFox HD Video Converter Factory Pro's settings; your hardware also plays a role in the conversion time.
To download a video, do following things.
Click the Download Video.
Paste the video link and click Analyze.
After analyzing, select your preferred size and format and click Download.
Price of WonderFox – HD Video Converter factory Pro
Unlike similar products, WonderFox HD Video Converter Pro has several price models; pay for the lifetime or yearly. The price of this software is $29.95/PC per year. Lifetime license costs $69.95/PC. But, You will get a discount and just have to pay $34.95/PC. It also has a family pricing plan, pay only $59.95/3 PCs for the lifetime, rather than 479.95.

The price is not quite high; you should go with lifetime license that seems cheaper. With life time subscription, you will get lifetime free updates with a 30 days money back guarantee.
Conclusion
WonderFox HD video converter factory pro is an all-rounder software, builds to edit, convert and download video and other files in an adapted format on PC and mobiles. No matter what the size of your content is, the software converts it to the size you want. Besides, the software supports more than 300 different formats.
Formatting does not damage the quality but improves to suit your desires. As to the editing, although the converting and downloading works significantly, this software is good for quick editing. You can also add subtitles, increase or decrease the sound volume, clip, crop, merge, and add special effects to your video.