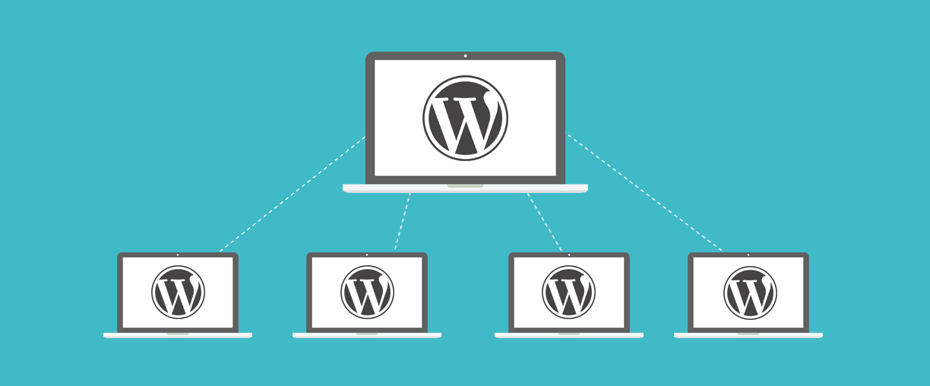 If you have a brand that has different shades and you are looking to represent all the identities on the same platform, then WordPress multisite can be your accomplice to achieve this goal. WordPress multisite is a way to have many sites under one roof. The control panel is one for all. You get done more things all across the platform by just managing one WordPress. It doesn't mean the individual presence of the site is compromised. You can run it separately and add content that's only relevant to it. But at the same time, you can also make it a part of something bigger.
The idea of WordPress multisite has been defined quite easily here because it is as simple in the execution as well. You don't have to be an engineer to create and continue a WordPress multisite network. It is similar to the usual WordPress with a few necessary changes here and there. If you are still not sure about WordPress multisite, then I have a useful piece for you here which will reveal all about the advantages and disadvantages of having a WordPress Multisite network. So buckle up, it's a long but speedy ride to all queries related to WordPress multisite plugins and its use.
What is WordPress Multisite and what does it do?
WordPress multisite basically allows you to manage multiple WordPress sites from a single WordPress center or installation. You can use same username and password to create and manage new WordPress sites. Even other users can create their blogs on your website.
WordPress multisite was launched in 2010. It replaced the WordPress MU (multi-user). WordPress multisite is similar to normal WordPress installation, except for a few network-related menu options.
WordPress Multisite gives you an opportunity to express different sides of your brand or personality. It allows you to give a separate space to different aspects of your company or service and discover it at length. WordPress multisite, if managed properly, can be a game changer for your professional online existence.
Advantages Of Multisite WordPress
WordPress multisite is about having one headquarters to manage multiple virtual offices. Of course, this setup is bound to have some advantages. I will mention a few here;
One Login For All: With WordPress Multisite, you can log in once and access all your blogs. This quick access saves you from logging in, again and again, to work on different sites. Time is a luxury and you get to save a lot with WordPress multisite.
Flexibility To Share Plugins: Just like one login, you have the opportunity to have plugins in all your blogs. WordPress multisite doesn't bound you to install plugins on all websites. You can choose from the panel and disseminate plugins to selected sites only. The flexibility to install plugins in all or selected sites is liberating and quite an intelligent move by WordPress.
The Visual Play: WordPress Multisite is a great way to display your brand is different themes and colors. You can use the same theme all across the board, or you can use the variants of the main theme in different sites, or you can go nuts with every site. The idea is to give you the freedom to play with visuals as you like it in different sites of your WordPress multisite network.
Creating Users And Roles: You can create users and assign them roles once, and it will be replicated in all the sites. WordPress multisite lets you get rid of the torture of creating users and assigning them roles for each website. You can even assign different roles to a single user for different websites. You can allow certain users to access all sites in the WordPress multisite network or limit it to just one or two.
Advanced Settings: WordPress multisite is similar to normal WordPress in many ways, but it definitely has unique settings as well. Advanced settings in WordPress multisite lets you fix and adjust different aspects of your blogs. This is a place where you can see the status of each site. It gives you the big picture. Advanced settings also make it easier to plan differently for each site.
WordPress Upgrades: Remember the time when you have to upgrade the WordPress and then check your whole website to see if everything is working fine. Well, with the multisite network, you don't need to repeat this upgrade task with each site. All your blogs will be upgraded simultaneously.
Drawbacks Of WordPress Multisite Network
You are getting so many sites with one WordPress installation. It has so many time effective and cost efficient benefits. Of course, WordPress Multisite cannot be an angel. It has some devilish characteristics too. You cannot entirely make yourself immune from the devil. However, knowing about the danger can surely help in precautionary measures. Let me tell you the drawbacks of WordPress multisite network;
Since all blogs in the network are feeding off same resources, if your main site is down, it usually means that all the sites will be down too.
In a similar manner, if a hacker finds a way in one of your sites, your whole network of websites will face the burn.
Most of the WordPress plugins are compatible with WordPress multisite, but there are some that won't work with WordPress multisite network.
WordPress multisite network requires a certain degree of familiarity with WordPress. A newbie will find it hard to manage at times. Although you can overcome this deficiency by following a good WordPress blog for beginners.
11 WordPress Multisite Plugins to Use
I have a giant list of 11 WordPress multisite plugins. The reason to include so many plugins is simple yet complex. The WordPress multisite plugins are so diverse in their functionalities that it would be unfair to mention only a few generic ones. I have selected following plugins after considering the types, requirements, and market of different users. If you are looking for WordPress multisite solutions, then the following list will give you potential names for sure;
1. Multisite Plugin Manager – for all the plugins

Multisite plugin manager is pretty self-explanatory. It manages the plugins for your WordPress multisite network. It decides which plugins are active all across the network. It can execute the selected implementation of certain plugins. It can deactivate plugins from all or selected sites in your network. Anything that's related to plugins in your multisite WordPress can be handled with Multisite Plugin Manager. It is a very popular plugin with 4.3 ratings out of 5. It has been used by 50,307 users. If you take help from many plugins, then it is a must tool for your bunch of sites.
2. OptinMonster – easy email popup form solution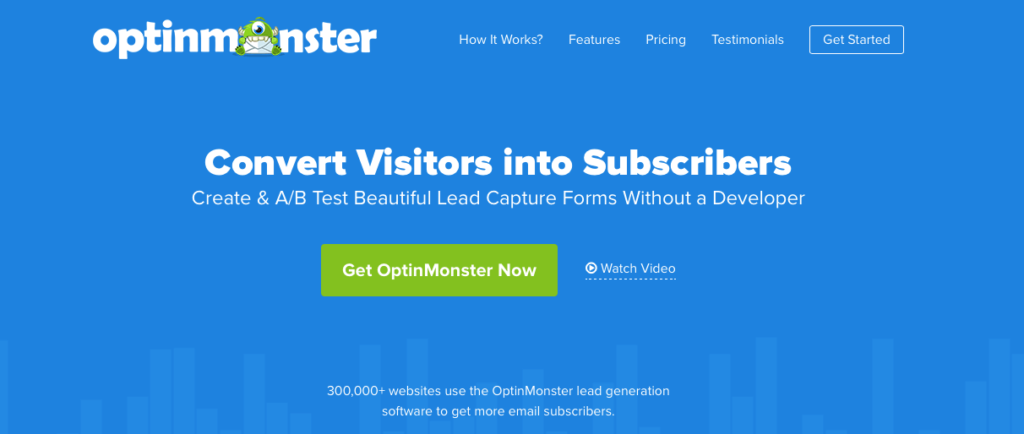 Collecting email addresses from your visitors for your potential email list is crucial. It is an excellent way to connect with your customers. You can communicate your brand message with them by sending carefully crafted emails. OptinMonster is a multisite plugin that lets you create interactive forms quickly. You can also use readymade forms from its resources. Additionally, OptinMonster offers you many popup placements. OptinMonster knows how to gather information from your visitor without being too irritating. This plugin happens to be WordPress multisite friendly so you can easily you it in your network.
3. Multisite Enhancements – a complete multisite WordPress package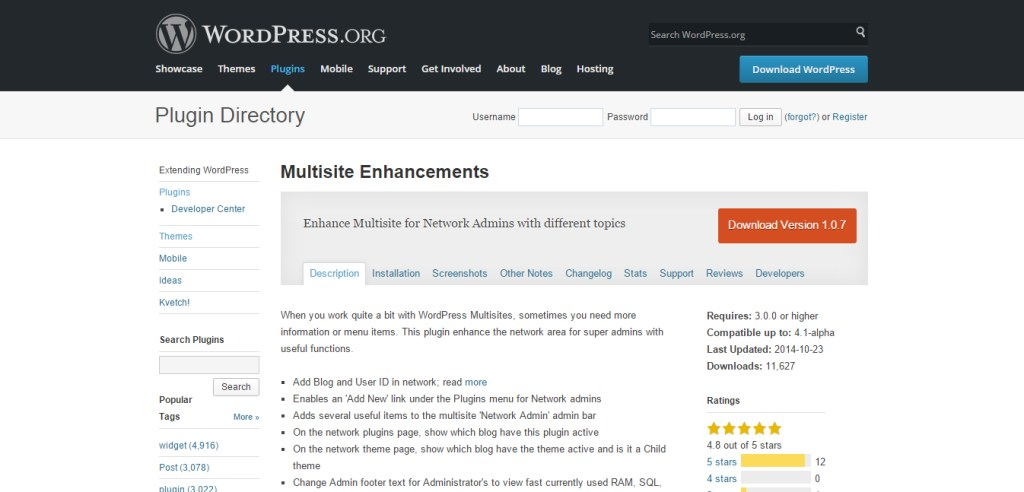 Multisite enhancements is not a very old plugin. It is actually pretty recent in the market but has taken the world of WordPress multisite plugins by storm. It has everything that you might need to manage your network of websites. WordPress Multisite Enhancements is a free plugin. You can literally operate hundreds of website with this plugin. What I love about multisite enhancements is the ease of use. Every single option has been labeled, so you won't have a problem handling anything. You should at least check it out.
4. MultilingualPress – use multiple languages on different sites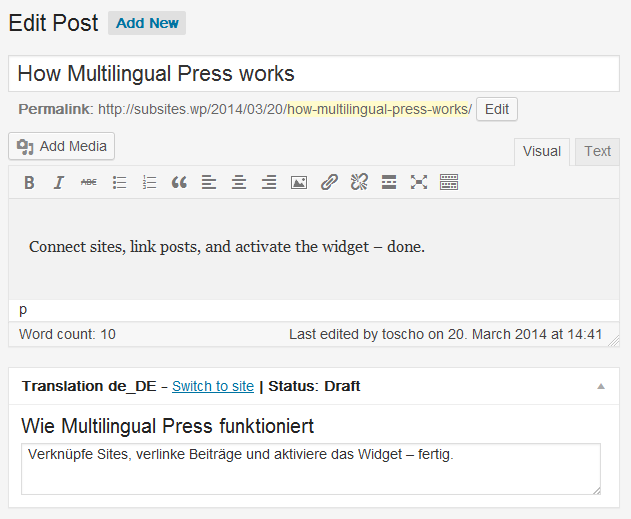 MultilingualPress is an important plugin for users who intend to use different languages on different sites in their WordPress multisite network. In fact, using multiple languages is a great way to use the multisite WordPress as well. Also, you can link different pages of various sites with each other. For instance, if you have published a post in English on one website and in German on another website then you can link these two pages. MultilingualPress has more than 174 languages. All these languages can be edited. MultilingualPress has made sure to keep the SEO friendliness alive throughout the plugin.
5. Multisite Toolbar Additions – bringing more options

Multisite Toolbar Additions is a great plugin for WordPress multisite users. It helps you save time by adding extra items to a toolbar. I have talked about the WordPress multisite environment being similar to the usual WordPress. It is mostly a good thing because you don't feel the pressure of managing multiple sites. However, once in a while, you need a few extra features quickly accessible to you. That's when Multisite Toolbar Additions come into play as it brings all the necessary features in the toolbar. Also, Multisite Toolbar Additions supports two different languages i.e. English and German.
6. User Role Editor – manage all the users for all the sites

User role editor is an extremely important plugin, especially in the multisite setup. You have scores of websites. Some users have access to all the sites while other users should only access a few selected ones. Also, different users must possess different roles. You cannot allow everyone to do everything on your multisite network. So being the master administrator, you must decide the users' access and role assignment. User Role Editor can be your partner to perform this crucial task perfectly. Of course, you cannot afford to make any mistake in this regard that's why selecting the right plugin is more than ever important.
7. Multisite Cloner – clones the basics for a new site

Mostly WordPress multisite has one big theme that's consistent throughout the multisite network. Multisite Cloner's job is to copy paste the similar parts of the theme to the new website so that you can get to begin to customize it. It saves you a lot of time because doing everything from scratch is time-consuming and stressful. Multisite Cloner is very easy to use as well. You won't need any guidance or instruction to use this plugin. Multisite Cloner has defined itself as "when creating a new blog on WordPress multisite, copies all the posts, settings and files, from a selected blog into the new one."
8. Organizational Message Notifier – send messages to admin users

Let's suppose your multisite network has hundreds of sites and you have an admin user for each site. There is a network admin who is responsible for the big picture, and he needs to send out a crucial message to all the admin users. How will he do that? Well, that's where Organization Message Notifier comes handy. It helps the network admin to send messages to site admin user. Not only that, but the network admin can also track whether the message has been read by admin users or not. Organizational Message Notifier is an amazing tool for WordPress multisite.
9. Multisite Content Copier – copy pasting at its best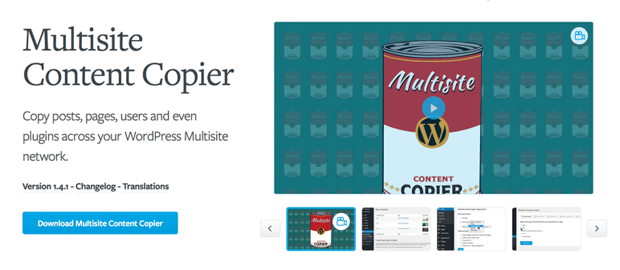 One of the main reasons to create a network of websites under one roof is to utilize the same content in a different manner. Of course, each of your websites will have its fair share of unique content, but there will be few things that will stay uniform all across the WordPress multisite network. Multisite Content Copier is a great tool to share same content on all the sites. This plugin lets your create a new post quickly and post it on all or selected sites. You can copy an already published post on any site and share it on other sites with Multisite Content Copier. You will surely need this one as it performs an essential task.
10. User Switching – sign in and out swiftly

User Switching lets you switch users swiftly. Usually, the process is too mundane when you have to sign in from one account and then sign out to log in with different details. It is time-consuming and outright frustrating. User Switching plugin lets you get in and out of a site with different identities very quickly. It basically makes use of user screen, where you can simply select which account you want. Of course, this kind of activity questions the security measures but User Switching plugin is safe and secure. In addition, this plugin is compatible with WordPress multisite.
11. WP Security Audit Log – much needed security plugin

WP Security Audit Log is a must plugin for multisite WordPress. Just think about it for a second. You have many websites which are accessed by many users. You never know which user is being careless and exposing the whole WordPress multisite network. You need a tool that can audit every activity and alerts you when something out of the ordinary happens. WP Security Audit Log exactly performs that function. You can see when user signs in, when a user deletes a comment, when a user adds a page and so on. You can customize the plugin by selecting your own security alerts.
[Note: I am not claiming any of the mentioned WordPress multisite plugins as the best one. They all are useful in their own way. Also, the numbering doesn't represent their current standing in the industry.]
WordPress Multisite Presents An Opportunity To Create A Grand Brand Image
WordPress Multisite is an absolutely delightful way to convince your target audience about the many colors of your existence. I have told you the means to build a strong WordPress multisite network. All above mentioned WordPress multisite plugins are tested and capable. You can select any based on your unique business requirements.
Although there are concerns about the negative impact of WordPress multisite plugins, but the advantages are way too many to ignore. At the end of the day, WordPress multisite network will be extra beneficial for your online presence. Your brand will not only exist like many others, but it will get a chance to thrive and get to a level above average.
There is a slight caution about getting carried away in the technicalities of your WordPress multisite network. Managing a network of sites is not your ultimate goal here. Your goal is to present yourself in a grand manner so that you can attain higher profit gains. For this purpose, I will personally advise you to always go for Managed WordPress Hosting Providers as they take away major technical burden off your shoulders and give you more than enough time to focus on other business functions. Finally, Managed WordPress Hosting Providers and WordPress multisite network can be a killer combination if you know how to use your ammunitions correctly.