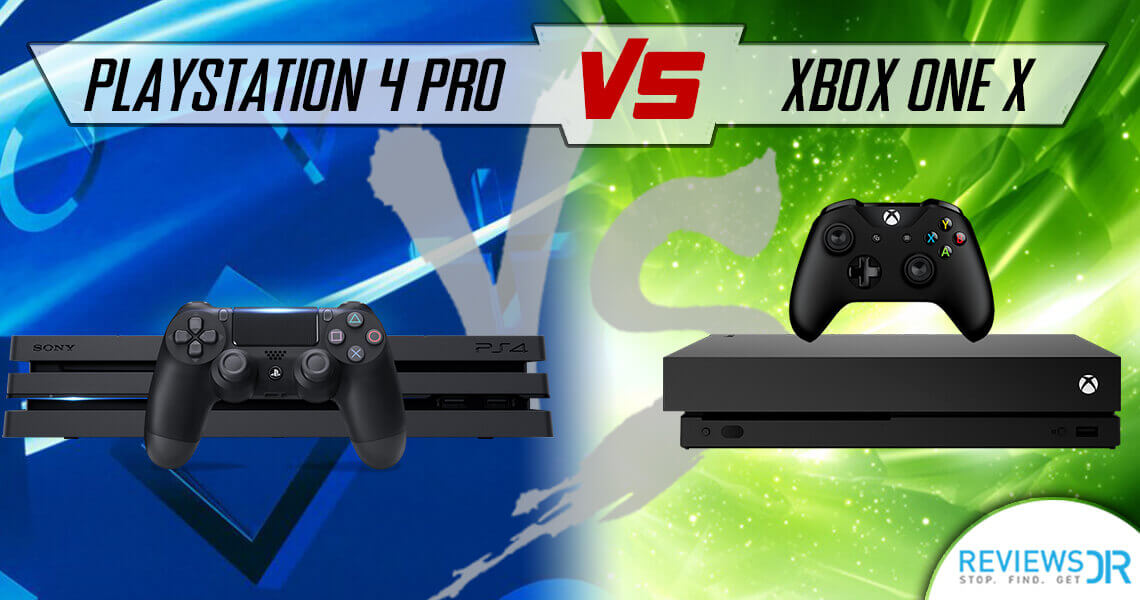 So, your craze of gaming is at peak and want to enjoy greater gaming experience? Welcome to the club! You're not alone here as the community of gamers has no strings, and you'll certainly appreciate the company here. Understanding the needs of all type of gamers, we have decided to be the devil's advocate and execute Xbox One X vs PS4 Pro comparison today to commend better option.
The two hot and new sensations in the gaming planet are PlayStation 4 Pro and Xbox One X. They have many aspects in common. For instance, they both are riding on the Unique Selling Point (USP) of 4K gaming. The decision to buy one and ignore other is very delicate. These are pricier and expensive machines, and maybe that's a reason you are here. We understand spending $500 and also buying a $2999 4K TV is a step that makes even the wealthiest reconsider and rethink their actions.
That's why we have unfolded them in the easiest way possible and given you a definite answer. Our team has selected some factors, and we have assessed these gaming consoles individually. Ultimately, the gaming console that has more factors in its favor wins. It's a simple game with one winner only.
9 Factors to Judge PlayStation Pro 4 and Xbox One X
We have carefully chosen the following nine factors to conclude these two gaming consoles;
| | | |
| --- | --- | --- |
| Specifications | Xbox One X | PlayStation 4 Pro |
| Dimensions (in inches) | 11.8 x 9.4 x 2.4 inches | 12.8 x 11.6 x 2.1 inches |
| Weight (in pounds) | 8.4 pounds | 7.2 pounds |
| Color | Black | Black |
| CPU | 2.3GHz x86 AMD Jaguar 8-core | 2.1GHz x86 AMD Jaguar 8-core |
| Memory | 12GB GDDR5 RAM | 8GB GDDR5 RAM |
| Memory bandwidth | 326GB per sec | 218GB per sec |
| Storage | 1TB | 1TB |
| Optical drive | 4K UHD Blu-ray | Blu-ray |
| 4K | ✓ | ✓ |
| HDR | ✓ | ✓ |
| Ports | HDMI 2.0a in/out, 3x USB 3.0, S/PDIF, IR out | HDMI, 3x USB 3.1 |
| Online subscription | Xbox Live ($59.99 per year and $9.99 per month) | PS Plus ($59.99 per year and $9.99 per month) |
| Connectivity | ✓ | ✓ |
| GPU | 6 TFLOPS | 4.2 teraflops TFLOPS |
1. Xbox One X vs PS4 Pro – Hardware Comparison
Hardware comparison can only be done after knowing the major specifications of both the consoles. So let's take a look first;
| | | |
| --- | --- | --- |
| Hardware | Xbox One X | PlayStation 4 Pro |
| Processor | 2.3 GHz | 2.13 GHz |
| Graphics | 6 TFLOPS | 4.12 TFLOPS |
| Memory | 12 GB | 8 GB |
| Bandwidth | 326 GB/s | 218 GB/s |
In a glance, you will know that Xbox One X offers superior features than PlayStation 4 Pro. However, you must understand that Xbox One X is not far ahead of PlayStation 4 Pro, strictly speaking in terms of hardware.
TFLOPS (Trillion Floating Point Operations Per Second) is a measuring unit that tells the number of things a device can do at a time and also about the graphical power of the console. Xbox One X leads with 6 TFLOPS while PS4 Pro only offers 4.12 TFLOPS.
In the same manner, Xbox One X has better memory and bandwidth than the PS4 Pro. The difference in performance between the two will be minute but still noticeable.
Verdict: Xbox One X wins, but it is not leaps and bounds ahead of PS4 Pro.
2. Xbox One X vs PS4 Pro – Price Comparison
The official price of Xbox One X: $499.99 (check here)
The official price of PS4 Pro: $399.99 (check here)
There is a clear difference of $100 bucks between the two. The heightened price for Xbox X One is understandable since it offers more advanced features than PS4 Pro. However, 100 dollars is still substantial money, and it will be a point of confusion for many enthusiastic gamers.
It all boils down to whether you are willing to take the leap or not. We have mentioned it before that the difference in performance of these two is hardly noticeable, but a hardcore gamer will be able to figure it out immediately.
Verdict: Xbox One X is expensive but better than PS4 Pro.
3. PS4 Pro vs Xbox One X – Resolution / Graphics Comparison
These gaming consoles promise 4K display but are they fulfilling it or not? Xbox One X comes with the power to play video games in 4K resolution at 60 frames per second. Microsoft's native and third-party games work equally well with 4K resolution in Xbox One X.
As for PS4 Pro, the reputation is a bit disappointing. Native games work wonders whereas third-party games are often compromised visually as they don't deliver the crisp 4K resolution.
Verdict: Xbox One X clearly wins visually / graphically whereas PS4 Pro really disappoints.
4. PS4 Pro vs Xbox One X – Virtual Reality (VR) Comparison
The VR battle belongs to PS4 Pro easily since Xbox One X has nothing to offer in this department. The PlayStation VR was the second USP of PS4 Pro. Although all PS4 versions are compatible with PS VR, PS4 Pro provides the ideal setup. However, there aren't many VR games, so the options are limited for gamers.
Xbox One X has no VR support as of now, but we hear rumors that Microsoft will pair with Oculus' Rift in future as it is already compatible with Windows 10. However, until substantialized, it remains a rumor only.
Verdict: PS4 Pro owns the VR world because Xbox One X is non-existent here.
5. Xbox One X vs PS4 Pro – Home Theatre Support Comparison
Xbox One X has an in-built 4K UHD Blu-Ray optical drive whereas PS4 Pro has an ordinary Blu-Ray player. In simple words, you can play UHD Blu-Ray discs on Xbox One X only, PS4 Pro is incapable of it. Sony's gaming console is limited to streaming 4K videos from online sources (Netflix, Hulu, etc.) only.
Xbox One X can transform your home theater experience in terms of sound as well with Dolby Atmos Support, a feature that's missing in PS4 Pro.
Verdict: Xbox One X wins as PS4 Pro falls short once again.
6. PS4 Pro vs Xbox One X – Design / Style Comparison
Design and style of the consoles have nothing to do with the performance or anything so to speak, but there is no harm in finding out who is the eye candy – PS4 Pro or Xbox One X?
Xbox One X is a tiny little beautiful thing, and PS 4 Pro looks like a staircase. We are impressed at how Microsoft has fixed such a heavy and powerful machine in such a small body. Honestly, just the compact nature of Xbox Pro X makes it desirable look-wise. It will surely add oomph to the entire space while sitting below a 4K TV.
Verdict: Xbox Pro X is one handsome gaming console.
7. Xbox One X vs PS4 Pro – Multiplayer Comparison
Multiplayer online gaming is not free on any of these consoles. You have to pay $59.99 per year or $9.99 monthly to access the online gaming on both gaming gadgets. It's a good thing the pricing is similar. FYI, their online service is known as Xbox Live and PlayStation Plus.
There are many benefits including two free games every month and sale on old games. PS Plus offers only 10 GB cloud storage for saving the game while Xbox Live Gold offers unlimited cloud storage.
In terms of performance, Xbox Live has proven to be more consistent than PlayStation Plus. The hacking scandal and a few other incidents have tainted the reputation of PlayStation Plus.
Verdict: Xbox One X provides decent multiplayer services.
8. Xbox One X vs PS4 Pro – Games Comparison
Of course, one of the most crucial aspects is the game library. Since the consoles are of advanced nature, many old classic games are still not compatible. Sony and Microsoft are working their best to enhance the library as much as possible, but the results aren't satisfactory yet. The third-party game support of Xbox One X and PS 4 Pro is almost on the same level.
Sony has popular titles like Nioh, Bloodborne, The Last of Us, and Uncharted 4. Many old games were upgraded when PS4 Pro was released. Future Sony released will surely be compatible with PS4 Pro. Also, PlayStation Now subscription lets you enjoy PS4 titles for $20 a month.
Xbox has many of its exclusives like Gears of War 4, Quantum Break, Halo 5, and Guardians. However, the truth is Xbox's exclusives are not as popular as Sony's, and they are limited in number. Many Xbox older games are soon to be upgraded like Killer Instinct, Halo Wars 2, Resident Evil 7, and Rocket League.
Xbox has backward compatibility which opened all the Xbox 360 games for Xbox One X last year and very soon Xbox One X can access the original Xbox games as well.
Verdict: Sony takes the cake here with its abundant exclusive game library.
9. Xbox One X vs PS4 Pro – Game Lagging Comparison
Game lagging is a very dicey subject. We have never been able to point out the actual faulter. We have received complaints about both the consoles. We have experienced lagging on both the consoles. However, it wasn't because of the consoles' defect.
The real culprit is undoubtedly someone else. At times, your connection is at fault. At times, a third party invasion is a fault. At times, your ISP is throttling the internet speed. At times, it is virus sent your way by a jealous competitor.
In all honesty, Xbox One X and PS 4 Pro are wonderful machines and damn good at their job. The game lagging is probably because of one of the many reasons mentioned above. The solution lies in paying for a credible VPN that will make you invisible, thus saving you from the unnecessary chaos that leads to game lagging.
Verdict: Consoles are fine, but you need a VPN.
General Misconceptions: Xbox One X vs PS4 Pro
What is Better Xbox 1 S or PS4?
It is a relative question that cannot be answered definitively. PlayStation 4 Pro is undoubtedly a better console than Xbox One S. However, the media features of Xbox One S are of superior quality when you consider the Ultra HD Blu-ray playback.
Gaming consoles should be judged on the basis of games, and your buying decision should be based on the games that you can play effectively on Xbox One S or PS4.
Is the PlayStation 4 Pro True 4k
Yes, it is. In fact, 4K was the USP of PS4 Pro when launched. Sony has updated many games to be compatible with 4K like Call of Duty: WWII, Gran Turismo Sport, etc.
All upcoming gaming content will be in sync with 4K from Sony, Microsoft or any third party game producer. Owning a 4K TV is a must to enjoy the PS4 Pro. In a way, it is a double investment as you have to buy a new TV and the console. However, the update will be worth it if you are a genuine gamer.
Can the Xbox One S Do 4k Gaming?
Xbox One S is not built to play 4K games. You can watch 4K videos on it but not games. Microsoft has released another console for 4K gaming, i.e., Xbox One X.
However, there is a problem; Microsoft doesn't have that many native 4K games. You have to rely on the third party 4K games to play on the Xbox One X. The situation will change in the near future as 4K gaming is here to stay for long.
Is the PlayStation 4 In 4k?
No, PS4 is not 4K. Sony has another upgraded version called PS4 Pro that supports 4K gaming.
Summary: Xbox One X vs PS4 Pro
We have discussed Xbox One X and PS4 Pro at great length. There are a total number of 10 factors that's been carefully observed and dissected about these two consoles. When comparing two devices, it is impossible to give an obvious answer, but we can tell you which one has the edge over the other.
Following is the list of all the factors discussed here along with the result. We are sure this will give you a clear picture of both the gaming devices.
| | | |
| --- | --- | --- |
| Comparison of | Xbox One X | PlayStation 4 Pro |
| Specification comparison | ✓ | X |
| Hardware comparison | ✓ | X |
| Price comparison | X | ✓ |
| Resolution / Graphics comparison | ✓ | X |
| Virtual Reality comparison | X | ✓ |
| Home Theatre Support comparison | ✓ | X |
| Design / Style comparison | ✓ | X |
| Multiplayer comparison | ✓ | X |
| Game Library comparison | X | ✓ |
| Game Lagging comparison | ✓ | ✓ |
The Final Verdict: Xbox One X and PS 4 Pro
Xbox One X is a better machine than PS 4 Pro due to its hardware, crystal clear 4K gaming, performance, looks, and specs. However, PS 4 Pro is unbeatable when it comes to the game library, virtual reality and pricing.
We must remind you that it is not just about buying any of the two consoles, you also require a 4K TV. So $400 to $500 for gaming device plus $2500+ for 4K TV (if you don't own it already) seem like a considerable investment. Serious gaming can seriously destroy your financial savings.
What will you buy – Xbox One X or PS4 Pro?
Leave your answers below and don't forget to mention the reason for choosing one over another.