NordVPN Review – Let's Start With The Introduction
NordVPN was launched in 2012, where a group of four friends came up with the idea of developing a tool to put an end to the censorship. With growing concern over the privacy laws, the trustworthiness of a VPN company has indeed a relation with where it is operating from. NordVPN is headquartered in Panama which liberates them from all censorship jurisdictions. It is owned and run by a company named 'Tefincom S.A,' whereas; we couldn't get the name of the real owner of the company. Due to its presence in Panama, NordVPN users can enjoy a logless VPN service to browse the internet privately and anonymously.
What Is So Special About NordVPN And Why Should You Use It?
NordVPN stated their vision as:
"Fighting For Digital Rights With The Help Of Encryption"
Encryption is the main ingredient of NordVPN service. Not to mention, it is among the very few VPN providers that offer 428bit Encryption. But there's much more to talk about. If there's one VPN provider that has gone the extra mile to incorporate special-technical features to facilitate its clients in every possible way, it would be NordVPN. In this 'NordVPN Review' we will first look at the uses of NordVPN services, and then we will analyze each feature briefly. So, let's start with the uses of NordVPN.
[Readers Disclaimer: This review is not all sunshine and rainbows about NordVPN as that wouldn't be true. We delved deeper into the technical aspects of NordVPN to list the Goods along with the Bads to give you unbiased opinion about NordVPN before you opt for the service.]
To Encrypt Internet Traffic
Encryption is the new battle weapon of today's cyberwar. There're so many reasons that why you should consider encrypting your entire internet traffic. On top of the list are online threats roaming everywhere. You can be hacked, trapped, robbed or blackmailed anytime due to a simple mistake. Let me ask you one thing, would you prefer sending a letter without putting it in an envelope? You wouldn't, right? So, why send internet traffic without encrypting it?
NordVPN offers best online Encryption up to 428bit and secures all your internet traffic using army-graded protocols. If you wish to hide your internet traffic under tons of layers, then NordVPN should be your first choice.
To Watch Netflix and Hulu
Initially, Netflix and Hulu were restricted to specific regions only. Netflix then took the initiative and launched its services worldwide. According to Netflix Media Center, the service is now available in 190 countries, but every country has a different library. The best Netflix library with the highest number of titles is Netflix USA. Hulu story is no different; it was and still is restricted to specific regions only. Netflix or Hulu fans can access these services from any region with NordVPN help.
About two years ago both Hulu and Netflix started blocking VPN providers, keeping users restricted from accessing Netflix USA and Hulu. Today, there are only a couple of VPN providers that work fine with these services and NordVPN is one of them. With NordVPN, you can access Netflix and Hulu without any throttling or service restrictions. Here, we will recommend you to take a look at our 'How to Access Netflix' and 'How to Access Hulu' guides.
NordVPN is the first VPN provider to introduce 'Double VPN.' Double VPN offers extra-layer of security by encrypting your internet traffic twice. We will briefly discuss the feature later in the article. For now, let's stick to the 'Uses' part. So, as we were discussing, Double VPN feature can be desired by those internet users who need double protection or tight security. NordVPN has gained an enormous popularity just after the launch this feature.
To Bypass Great Firewall of China
Great Firewall of China is the world's worst and highly sophisticated internet censorship program that is designed to block access to foreign websites and slow-down cross-border internet traffic. China not only ban international sites, but it also bans VPN providers to ensure no one from mainland China can access websites like Google, New York Times, YouTube, Gmail, etc. China has even started a cleansing campaign called "Sweep" which is aimed to block all VPN providers by March 2018 if they do not register with the Chinese government. Back in August, China forces Apple to remove all VPN apps from the App Store. Google Play Store is already banned in China, and the VPN websites are not accessible, there's no way that you can use a VPN.
NordVPN stands as a champion for still delivering services in China through backdoors. They have a built-in feature named "Obfuscation" that works via OpenVPN protocol to bypass restrictions in China. So, if you are an expat living or traveling to China, then NordVPN should be your priority.
To Connect One-to-Six Devices At The Same Time
Multi logins are considered as the essential ingredient for any VPN service. Most of the VPN providers offer multi logins from 2 to 5, which mean that at the same time a user can connect up to 5 devices. Do you know that there are VPN providers who offer more than five multi-logins and NordVPN is one of them? Well, if you didn't realize it before, you should know that NordVPN offers six simultaneous connections irrespective of the package plan.
We have listed some of the best uses of NordVPN which are not offered by many VPN providers. Let's come back to the main part of the review, where we will briefly go through each feature of NordVPN service.
Features Of NordVPN – All That Makes It One Of The Best VPN In The Industry
Unlike other VPN providers, NordVPN offers more advanced features like 'Double VPN, 'Kill Switch,' 'Onion over VPN,' and 'Smart Play'. We have tested the service and have no regrets in declaring that with NordVPN you get more than what you spend. Let's have a look at what you get with the NordVPN subscription.
NordVPN Price – How Much NordVPN's Subscription Cost?
NordVPN offers a standard pricing plan which comprises of three different packages based on the monthly, half-yearly, and yearly timeline. Here are more details;
Monthly Plan = $11.95
Bi-Annually Plan = $42.00 ($7 per Month)
Yearly Plan = $69.00 ($5.75 per Month)
2-Year Plan = $79.00 ($3.29 per Month)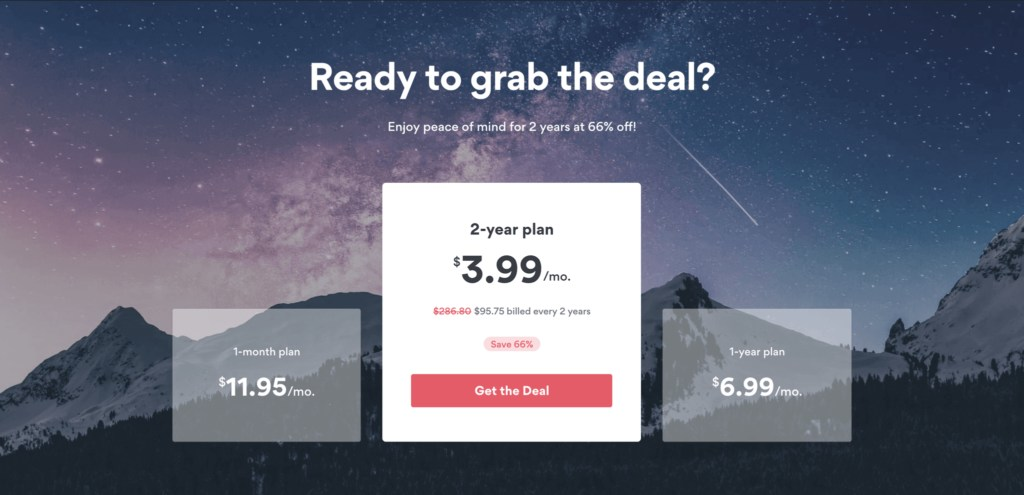 NordVPN's Payment Options
When it comes to payment options, we like to review the VPN provider based on how many and secure payment methods they have. Luckily, during our review process of NordVPN, we found that the company offers various options to its customers. From easy-to-pay options credit card to secure ones like Bitcoin, the company has all the options in the bucket. Below are some of the available NordVPN payment options:
PayPal
Credit Card
Bitcoin
Alipay
WeChat
UnionPay
WebMoney
Yandex
Giropay
SOFORT
iDEAL
When you purchase from any of the above, you are entitled to a 30-day money back guarantee plan. Let's discuss NordVPN Refund policy for the 30-day money back guarantee.
NordVPN Money Back Guarantee
There is no grey area in NordVPN refund policy. NordVPN gives a generous 30-day money back guarantee that comes with no questions asked policy. The company, however, is willing to solve any issue that you may experience before claiming the refund. We indeed like the problem-solving strategy they follow as an end user is more focused towards solving the problem then to ask for refunds. For any purchase made through the website, NordVPN refund is a click away. However, purchases made through Google Play Store or Apple Store can't be refunded as per the company's policy. We advise our readers to use the NordVPN's trial version before buying the service.
Nord VPN Server List – Online Freedom across 56 Countries
NordVPN has 2100 VPN servers in 56 countries, and it is continually adding more locations to its network. As far as the number of VPN servers is concerned, NordVPN's server accumulation is satisfactory. The best part about NordVPN is the division of servers based on usage. NordVPN has dedicated servers based on different purposes such as 'NordVPN DNS Leak Servers,' 'NordVPN Double VPN Servers,' 'NordVPN Dedicated IP Servers,' 'NordVPN SmartDNS Servers' and 'NordVPN Onion over VPN Servers.'
You can check the complete list of servers at 'NordVPN Servers Page'.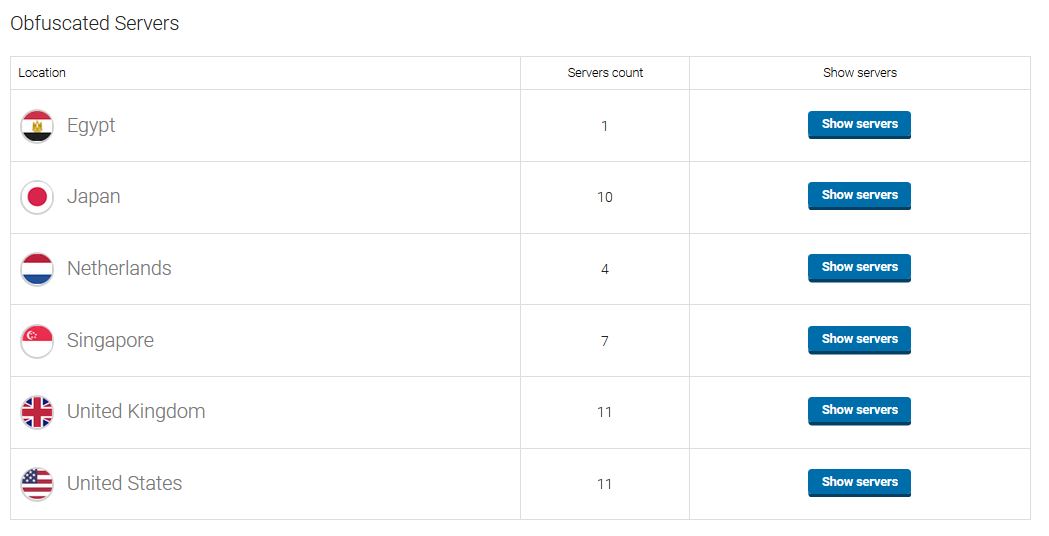 NordVPN Apps and Software
NordVPN is compatible with a wide array of devices and operating systems. It is impossible to exist in a VPN industry without being available to a maximum number of devices and OS. Well, Nord understands this and is compatible with following OS and devices.
NordVPN Compatible Operating Systems:
Windows 7, 8, 10, Vista
Mac OS X
Linux
Chrome OS
iOS
Android
Windows Phone
Raspberry Pi
Tomato
Synology
Asustor
AsusWRT
SOCKS5
Sense
NordVPN Compatible Devices:
Desktops and Laptops
iPhone
iPad
iPod
MacBook
Apple TV
Android Smartphone
Tablets
Gaming Consoles (PS3, PS4, Xbox, and XboxOne)
Internet-enabled TVs
Routers
NordVPN Apps – User-friendly, Highly-Optimized Apps for Every Platform
NordVPN offers app for Windows XP, Windows Vista, Windows 7, Windows 8, Windows 10, Mac OSX, Android, and iOS. You can check more details about the software below:
NordVPN Windows App is under a lot of criticism and bad remarks due to disconnection issues. Many users have reported that Windows App continually crashes. During our analysis, we have faced some issues with disconnection while using the advanced features like Kill switch and Double VPN.
NordVPN has crowded its Windows VPN App with a lot of advanced features like Double VPN, Kill Switch, Anti DDoS, etc. NordVPN's Windows App installed an icon and couple of extra running processes into our system, grabbing more than average 80 to 90MB RAM. The heavy setup usually impacts on users' internet speed.
Just like Windows, NordVPN's Mac App is packed with advanced features. NordVPN's Mac App is widely used throughout the world, especially in America. NordVPN realized the importance of Mac and optimized its software and services for Mac users. Not many VPN providers take the effort to optimize their clients for a particular platform.
Also Read: 5 Best VPNs for Mac
In the Mac app, you will see similar monochromatic blue map, with its cartoon boats and submarines as the main view of the app. By clicking on the magnifying glass in the upper right, you can search for the available servers. But it is very hard on NordVPN's Mac app to find specialized servers. You have to apply special filters to locate the full list. One another drawback of NordVPN's Mac app is slow speed. Like the Windows app, Nord's Mac app also didn't score high based on speed and latency.
It won't be difficult to install and use NordVPN on Mac, but if you are stuck, then the tutorial on Nord can help you out.
NordVPN's Android App is the best among all its other apps. Unlike Windows and Mac, Android App is not bombarded with too many advanced features. It is very lightweight and colorful app with a user-friendly interface. You can simply download the app from PlayStore and install it in just 60 seconds.
Also Read: 5 Best VPNs for Android 
NordVPN has recently revamped its Android App with handy buttons along the bottom to access the important parts of the app. It is more suited for mobile phones now. NordVPN has taken great pains to provide a familiar experience across every device the company supports, but each client is tweaked to work best on each platform. On Android, for example, you can still access the company's excellent specialized servers. NordVPN's Android app had earned a second highest score in our Editor's Choice based on latency test and download speed.
For manual configurations, you can check the detailed Android tutorials on OpenVPN, L2TP/IPSec, and PPTP protocols on NordVPN website.
NordVPN offers iOS App for iPhone and iPad. Like Android App, NordVPN's iOS App is also very simple and user-friendly. Unfortunately, NordVPN's iOS App doesn't have all the handy features that you find in Android app due to limitations imposed by iOS. But you will experience the same interface and performance on pretty much all apps of NordVPN. Kill Switch, and Smart Reconnect feature has also been incorporated in NordVPN's iOS app.
Also Read: 5 Best VPN Apps For iPhone
You can download the iOS app from iTunes store. You can also find multiple tutorials on the installation of the VPN. You can check out the basic app installation guide as well as configuration information about different protocols. NordVPN iOS guides are also extensively explained with the use of screenshots.
NordVPN doesn't offer an app for Linux platform, but you can manually setup NordVPN on Linux via OpenVPN, IKEv2/IPSec and PPTP protocols. You can find detailed and easy-to-follow setup guides on NordVPN website.
Also Read: 5 Best VPN For Linux
NordVPN supports a variety of Routers including TOTO Link (L2TP), Mikrotik (PPTP), Belkin (PPTP), OpenWRT (OpenVPN), Asus (OpenVPN), Linksys (L2TP & PPTP), DLink (L2TP & PPTP), TPLink (L2TP & PPTP), AsusWRT Merlin (OpenVPN), AsusWRT (OpenVPN & PPTP), PF Sense (OpenVPN), Synology (OpenVPN & PPTP), Tomato (OpenVPN, L2TP & PPTP), and DDWRT (OpenVPN, OVPN Script, L2TP & PPTP).
You can also check NordVPN's partner Flashrouters, which have special routers already configured for NordVPN – NordVPN Pre-Configured Routers.
NordVPN Proxy – Does NordVPN Offer Free Proxy?
NordVPN offers free web proxies, but they do not guarantee the safety or effectiveness of free web proxies in shielding your identity online. You can find the list of NordVPN Web Proxies on their website.
NordVPN gives you the liberty to search proxies based on your desired country, port and protocols. Countries including, Korea, USA, Netherlands, Russia, Germany, China, Italy, etc. and Protocols including, HTTP, HTTPS, SOCKS4, SOCKS4/5, SOCKS5.
NordVPN also offer proxies for uTorrent via Socks5 protocol. To learn how to setup NordVPN web proxy, you can check detailed tutorials here – NordVPN Web Proxy Setup Tutorials.
Also Read: 5 Best VPNs For Torrenting & P2P File Sharing
NordVPN Obsfuscation Feature
Oxford Dictionary defined Obfuscation meaning as something obscure, unclear, or unintelligible.
Technically it can be defined as:
Obfuscation is used to hide the identifiable parts of the OpenVPN connection. In essence, it performs an additional, pre-arranged cipher over the identifiable OpenVPN parts, scrambling them so they appear as useless mumbo-jumbo. Since DPI is looking for traffic that matches OpenVPN, this traffic is allowed through.
NordVPN Obfuscation feature is basically a server configuration that connects user to one of NordVPN's server from a restricted network or a restricted country that bans VPN connections like China. The feature is accessible via OpenVPN.
Obfuscation Methods
The two obfuscation methods used by NordVPN are:
Obfsproxy
OpenVPN Scramble (a.k.a. XOR)
What is Obfsproxy?
Obfsproxy was first developed for Tor project; it makes the traffic look like fake one. You can make your traffic look like HTTPS traffic or any other to bypass the international firewall. Obfsproxy is used externally with OpenVPN, by creating a Socks5 proxy on each device. It routes the OpenVPN traffic through by telling OpenVPN to connect to a port on the same device.
The Intentional VPN firewalls investigate the traffic content to block VPN traffic. While the data that is being transmitted over, let's say, OpenVPN, is being encrypted, the initial handshake and communication protocols between the VPN server and client can be easily identified, and is similar to plain-text (aside from authentication sections in those protocols). By using Obfsproxy, you can easily fool the international firewall.
NordVPN Special Features – A Complete Brief
NordVPN has implemented a special DNS Leak Protection technology that keeps your online traffic secure from DNS Leaks. DNS Leaks refer as leaking of your original IP, even if you are using a VPN. NordVPN's DNS Leak protection keep track of all the traffic sending through NordVPN servers and protect against sending unencrypted queries outside a secure VPN tunnel.
When you need extra online protection against government surveillance or censorship, Double VPN is all you want. Double VPN working principle is quite simple. You connect to one VPN servers, which routes your traffic to another VPN server from where it finally reaches to the destination website, providing you double encryption.
NordVPN Dedicated IP Address
The dedicated IP address is different from Dynamic IP. A dedicated IP remain same whenever you connect to a VPN with the server which you select for dedicated IP. Another main motive of using a dedicated IP is to keep that IP dedicated to you only. A dynamic IP is being used and shared with hundreds of users. And, there's no guarantee that you can use the same IP again. NordVPN offers dedicated IP from USA (Buffalo), Germany (Frankfurt), UK (Milton Keynes), and Netherlands (Amsterdam).
Dedicated IP is not free with any of NordVPN's subscription, If you wish to get a dedicated IP, you need to contact the support team via 'Contact Us' page.
NordVPN main motto is to provide tight online security to its users. This is why they have designed an advanced-security feature called Onion over VPN. The Onion Router (Tor) is a free network of volunteer-operated servers, which randomly sends and encrypts your online traffic across various exit nodes in separate locations.
If you are using a Tor service, your ISP will know that you are using backdoor technique and may block your internet traffic. What is more dangerous; any node on the Tor Server series can be a setup, and since your traffic is unencrypted at the existing node, there's a slight chance that it can be compromised. Using VPN with Tor eliminate such threats and provide you unbreakable online security.
NordVPN offers a lightweight Proxy Extension for Chrome. The extension helps you to stay safe and private on the internet and let you access your favorite websites even if they are not protected by HTTPS. Using this extension, you can hide behind thousands of real IP addresses from 1400+ servers in 56 countries.
NordVPN Customer Support – 'How May I Help You'
NordVPN has some options to facilitate customers. We gathered most of the information regarding the features from 24/7 live chat support as most of the information is not available on the website. Here we would like to mention Eren and Trey, who has answered every question and provide us with expert support. Other than live chat, the following are the options to contact NordVPN.
NordVPN primary mode of customer support communication is Request Forms. In case, you need help; there is a dedicated page for it where you will get links to valuable guides and FAQs. Nord insists on going through the already present help material and only contacting the team if you still haven't found a solution. The response of request form took a considerable amount of time from NordVPN customer support, but the reply was satisfactory and helpful. It's average respond time mentioned on the website is 48 hours, but most of the time, you will get the answer before 48 hours.
Nord has an extensive list of FAQs that's been divided into categories like general, billing & sales questions, set up questions, connection issues, and technical information for quick search. We found FAQs extremely helpful and on point.
The tutorials are limited to installation guides only. The page layout is immaculate and detailed. Nord has classified the tutorials by operating systems. For instance, all the tutorials on Windows 10 are listed under Windows 10 head and so on.
How A User Can Cancel NordVPN Account?
NordVPN offers exceptional service to the VPN users, but it also backs its service with a 30-day money back guarantee on the off chance if you aren't completely satisfied with the service. We've already covered details related to the company's money-back policy, here we will quickly take your through with the steps how to cancel NordVPN account. Before we proceed, please note that any purchase made through PayPal or credit card automatically sets for ongoing subscription and you'll get billed every month. In any case, below are the steps to cancel NordVPN account easily.

First, visit www.nordvpn.com and login to your account by clicking on 'My Account'.
Once you are in the profile section, click on 'Payments'.
At the bottom, you will find option 'Cancel Subscription'.
It will ask for 'reason of the cancellation'. Proceed with the details, and click confirms and then verify.
Voila!
Furthermore, if you have made purchase through iTune and Google Play store, please follow the steps available in the below guides to uninstall and cancel NordVPN subscription for your mobile devices too.
Final Verdict
NordVPN is defenitely an appealing VPN which is fast (mostly) and user-friendly. It's let down a little by the unfinished feel to parts of the Windows and Mac client, and the new and more vague privacy policy, but the speed and convenient server selection tools finally won us over. Plus, we have not seen any VPN with so many features as we have seen in NordVPN. We highly recommend NordVPN.