Private Internet Access – Introduction
Private Internet Access VPN is managed by London Trust Media, based in USA. PIA VPN helps people bypass geo-restriction, mass surveillance, blocked content, malware attack, and cyber crimes. PIA's main reason for success is its affordability and top-notch security features. It offers the highest level of encryption and multiple protocols. It has popular features such as P2P file sharing, DNS leak protection, internet kill switch, 256-bit AES encryption, ultra-fast speed and a lot more.
London Trust Media Inc describes the company vision as:
"We're bringing the Internet back to its original state. We're bringing power back to the people."
PIA VPN also knows the value of anonymous payment methods as it has a BitCoin payment option. Also, its location can be a bit of concern for consumers but PIA's strict no logs policy should be enough to clear the air of doubts.
The company owns other businesses as well including Block Explorer, Freenode, Snoonet, Kore Asian Media, and Kinglife Family. Diversity in the parent company's business profile proves the credibility and can be used in marketing to build trust among Internet users. In our Private Internet Access Review, we find it quite appealing when we first start finding the roots of PIA VPN.
What Is Different About PIA VPN And Why One Should Buy It?
While picking a best VPN service provider, we analyze every feature associated with the service and examine its premises with rigid scrutiny measures. We do this to facilitate new and existing VPN seekers. However, there are so many VPN providers in the market, most of them have similar packages plans that often confuse the new users with their tempting promotions and offers. Today, we are here to facilitate your VPN purchase, and for this we have chosen to review Private Internet Access, analyzing and testing every promise made by PIA VPN against its performance.
Private Internet Access (PIA) is one of the most-anonymous VPN services, offering a robust collection of features; file-sharing services, high level of privacy and reliability, and thousands of worldwide-located servers, coupled with a feather-light package at the cost less than the Netflix subscription.
A lot of buzz is going on in the industry regarding the service quality of Private Internet Access. As seen on the forums and social platforms, a lot of users' complaint about the service for not being as per expectations. Glitches and constant disconnects have been reported by many users. To find the truth behind the story, we decided to test the service and see if the complaints are true. So, let's dive in head and see if the famous VPN provider still delivers the quality service that it has promised.
Private Internet Access Pricing & Plans
PIA VPN has three affordable options;
Monthly Package: It costs $6.95/month.
Half-Yearly Package: It costs $35.95/six months, which makes the monthly cost only $5.99.
Yearly Package: It costs $39.95/year, which makes the monthly cost only $3.33.
The annual plan is relatively more cost-savvy than the other options, without compromising on given features as all the tiers offer the uniform features.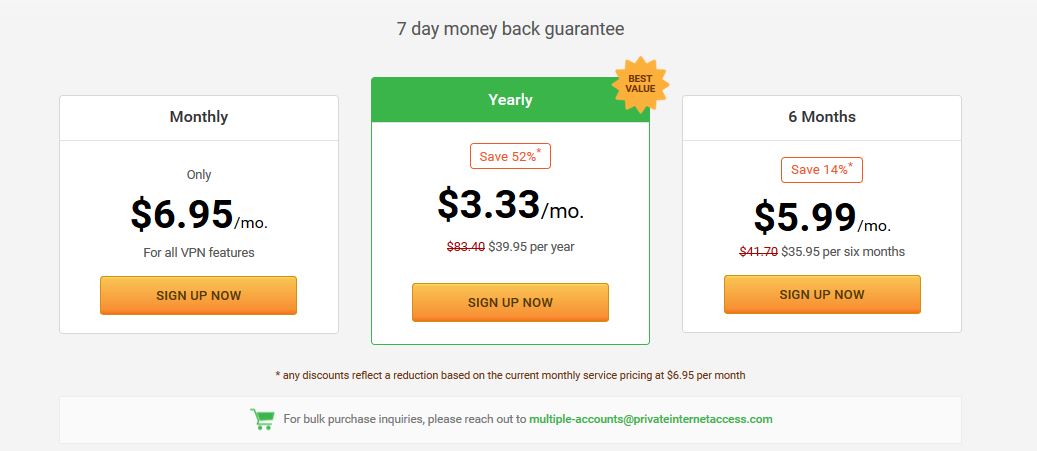 PIA VPN, following a no logging policy offers feature-rich packages with unlimited bandwidth, wi-fi encryption, multiple gateways, and P2P supported by VoIP. Supporting protocols are; PPTP, L2TP, and OpenVPN.
PIA VPN's Payment Methods
PIA payment methods range from simplest to anonymous; you can pay using your credit card, PayPal, or also pay anonymously using your bitcoins and your major gift cards (Starbucks, Bestbuy, Walmart, etc.). Paying anonymously alleviate your fear of being traced back by the government surveillance and further protect your digital footprints. To expand the list of payment methods, PIA VPN recently introduced Z-cash acceptability along with the other options.  Some other Payment methods offered by PIA are as follow:
American Express
Discover
CashU
OK Pay
MasterCard
Ripple
Pay Garden
Gift Cards (Wal-Mart, Starbucks, Macy's etc)
PIA VPN's Money Back Guarantee
Private Internet Access VPN offers a 7-day money back guarantee. Payments made from Bitcoin are not eligible for this guarantee. Considering that the minimum money back guarantee offered by VPN providers is mostly of 30 days, PIA's 7-day guarantee feels a little short on time. However, it comes with a no-questions-asked policy which makes up for the lost time.
Let's Look At the Astounding Features of Private Internet Access
VPN adds security and privacy to private and public network, like WiFi hotspots and the internet. PIA is one of the best VPNs to protect your sensitive data using advanced protocols and secure tunneling techniques to encapsulate the entire data transfer. PIA VPN provides the well-rounded security, ensuring that no data is lost without hijacking the connection since all the traffic is protected.
Unbreakable WiFi Encryption
PIA VPN strongly encrypts your WiFi by encoding the transmitting data between your device and the router. It creates several security layers which prevent access to your data locally at the hotspot and from internet criminals. PIA turns your data into cryptographic gibberish that nobody can decipher, and interestingly encryption can also be customized.
A VPN minimizes the possibility of unauthorized access and data abuse through encryption using diversified tunnelling protocols. Since one of the major functions of a VPN is to provide security and privacy to its customers, encryption and protocols are crucial. PIA offers three tunnelling protocols, to liberalize freedom and choice for the diversified users, including PPTP, OpenVPN and L2TP/IPSec.
Point-to-Point Tunneling Protocol (PPTP): PIA use this tunnelling protocol to secure your network/s, allowing access to a network from a remote location after masked-up your real IP. This is useful when it comes to connecting your office network from home or vice versa. PPTP offers shallow security with a minimal effect on your internet speed.
OpenVPN Protocol: The company uses the OpenVPN for its Android, Linux, macOS, windows clients.
L2TP / IPSec Protocol: PIA VPN also supports a sophisticated Layer 2 Tunneling Protocol (L2TP) for the legacy users, for those who require absolute and competent anonymity and security.
There is a slight inconvenience with PIA's client software as it allows you to select options like data authentication and handshake settings but has a default OpenVPN protocol setting. In case, if you want to use another protocol, you have to configure it manually.
Keeping all the value-added features aside, encryption is the core element that satisfies the most basic needs of a user; privacy and security. PIA offers unbreakable encryption of AES 128-bit and 256-bit encryption levels.
PIA VPN peer-to-peer (P2P) support system decentralize your communication by the anonymizing routing of your network traffic, providing massively parallel computing environment and distributing storage and functions. PIA enables P2P file-sharing without limit your torrenting to specific servers.
Since downloading movies, TV shows, games, books, and software via Torrent is considered illegal in many countries around the world, VPN providers usually don't allow P2P file sharing. PIA doesn't fall in this category. It doesn't mean that PIA VPN is urging you to do something illegal. In fact, it has found a way to allow you download from torrent completely legally. PIA connects you to a server in a country where torrent is allowed and then you can download whatever you like. PIA has special servers in selective countries especially for torrenting, which means they are optimized for a 100% satisfactory torrent experience.
Block Ads, Trackers & Malware
PIA VPN added an ad-and tracker-blocking service called MACE. Upon engaged, this tool restrict movement-tracking pesky ads across web pages, making webcomic artists to earn a living by sharing users' digital footprints. According to the company, "PIA doesn't do anything besides block domains associated with advertisements, trackers, and malware at the DNS level."
Bandwidth is the network's carrying-capacity, indicating the maximum amount of data can transfer between servers per unit time. PIA allows "unlimited bandwidth" ideally means the faster the transferring-data goes, more the download/upload in a given frame of time.
Automatic Internet Kill Switch
PIA offers a neat feature of a killswitch, an essential tool for privacy-concerned users; prevent your IP address from exposing and leaking your real identity. Kill Switch automatically shuts your internet connection as the VPN disconnects and resume once VPN connection restored, without informing the streaming services to know that you are using VPN to access their content. Automatic kill switch protects you but it can also possibly interrupt an important task in the middle.
This feature comes with all the plans, means you don't have to pay extra dollars to activate this fantastic feature.
No traffic logs – zero-logging policy
Although, PIA VPN is a UK based VPN provider which means they have to follow the rules enforced by the UK government and keep a record of user's online activities. But, PIA does not store your online traffic logs, following a zero-logging strategy; it meant there is nothing to see and traced in any case and you don't have to worry about your privacy, no matter what? This gives their users a peace of mind that is rare in the digital world.
✎ Read Also: 5 best and most recommended UK VPNs.
DNS and IPv6 Leak Protection
DNS leak protection disables user's DNS server and connects them to a VPN's DNS server. PIA has its own personal DNS server which handles all the DNS queries. This provides an extra level of protection to the user when DNS requests are routed via PIA VPN. DNS leak protection ensures your anonymity is intact 24/7. Whereas IPv6 Leak Protection means PIA automatically disable your IPv6 network address. Windows XP users need to check it as PIA won't disable their IPv6 network address automatically if they have enabled it manually. However, Mac and Linux users have nothing to worry in this regard.
PIA VPN is quite spartan to operate that even the least technical person can sign up, install it and start using the features right away. Service had advanced options but managed amazingly; even the beginners can manage options as every function has a brief description and also has an extended link. You can download in your little sister PDA and never have to worry about removing malware again. Procedure to set up PIA includes:
Upon clicking sign-up, a pop-up window appears to choose your payment method. After selecting a suitable payment method, you will be given a form to fill your login credentials based on the given payment method.
Once you subscribe, you head over to the download area and get the software you need based on your platform. All the popular platforms are being catered by PIA VPN.
Now it is the time to setup your router in line with PIA, this is fairly easy, thanks to the support centre. PIA also offers pre-configured routers for sale, and for hands-on, it has detailed guides for the well-known router firmware. For the manual settings, documentation explaining killswitch, port forwarding, SOCKS proxies and other various settings, are there to make your hands dirty in setting all the things up manually.
Private Internet Access VPN Servers Network
The need of a VPN justifies many reasons, the number of servers and geographical distribution are the critical aspects while making a purchase decision. More the diversified list of servers more geo-restricted content can be accessed with a VPN. Private Internet Access is operating from Michigan in the US, giving access to 3000+ servers in 25 geo-scattered regions. Although it is fewer than some VPN providers, but still the best choice keeping the geographic diversity and budget price into context.
Currently, PIA VPN has servers in 25 countries present across Asia, Central America, India, Europe, South America, the UK and the US. Connecting to a particular server, you will be assigned an IP or in other words, virtual visa of that respective region, to access content produced for native-eyes only. PIA VPN does not offer services in the African areas like other VPNs.
Numerous servers mean divided crowd whereas multiple server locations mean you are very likely to find a nearby speedy and reliable server that is not too crowded even when you are traveling.
✎ Read Also: Check out the complete list of ReviewsDir most recommended Torrent VPN.
PIA VPN Apps And Compatible Devices
Imagine a feature-rich VPN in exchange for a cheap price with 3000+ servers in 25+ countries but, connectivity is restricted to your PC only. All the attractive features go straight into the trash. As the technology evolves so do our lifestyle, we are becoming busier day by day and device compatibility, therefore, known to be the essential constitute we start taking into consideration in purchasing a VPN.
In this regard, PIA VPN is the best alternative that you can consider. PIA runs smoothly on all the devices you own and all the platforms you know, either its Android, iOS, MacOS, Windows, Linux, and Chrome extensions. The highlights of widely used platforms are as follows:
Private Internet Access App for Android
Android has drastically become a top-notch, reliable and do-everything smartphone. Hackers realize that people do almost everything on their Android PDAs, making a prime target to break into to steal the data and to record the most intimate habits of the users. PIA cash the opportunity and develop an Android-compatible app for free but, you have to pay for a subscription.
A dedicated app with all the same features (killswitch, encryption options, SSL features and auto connect) and the similar outlook pattern with that of windows. Android version of PIA VPN also offers options between TCP and UDP, that might come in handy when using public WiFi.
Android app also offers a Smart Packet options; shrinks the data sent by phone. You can designate which apps should have their NVP routed data. Naturally, VPN slows your browsing significantly, but with PIA VPN, you can choose to secure high-value apps, leaving rest in the faster yet less secure channel.
Private Internet Access App for iOS
The popularity of iOS made it a primary target for hackers to steal the data, as they know that most of us save our private passwords and ATM codes in our cell phones, furthermore accessing public WiFi is giving more accessible ways to hack into our iPhones. The need of a VPN become a top priority for anyone using one of these devices.
The Private Internet Access developed an iOS app for free but will need a subscription to use the app, of course. The IPA iPhone app is a stripped-down affair like the window client, and it is more than the page with a toggle the VPN connection on & off. An iPhone app shows your actual and apparent IP address. Unfortunately, the iPhone app doesn't offer similar features as its Android cousin; you cannot designate specific apps but, does include the MACE ad and malware blocker.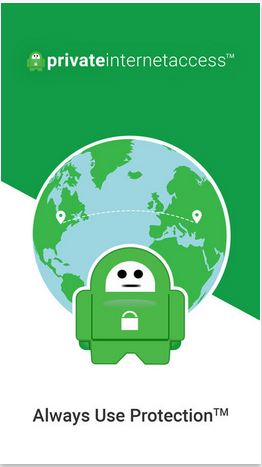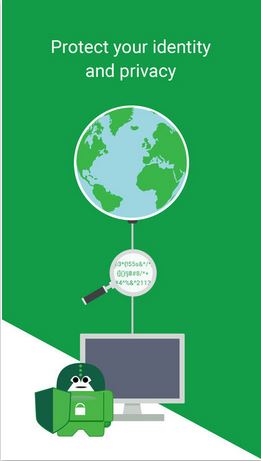 Private Internet Access App for MacOS
Users are searching PIA VPN Mac app in the official Mac store sure to be disappointed as the company is providing its VPN clients through its website. Unlike other VPN clients, PIA has an honest-to-goodness installer; merely clicking and dragging the app into the folder is the regular practice of all the VPN clients for Mac. PIA has replaced the conventional approach with an instant installer that gets you up and runs in no time.
Once installed, Private Internet Access app remains un-Apple in outlook with the spartan grey window directly imported from the windows version. The speed and performance of PIA in MacOS is remarkable especially when it comes to local VPN server while connecting to an international server; the case is entirely the opposite.
Private Internet Access App For Windows
The Private Internet Access is a feature-rich customized VPN client software with umpteen top-end features and options. For most of you, it's not the most stylish front end but, as far as functionality is concerned, it's simply outstanding.
Accessibility of all the setting settings is just a click away; clicking a simple/Advanced button in the left corner reveal all the setting options. Simple mode shows login setting and a drop-down menu with several server locations whereas in advanced mode, you can select encryption options. Connection button brings up useful options like kill switch; to protect in case VPN drops out, and Port forwarding; to get around firewalls.
It is noticed that kill switch is a bit moody, at times does not respond. However, the issue said to have been resolved in the recent updates. One thing to bear in mind that PIA VPN does not execute auto-update, you need to check the availability of newer version periodically.
Private Internet Access VPN Website – An Overview
Private Internet Access website is following the Spartan design, looks fantastic, and doesn't hide essential details about the service; this stands out PIA from other VPNs. Encryption details are readily available and also mentioned that it is based in the US; applaudable transparency. Upon reaching the website and sign-up, PIA sends login credentials via email to get more anonymity.
You will find a navigation bar at the top of the homepage, which quickly connects you to all the different parts of the website. All the tabs are marked; Home, How it Works, Download & Support, Contact Us, and Join Now. For existing members, you will find the Member Login option in the top right of the page.
Login window acts as a setting page for encryption, servers and proxy information; everything else rests in the system tray icon's right-click menu. As you connect to the Private Internet Access server, the icon glows green, establishing connection turn the icon grey and rolls red upon disconnect. Experiencing the load of any server is difficult to capture as the interface is so minimal.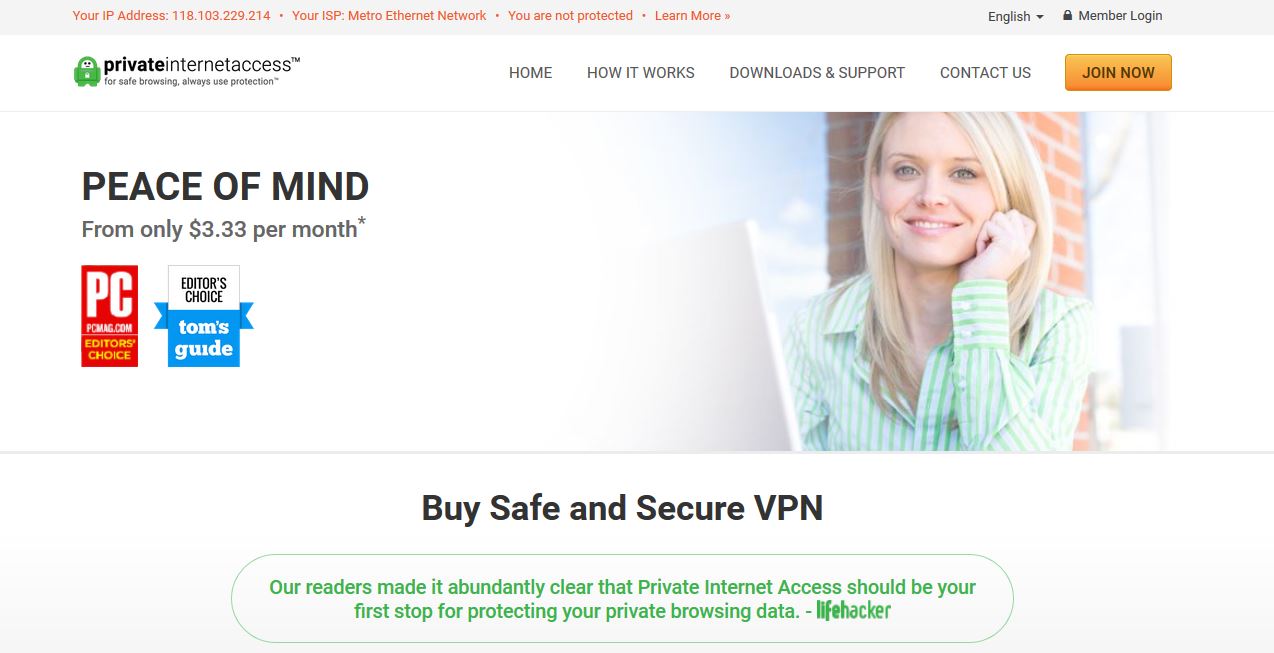 One of the most impressive thing about Private Internet Access website is its excellent blog, written by the privacy head of PIA VPN, Rick Falkvinge, founder of Swedish Pirate Party.  He writes the blog related to VPN and other related content. This blog is an excellent source of privacy news, and the blogs are not restricted to PIA subscribers alone.
Customer Support
Within the service industry, after sale services are the crucial enforcers to retain the clients. However, in the case of VPN, after sale service becomes more than just a necessity. When you are in the middle of trouble, customer service representative is often a life-saver. All the customer-retention services added value to the service purchased and kept the client for years.
Unfortunately, customer support is the weakest side of PIA VPN services. PIA doesn't offer 24/7 live chat support. Instead, they have devised multiple ways to be available for the customers. PIA customers seeking help via the ticket system left waiting for weeks to get response. On the whole they need a lot of improvement in their after sales services. Different modes to reach to PIA technical support are as follows:
The FAQs section is clean and categorized to perfection. You can see payment related questions, account related queries and technical issues mentioned separately. There is a search bar to help you narrow down the relevant result. Also, "submit a ticket" option is available to contact the team if you can't find the answer.
Client support page is basically your companion when you are setting up the VPN. It has all possible guides and instruction manuals to assist you in doing things right in the first attempt. You can scroll up and down to view the massive list of information given in this section. Client support has material for every OS.
PIA VPN doesn't have the typical live chat option. In fact, it has a "Help" button on the bottom right of the screen. This button is basically a search bar but it also has an option to leave a message for the PIA's team. You need to provide your email address before submitting the message and the support team will get back to you.
Users' Reviews About PIA VPN Services
When it comes to reviews, we always look for more than one reviews to formulate our final decision. Below is the handful snapshots of users' reviews that have posted on PIA official sites and other dominant sites.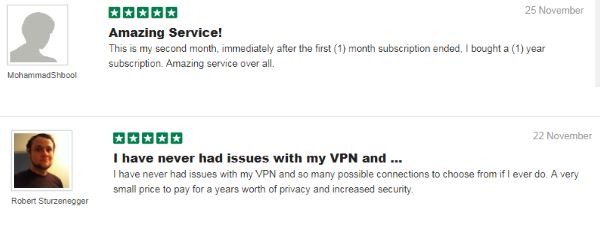 Conclusion of PIA VPN Review
PIA gained the tremendous reputation in the market by maintaining the services exactly the same what company says and means. The client software is simple to use and more advanced features within the range of a couple of clicks. The number of servers is constantly rising without compromising on the speed and quality. The geographical regions covered by PIA is diversified enough that one could never find it difficult to connect to any PIA VPN server residing in any part of the world.
PIA VPN also practices Zero-logging policy and anonymous paying methods that further satisfying the security consciousness of the users. PIA is an environment-friendly VPN service; for each new server installed, a tree gets planted, and it is not something normal in this industry.
After a detailed analysis of Private Internet Access features, we have coined several characteristics that stand PIA out from the other top-class VPNs, this include; multiple payment options, diversified list of servers, and device compatibility.
We hope you enjoyed this review; If you still not sure that PIA is the best service for you, browse our reviews of other top-notch VPNs. Don't forget to share your experience with us in the comment section below.