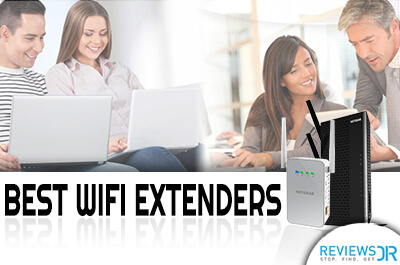 WiFi is great when it works but incredibly annoying when it doesn't; there could be multiple reasons and many times it comes down to signal interference. Your wireless plays a vital role but fails to reach the WiFi dead spots of your home or office; so, instead of setting up a new WiFi, order one of the best WiFi extenders and connect your entire workplace or home.
As we all know, the further away a WiFi device is from the WiFi access, the slower its speed or get non-existent. So, using WiFi Network Extenders can shorten the distance between your WiFi devices and the WiFi signal thus boosting speed and performance. Don't know how do WiFi extenders work? Worry not! We have got you covered.
What Is WiFi Extender?
A Wi-Fi extender or a range expander is a wireless repeater used to expand the reach of a wireless LAN. The device placed in between a router or access point and a client that is not close to receiving acceptable service or one that is on the other side.
The best WiFi extender connects wirelessly to the router, picks up the signal to retransmits it. Transmission speed for clients connecting with a range extender is not equivalent to direct service from the base, and there is a possible increase in latency for each hop. Range extenders are useful for clients with weak signal than those that cannot access signals at all.
Wi-Fi extenders improve the coverage area of the router and sometimes provide additional Wi-Fi access points. If your area is too big for a router, don't jump into the world of Wi-Fi extenders, before considering the relevant factors.
Factors To Consider Before Buying WiFi Extenders
The range of the extender must be in range of both the client device and the signal source.
It needs the associated encryption keys if the signal is encrypted.
It should have a static IP address so it isn't identified as a client.
The signal transmitted must be the same as that of the source.
The range extender should ideally be using the same chipsets and software as the router or access point.
So, if you only want to maximize performance, it's better to add Ethernet connections or additional routers to deal with the weak WiFi zones; you don't need to spend more than $100 on a WiFi extender, as you get an additional router or wired connection for the same or less.
Finally, it's wise to avoid single-band extenders as extenders consume your router's throughout, so make sure it's as efficient as possible. Single-band extenders connect and broadcast on the same band, and that compromises performance. Dual-band routers, on the other hand, connect to the router on one band and broadcast on the other.
Keeping that in mind, let's take a look at our list of best WiFi extenders that connect you in every dead corner of your home or office, without compromising signal performance. All these are selected after rigorous testing that includes hands-on evaluation and in-depth lab tests, have a look!
Best WiFi Extenders to Opt In 2023
Netgear AC1200 WiFi Range Extender EX6150 – Recommended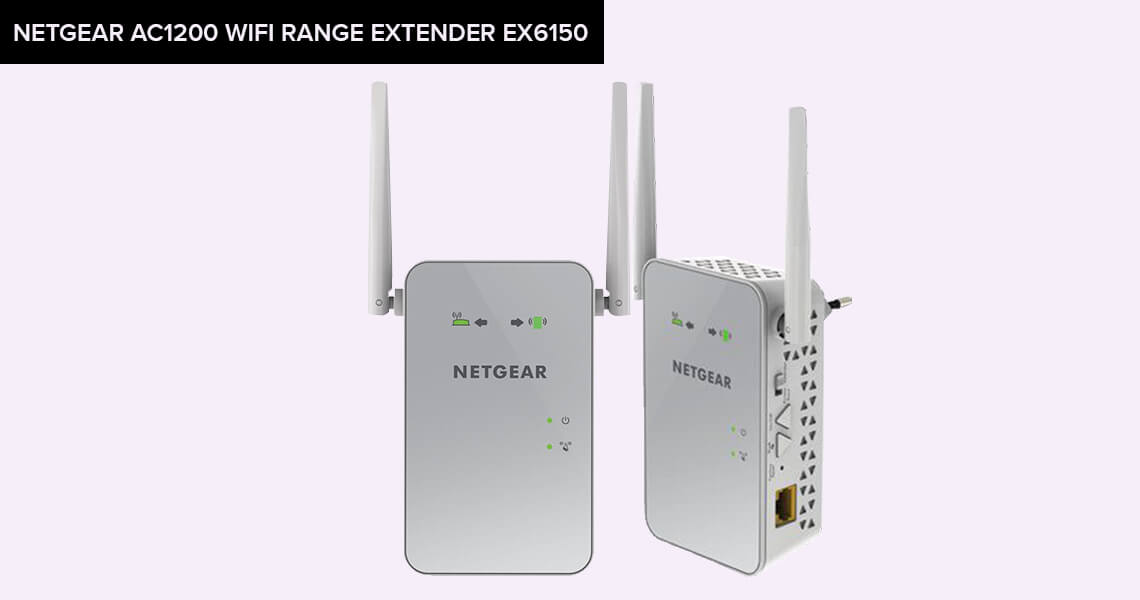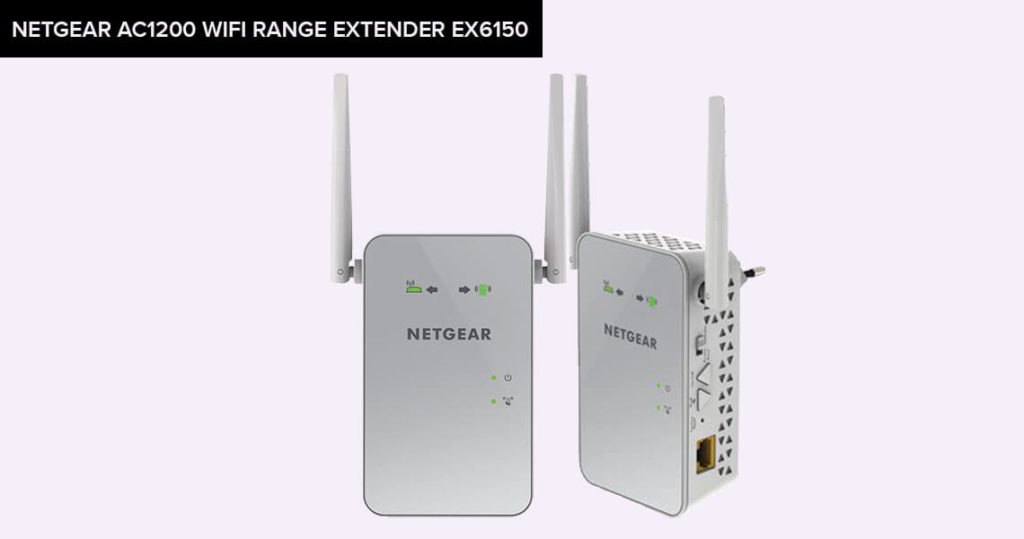 From last few years, Netgear is a household name in the networking world; Netgear AC1200 WiFi Range Extender EX6150 is one of their masterpieces. They've put their extensive expertise in this Wi-Fi Range Extender. It's our current choice for the best Wifi extender 2019.
As a bonus, the EX6150 offers quick and simple installation without any hassling; follow the easy-to-read instructions, and before your next blink, you'll find the fast and reliable WiFi covering your entire home or office. It's that easy.
Features
802.11ac 5GHz and 2.4GHz
1 x Gigabit Ethernet port
Wi-Fi Protected Access
Extender/Access Point mode switch
PROS:
Super simple
Compact design
CONS:
A bit pricey
Only one port
Linksys RE6500 Wi-Fi Range Extender (AC1200)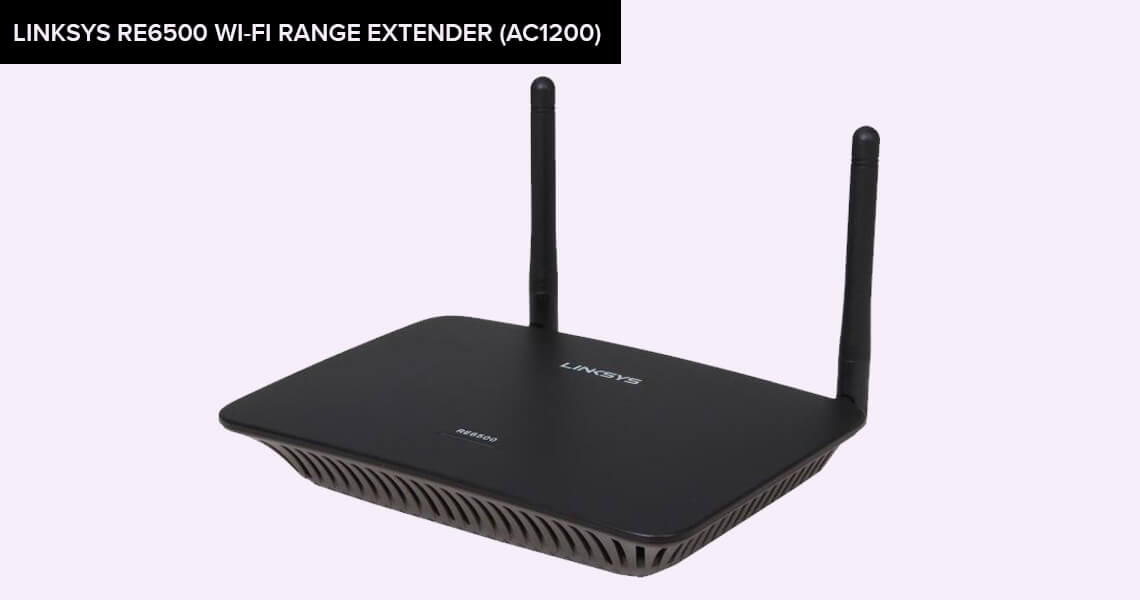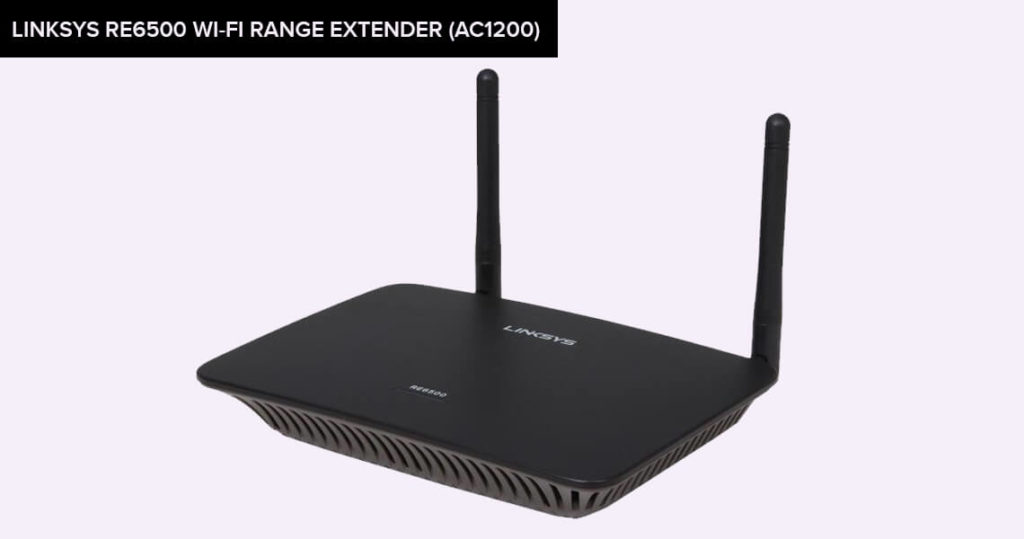 If you're willing to spend a bit less for more coverage and a few extra security features, the Linksys RE6500 is an excellent choice; you might complain about it's complicated setup process, but if you have a networking knack then you won't mind a headache. It offers impressive performance with up to 1200Mbps and wireless-AC compatibility. The RE6500 can also extend your home's wireless coverage by up to 10,000 square feet or so (Linksys claims). It also includes four Gigabit Ethernet ports.
We can't ignore a unique feature of RE6500's – it's audio input jack; that connect your stereo or speaker system and wirelessly stream your favorite music from a computer or any other device. The RE6500 is also suitable for offices and small businesses, uses 128-bit encryption and a WPS function.
Features
802.11ac 5GHz and 2.4GHz
4 x Gigabit Ethernet port
Music streaming
Spot Finder Technology
PROS:
Audio streaming capability
Easy setup
Powerful
Google Wifi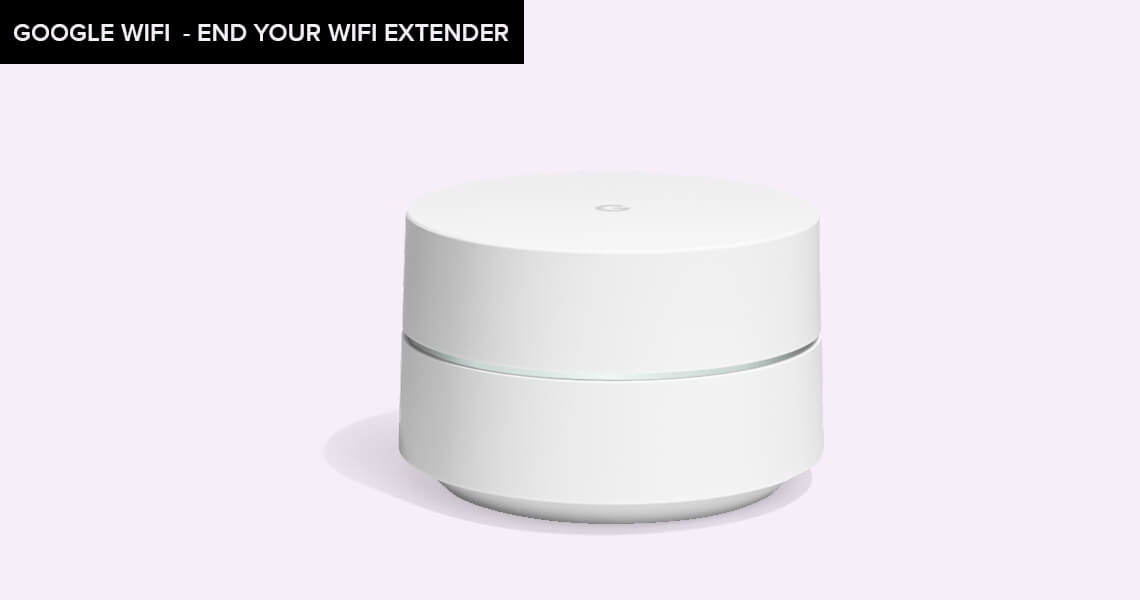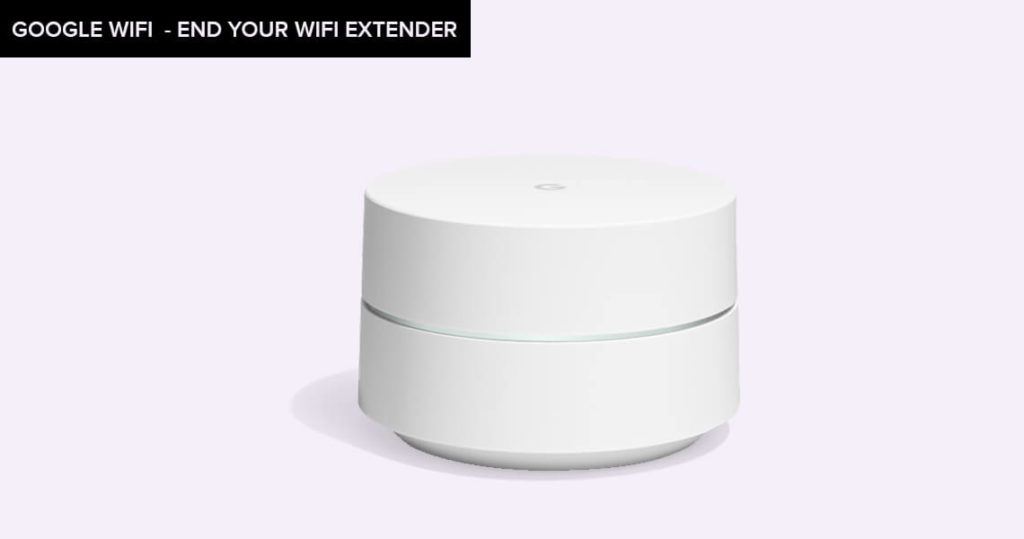 If you dig the design, there's no better buy than the Google Wifi. It acts as a router replacement and has three satellites, called "WiFi points;" each cover 1,500 square feet, that makes a total of 4,500 square feet. The points are like thick hockey pucks sitting in plain view. Unfortunately, Google Wifi extender lack USB ports mean you can't connect peripherals.
Each point has a quad-core Arm CPU, 4GB of eMMC flash memory, 512MB of RAM, AC1200 (2X2) 802.11ac, 802.11s (mesh) circuitry, and a Bluetooth radio. Google combines its 5GHz and 2.4GHz bands into one, means you can't designate to a single band, but it uses beamforming technology, that automatically routes to the strongest signal.
The accompanying app is available on both Android and iOS play stores; download and enjoys it's intuitive and manage the status of your points, guest networks, port forwarding, test speeds, and more. Unfortunately, there are no parental controls, but let your household online quickly and easily – and most important, stylishly.
Features
802.11ac 5GHz and 2.4GHz
Beamforming technology
Status management
WiFi points
PROS:
Supported apps
Instant connectivity
Powerful
CONS:
No USB port
No parental control
D-Link DAP-1650 WiFi Range Extender (AC1200)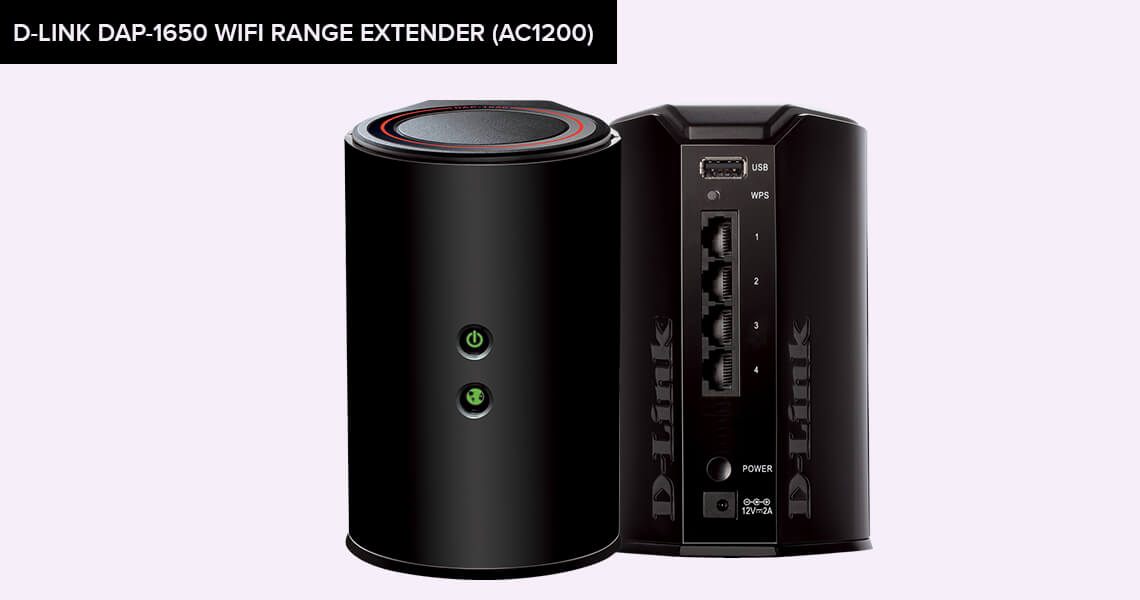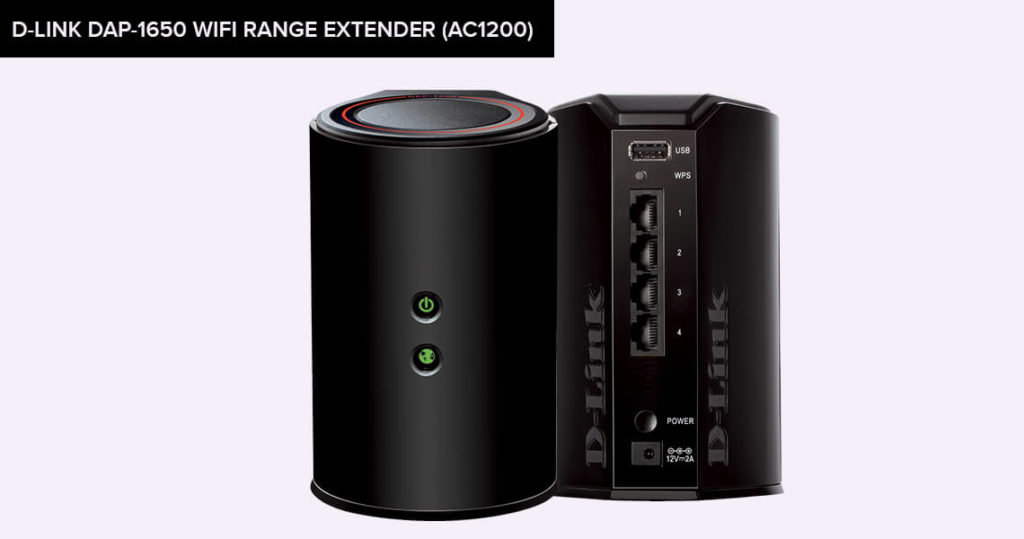 The D-Link DAP-1650 is another versatile and robust option for all those folks who want a lot out of a WiFi extender. This compact and console design extender offer impressive speeds over a large area in just $80 or less; not bad.
With Wireless-AC compatibility and dual-band, the DAP-1650 offers up to 1200Mbps; the 2.4GHz band is middling at 300Mbps while the 5GHz band (867Mbps) is impressive. Between the simple setup process, four Gigabit Ethernet ports, and the media server options for music, video and other files; the DAP-1650 is just a flexible little machine, with no additional antennas, yet aesthetically appealing.
One downside – the DAP-1650 reconnects your router on the same band it broadcasts. This might compromise the coverage area; other extenders avoid this problem by connecting and transmitting on different bands. It's not that big deal but may end up with a slower connection.
Features
802.11ac 5GHz and 2.4GHz
4 x Ethernet, USB 2.0
Guest access
Reset button
PROS:
Affordable
Good selection of ports
CONS:
Not great range
USB is only 2.0
NETGEAR EX6200 WiFi Range Extender (AC1200)  – Expensive But Powerful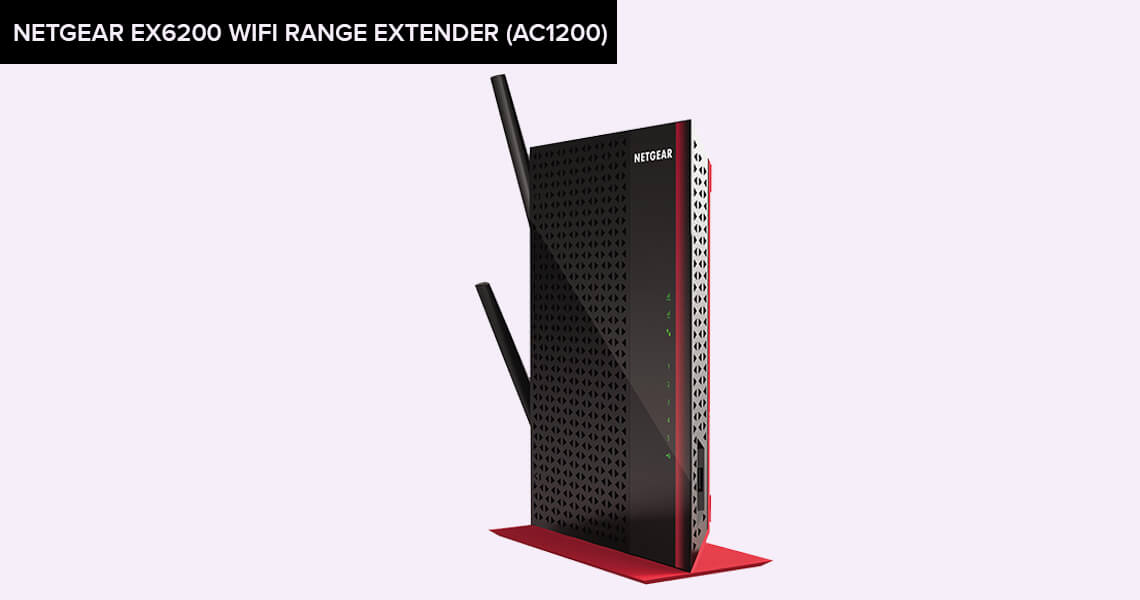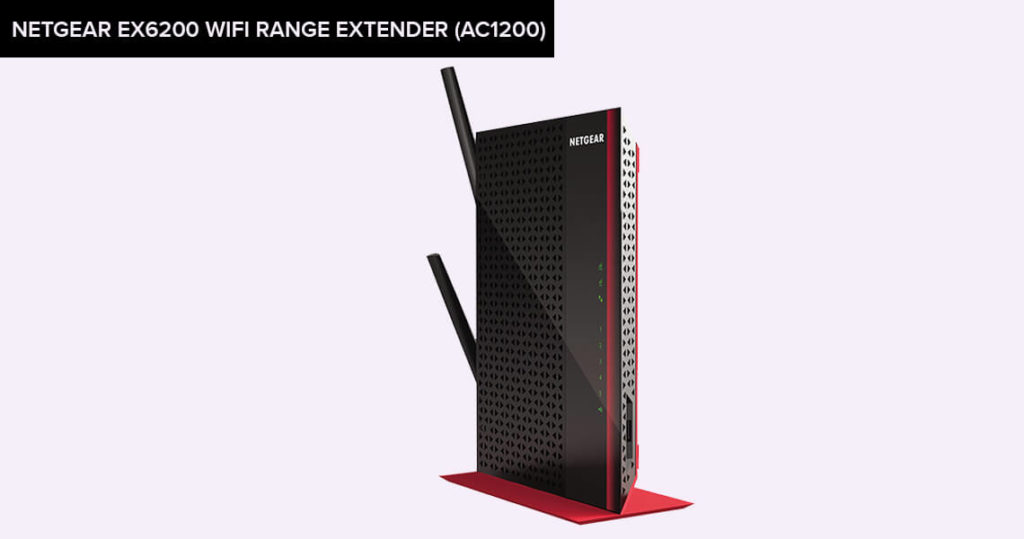 If you're looking for extending your WiFi Network, the NETGEAR EX6200 is the best option for such situations. It's not only powerful dual-band extender but also versatile with the newest Wireless-AC standard and able to double as a second WiFi access point. The EX6200 operates both WiFi bands and up to 1200Mbps of throughput coupled with five Gigabit Ethernet ports; that's significantly faster than the Fast Ethernet.
Maybe the size may turn you off, but you're wrong! It offers a range of options – including high-powered amplifiers that ensure your WiFi reach all parts of the building, and a quad-core CPU to make the network faster and reliable.
Features
802.11ac 5GHz and 2.4GHz
5 x Ethernet, 1 USB 3.0
Quad-core
WPS & Beamforming
PROS:
Extremely powerful
Cheaper
CONS:
Not great range
USB is only 2.0
How We Test WiFi Extenders
We rigorously test all the WiFi extenders we review to give our readers a clear picture of how well a device performs. Overall, we at ReviewsDir, we rate extenders on the basis of design, throughput,  setup, range, and the settings adjustability; but final analysis comes down to the value of money; which extender provides the most at the lowest cost.
Our testing includes; keeping the extender at 50 feet and 75 feet from the router, along with testing between floors with different configurations. The software simulates traffic in a busy network, measuring data back and forth.
Before saying goodbye, let's share you some handy tips for all the shoppers out there.
Some Quick Tips for Shoppers
Look for the cost of the WiFi extenders – This should be not more than $150.
Plug-In or Desktop? Plug-in models, are often be less expensive and convenient to install.
Wi-Fi Standards – Your wireless router standard have impact on how helpful your extender is. An ideal extender that share the same WiFi standard of your router.
Placement – Both wireless routers and WiFi extenders use radio waves to share data with your internet connection. You need to keep extender close enough to the router to grab a strong signal to rebroadcast.
Consider an Upgrade – If your wireless router isn't providing the speeds or coverage, it's better to skip the Wi-Fi extender and get one of the cheap WiFi routers.  Newer models perform better and expand your wireless coverage across the largest home; you might not be needing an extender.
Share your WiFi story with us!