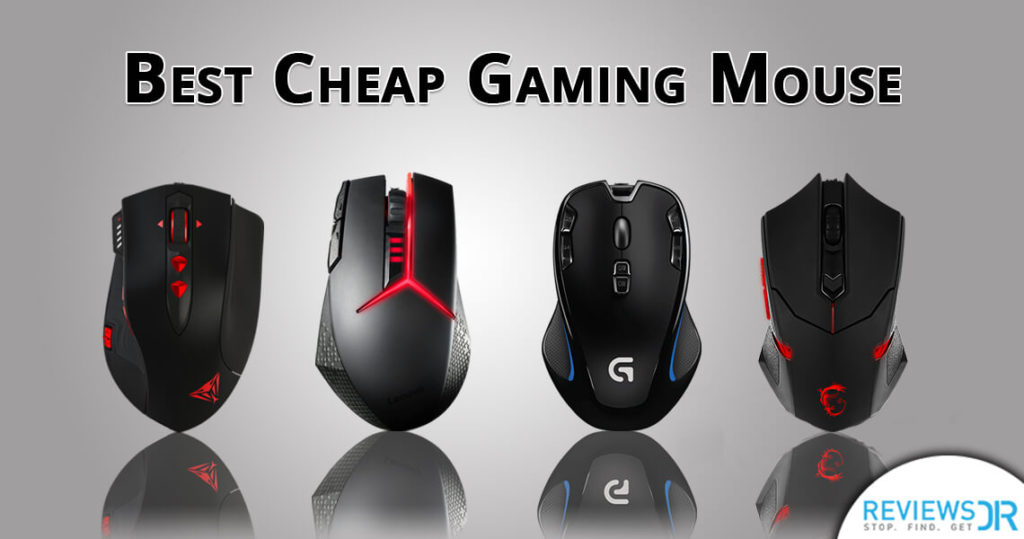 All good things in life aren't necessarily free, but, yes, they can be cheap. As a gamer on a tight budget, if you're looking for the best cheap gaming mouse, then this buyer's guide would help you in choosing the perfect budget-friendly gaming mouse that doesn't cost a fortune and is just as good as some of the high-end gaming mouse out there.
So, whether you're an FPS player or a gamer who enjoys playing MMORPG or any other gaming genre, it's quite essential to have a gaming mouse that is accurate, precise, have great features and above all, comfortable and feels good in the hand.
✎ Read Also: 5 Best Gaming Mouse Under $50 – Both Wireless & Wired
Remember, we've tested hundreds of cheap gaming mouse but most of the Chinese manufacturers disappointed us in the key area and some failed to impressed us when it comes to cursor movement and smoothness. So, after scouring the gaming market we've jotted the list of the best cheap gaming mouse that are just too perfect to be in the price category they're in right now.
So, let's get started with our list for the best PC gaming mouse that'll help you dominate over your enemies swiftly in the game.
5 Best Cheap Gaming Mouse For PC – Top-Notch Gaming Performance
The list below shows five best cheap gaming mice that are popular choices among gamers.
Logitech G303 Daedalus Apex
VicTsing MM057 Wireless Mouse
COMANRO USB Wired Gaming Mouse
HAVIT 12000 DPI Gaming Mouse
SteelSeries Rival 100, Optical Gaming Mouse
Best PC Gaming Mouse –  A Detailed Overview
Now, it's easy for a manufacturer to make a cheap mouse, but the question is: How good that mouse is for gaming? As you can imagine, the market is full of bad quality gaming mice, but no need to worry whether you will end up with one of these. In fact, a few options out there are good choices for those on a budget. Below we will discuss those options, so as to help your game with the best cheap PC gaming mouse you can find.
1 – Logitech G303 Daedalus Apex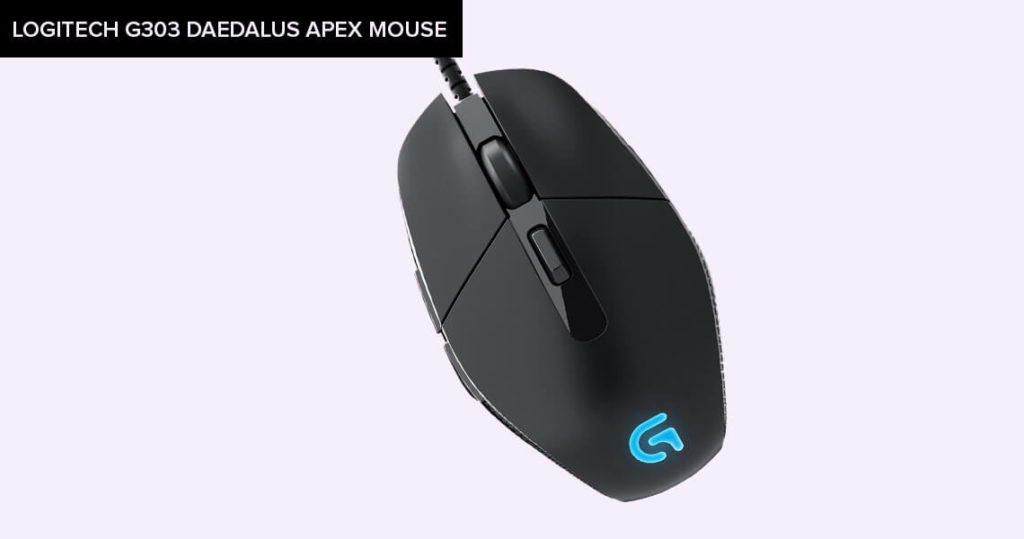 Our top pick comes from Logitech. Here we are talking about the G303 Apex Gaming Mouse, a cheap gaming mouse that comes with impressive features and performance. This model is a good choice for any gamer who wants a gaming mouse coming from a trusted brand so that they don't have to worry about its quality.
With this gaming mouse, you will have the control and confidence on the battlefield.
What makes this mouse so special is the advanced optical sensor. Thanks to it, this gaming mouse is capable of fast tracking since it will quickly translate your hand movements. In addition, you get the exceptional accuracy that no other models in this price range offer.
With the lightweight design and unique shape, this mouse provides the optimal comfort needed for gaming for a couple of hours. However, some users think this unit is a bit harsh for the palm, due to its sturdy construction. But, most users find this unit comfortable.
When it comes to the button quality, you don't have to worry about that. The buttons are designed for a long-term use, so they will perform well even after months of use. You will easily use both buttons and the scroll wheel.
As if not all this is enough, this unit also comes with RGB lighting that you can adjust to your desires. So, what better way to play games than with your favorite colors?
All in all, this unit makes a great gaming addition, so you can't go wrong with it.

PROS:
Fast Tracking
Great Precision
Durable & Comfortable
Lightweight
5 DPI settings (200 to 12,000 DPI)
CONS:
Left-hand users might find it a little uncomfortable
Check Logitech G303 Daedalus Apex Gaming Mouse Price Now
2. VicTsing MM057 Wireless Mouse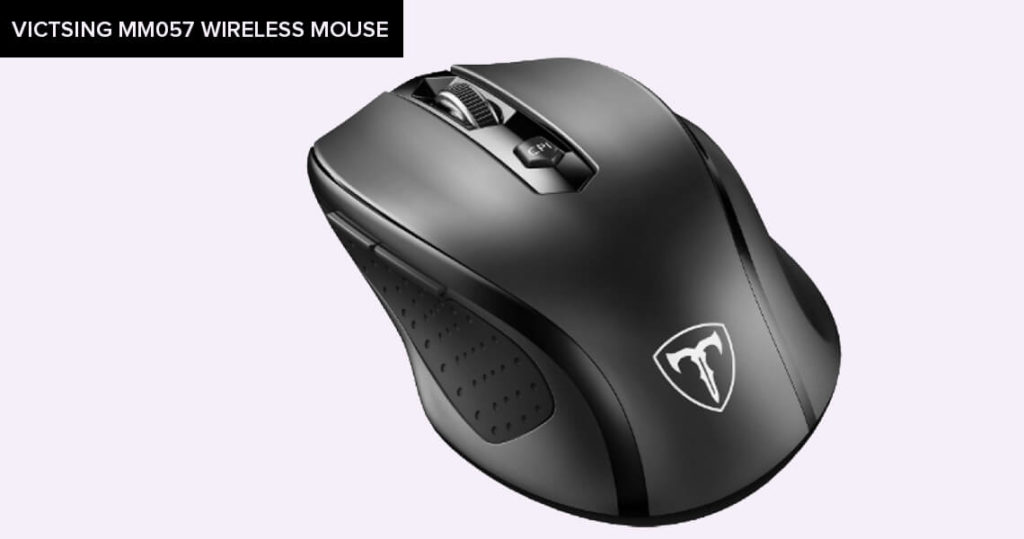 The VicTsing Gaming Mouse is arguably the best cheap gaming mouse when you think about what it offers and at what price.
First, this mouse offers 5 adjustable CPI and two polling rate so that you can adjust the cursor's sensitivity to your games.
In addition, this unit is well-built. Not only it is durable but also it is comfortable. Thanks to the Contoured shape, you can use this mouse for a while without causing any fatigue in your wrist. Moreover, a sweat-resistant, the skin-friendly finish will feel nice under your palm, and a little finger rest will make everything a whole lot easier.
The wireless design gives much more freedom, so you don't have to be close to your computer monitor. This also means that you can easily pack this gaming mouse with you wherever you go.
The unit uses batteries in order to operate. What we love is a sleep mode that contributes to a longer battery life. Namely, the mouse will go to sleep after 8 minutes of inactivity. When you are back, just press the button and the mouse will be ready to game.
As for the downside, this mouse sometimes doesn't make precise movements.

PROS:
Five adjustable CPI
Comfortable
Superior built quality
Lightweight
5 DPI settings (200 to 12,000 DPI)
CONS:
Found a negligible difference in response time
Check VicTsing MM057 Wireless Gaming Mouse Price Now
3. COMANRO USB Wired Gaming Mouse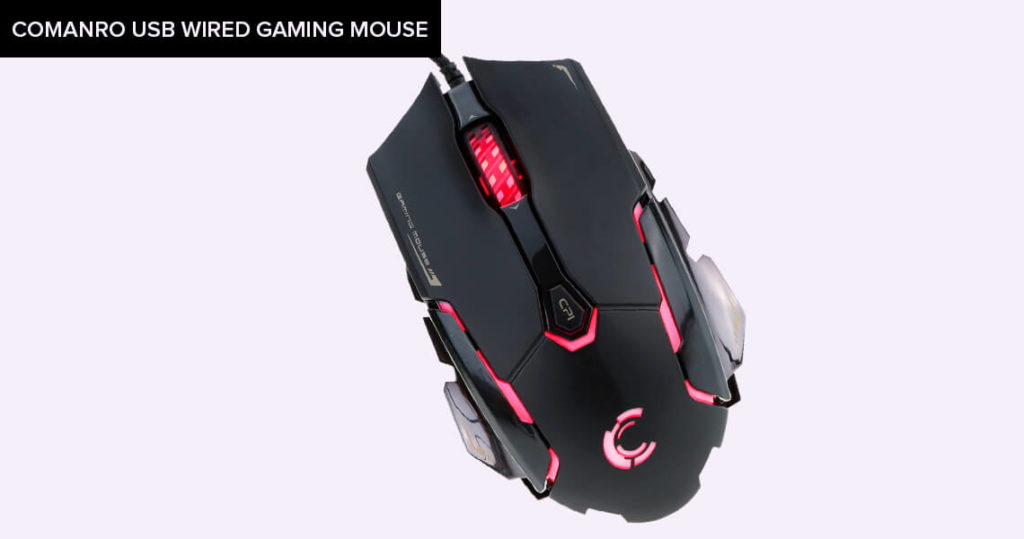 Our third choice is ideal for gaming for many hours. This is because the mouse is not very heavy. In addition, the unit comes with the contoured body, so you can place your palm perfectly. However, some users find this gaming mouse to be too large for their hands.
With six buttons that are symmetrically placed, you will not have to worry about misuse. In fact, you will easily memorize the different function of buttons.
As far as compatibility is concerned, this gaming mouse easily connects to Windows 10, 8, 7, XP, Vista as well as with ME system.
This gaming mouse comes in three colors, so you can choose the one that will match your style.
The icing on the cake is a 1-year warranty that only confirms that this gaming mouse is a worthy investment.

PROS:
Comfortable for long gaming sessions
One year warranty
Symmetrically placed buttons
Available in three multiple colors
CONS:
More suitable for gamers with big hands
Check COMANRO USB Wired Gaming Mouse Price Now
4. HAVIT 12000 DPI Gaming Mouse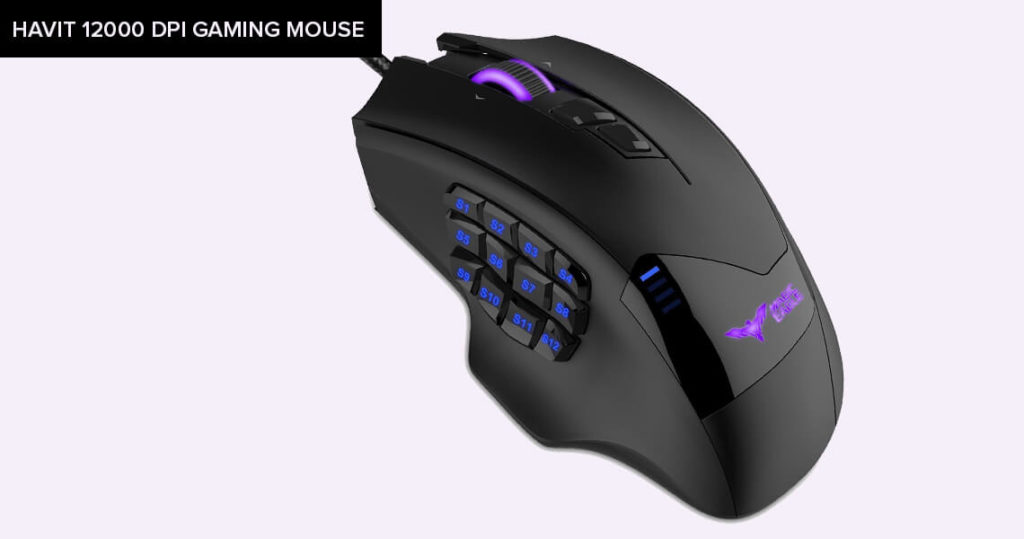 We just don't know where to start with this one. Should we start with DPI that goes up to 12000, making this mouse perfect for MMO? Or should we mention 19 programmable buttons that allow for convenience during your game? Then again, what about 16 million color options for bringing some light to your game? On top of all, this mouse is very comfortable and looks amazing. With its ergonomic design and rubber painting surface, you will have the complete control over your enemies, at any moment. This mouse is universal when it comes to compatibility. The 1.8 braided fiber cable and gold-plated USB connect ensure the connection is steady and reliable.

PROS:
19 programmable buttons
Perfect for MMO
Up to 12000 DPI
16 million color options
Ergonomic design
Super smooth
CONS:
After an year of use, the buttons do become a bit hard
Check HAVIT 12000 DPI Gaming Mouse Price Now
5. SteelSeries Rival 100, Optical Gaming Mouse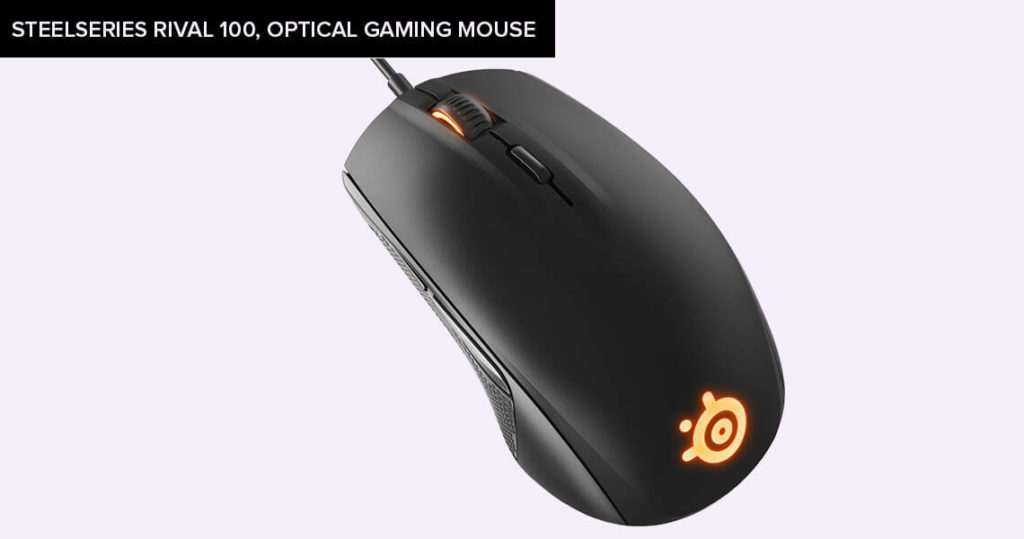 The Rival 100 is designed with gamers' personalities in mind. Meaning, you get the chance to customize it just the way you want – from six programmable buttons, adjustable CPI, and illumination that offers 16 million options. In addition, the unit comes in a plethora of colors to choose from, for the best gaming experience. With its well-known design, the Rival 100 is one of the most stylish gaming mice on the market.
Moreover, this gaming mouse offers the exceptional comfort, due to a right-handed shape and textured side grips. Thanks to this, your hand will not slip while gaming.  The thumb rest only adds up to great comfort.
With a good quality optical sensor and onboard zero hardware acceleration, this gaming mouse is fast and accurate.

PROS:
Fast & Accurate
Comfortable
Textured side grips
CONS:
Best suited for right-handed gamers
Check SteelSeries Rival 100 Gaming Mouse Price Now
Should We Buy A Cheap Gaming Mouse – Are They Worth Money?
Now, gamers always have doubts when it comes to buying a cheap gaming mouse, and we understand them. So, we want to talk about why you should not be afraid of investing in a cheap gaming mouse and why they make a good choice in certain situations. Of course, not all cheap gaming mice are worth buying, which leads us to the next section.
✎ Read Also: 7 Best Gaming Keyboards Under $50/$30/$20 – Keys To Gaming Peace!
As already mentioned, there are numerous gaming mice with a poor performance, coming from unreliable brands.
So, the first thing when buying a cheap gaming mouse is going with a trusted brand. These brands are aware of the fact that many gamers need a budget option gaming mouse that will still allow them to game properly, so they deliver exactly that.
Of course, you should have realistic expectations, since here we are discussing cheap gaming mice. Meaning, they are not meant for a long-term use, simply because, well, they are not very durable. However, most gamers would buy a cheap gaming mouse while in the meantime they are putting the money aside, in order to buy a top notch gaming mouse after a couple of months. So, yes, a cheap gaming mouse is a smart option for a temporary use.
One more reason why would someone buy a cheap gaming mouse is portability. Meaning, if you are an avid gamer and you are going on a vacation, you would be insane to carry your high-quality gaming mouse with you, risking something happens to it. So, buy a cheap gaming mouse for a worry-free vacation and playing some casual games that the mouse can handle.
As you can see, buying a cheap gaming mouse does make sense. But, how can you know which one would be a good option, with all the gaming mice out there? Well, that's a good question. We thought of everything, and we've got you covered with this buyers guide that you are just about to read.
Lastly, you never know when a gaming mouse can fail you. So, it's always good to have an extra mouse in the drawer of your desk, just in case. That way, you will be ready for the unexpected situations.
Things To Look For When Buying The Best Cheap Gaming Mouse For PC
Knowledge is the foundation of success. That being said, here are the things to focus on in order to find a good cheap gaming mouse for you.
As you already know, there are two types of gaming mice – wired and wireless.
Now, as far as cheap gaming mice are concerned, we advise you get a wired model. This one is far more reliable than a wireless one because there are no battery and interference to think of. Nevertheless, if you insist on a wireless gaming mouse, just be sure to buy the one coming from a trusted brand such as Logitech.
Well, you cannot expect too much out of a gaming mouse that costs about $30 or less, but you still can have a mouse that will be responsive and somewhat accurate, to play lighter games. Of course, forget about playing demanding games with a cheap mouse, because in those games, every second matter, and these mice are not that fast and precise.
✎ Read Also: Best Graphics Card Under $100 In 2017 – Beasts That Don't Break The Bank
A good cheap gaming mouse should come with easy-to-click buttons. Just keep in mind that some models come with noisy buttons. Another thing to pay attention to is the scroll wheel. Now, this is where most cheap mice fail, due to poor quality materials they are made from. So, make sure to read comments and find out whether this part of a mouse is working correctly.
Another thing to think about is the weight of a gaming mouse. It either should be too heavy not too light. When a mouse is lightweight, you won't have much control over it, so the cursor will jump all over the screen. On the other hand, if the unit is too heavy, this will slow you down, as your hand will get tired fast.
Final Thoughts – Have You Made Your Pick For The Gaming Mouse?
Well, that's about it. We've covered everything you need to know before buying the best cheap gaming mouse for you. If you don't want to risk with the search for a good cheap gaming mouse, then simply opt for one of the above-mentioned models. However, if you want to do research on your own, just make sure to apply the tips that we shared with you. Remember, it is possible to find a good cheap gaming mouse that will not let you down. So, find that perfect gaming mouse for you so that you can enjoy your favorite games wherever you go.