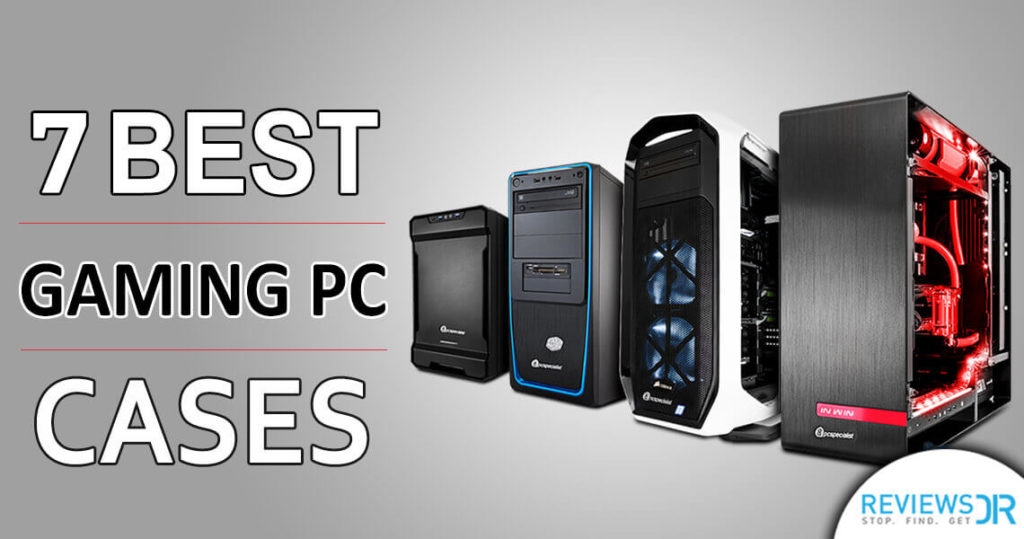 The height of excitement for any gamer is to build their gaming PC by themselves. Why? Because you can tailor your gaming PC according to your requirement, likes and dislikes. Although there are some really cool-looking gaming PCs in the market which are just breathtakingly an eye candy, but as a true gamer, you just need to feel that satisfaction in saying that, "I assembled this rig by myself!"
So, as much as the hardware that's inside your PC is of utmost importance, your gaming rig should complement that power with its looks. Besides, who doesn't like a cool-looking gaming computer case?
Without further ado, here are some of the best gaming PC cases that are just awe-inspiring and are of magnificent quality. Moreover, most of these cases for gaming PC are from famous brands such as Cooler Master, Corsair, and NZXT.
7 Best Gaming PC Cases – Powerful Inside. Beautiful Outside!
Corsair Crystal Series 570X RGB ATX Mid-Tower Gaming PC Case
Cooler Master Cosmos C700P
Cougar Conquer Aluminum Frame Tempered Glass Premium Gaming Case
Corsair Carbide Series Mid-Tower Gaming PC Case
Antec Cube
Thermaltake Tower 900
CM Storm Stryker
1- Corsair Crystal Series 570X RGB ATX Mid-Tower Gaming PC Case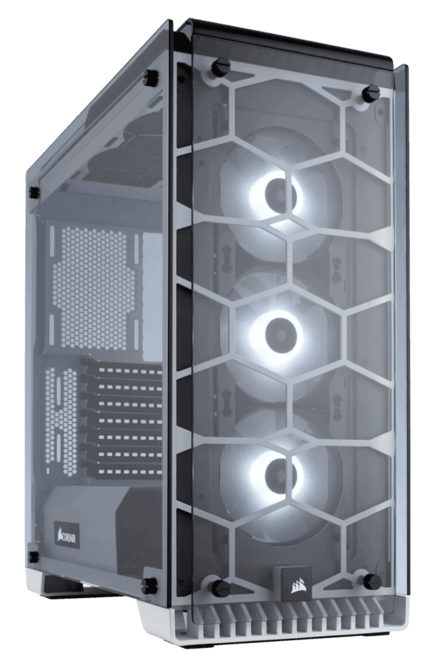 With a soothing and elegant look, Corsair released their Crystal series pc case which is sculpted with pure finesse. In front, we have 3 different colored RGB LED fans which look really cool and you're also provided with an integrated controller to control those fans. We have tempered glass on all four sides of this casing and all in all casing have room for 6 fans (3 front, 3 back).
All the cables are well-routed and proper straps are in place to avoid letting cables get in way of any hardware. The biggest attraction to Corsair 570X RGB are the glowing LED lights in front and back which give it its distinguished look.
Get Corsair PC Case For Gaming Now
2- Cooler Master Cosmos C700P – Full-Tower Gaming Computer Case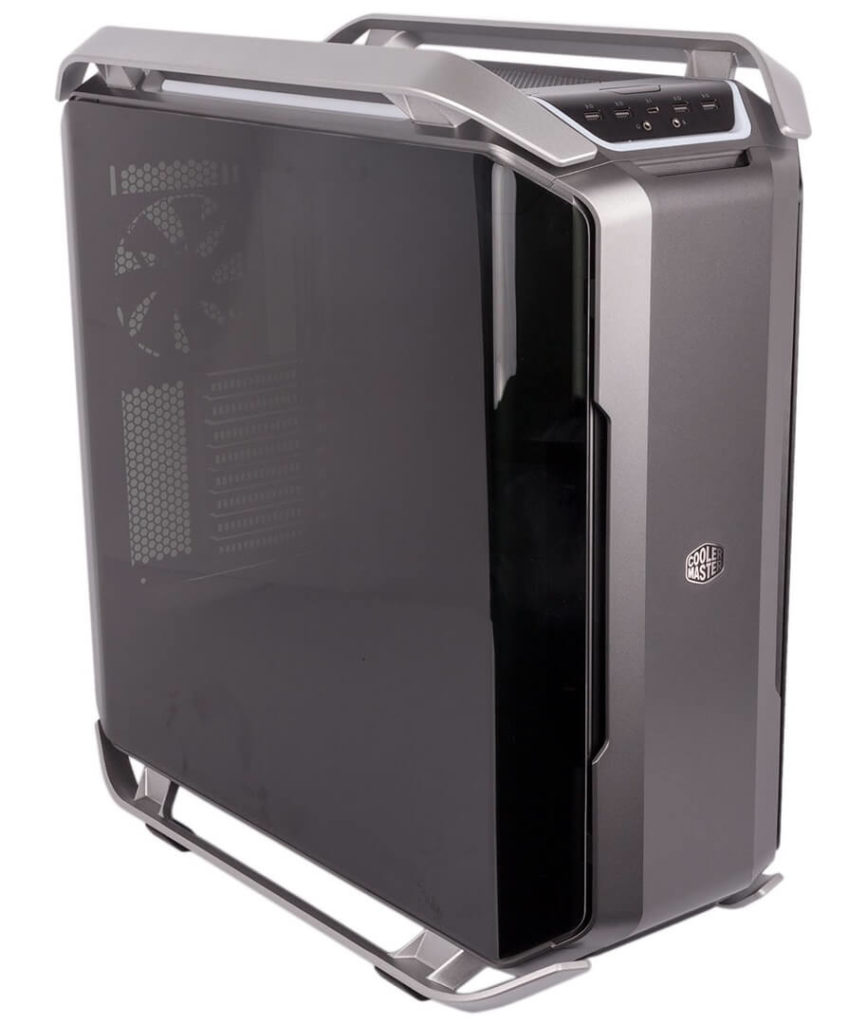 Cooler Master Cosmos gaming PC case is pretty massive and is a bit heavy too. But that is what you expect from a full steel frame and tempered glass on sides which makes your internal hardware viewable. It has got blue LED lights inside which gives it a really cool lightning effect.
The most impressive feature is its side panel which opens up in a distinct manner looking like wings. Moreover, the casing is roomy, have really smooth air flow which would keep your PC cool all the time.
Get Cooler Master Gaming PC Case Now
3- Cougar Conquer Aluminum Frame Tempered Glass Premium Gaming Case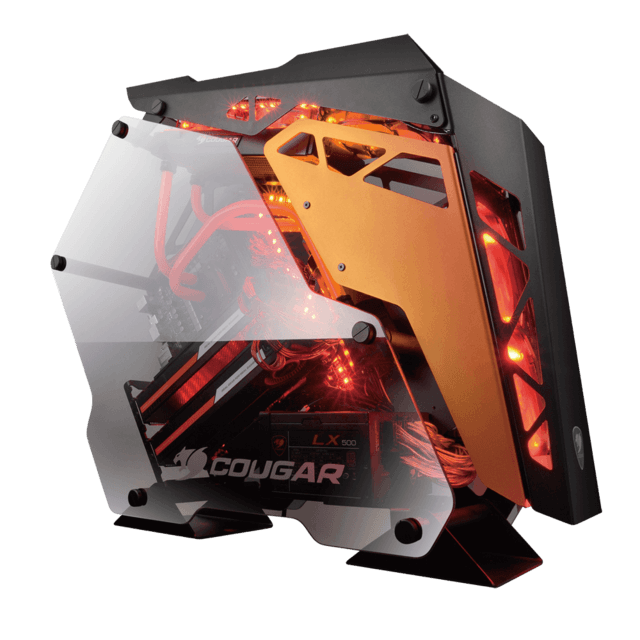 Cougar Conquer computer case looks something out of a spaceship because of its wild and unconventional looking design. It's definitely a head-turner and one of the most edgier and stylized computer cases out there. It's frame is made up of aluminum alloy and has tempered glass on both sides through which the internal peripherals are visible.
It's a roomy casing with ample space for multiple graphics card if you're aiming for SLI. It also supports liquid cooling and it also has a water cooler radiator. So, Cougar Conquer is definitely the kind of pc casing you should go for if you want to keep your PC to look cool and stay cool, literally.
Get Cougar Conquer PC Case Now
4- Corsair Carbide Series Mid-Tower Gaming PC Case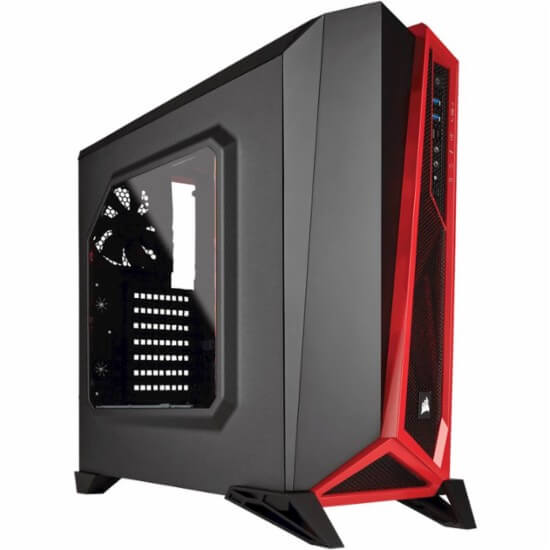 Corsair Carbide is one of the best tower gaming PC cases out there which look stellar and are light on the pocket. They are available in different vibrant colors and are the best gaming PC cases for anyone who doesn't want to spend a fortune on their casings but want best of both worlds. Corsair Carbide comes in the category of the best gaming cases under $100.
Now, what are the best bit about Corsair Carbide? Well, you have LED fans in the casing (2 front, 1 back), a tool-free design, and a roomy casing which can house all the necessary gaming PC peripherals without any rigmarole. Moreover, you can also place a radiator separately in the front which the casing already has ample place to accommodate.
Get Corsair Carbide Gaming PC Case Now
5- Antec Cube – Good Things Come In Small Packages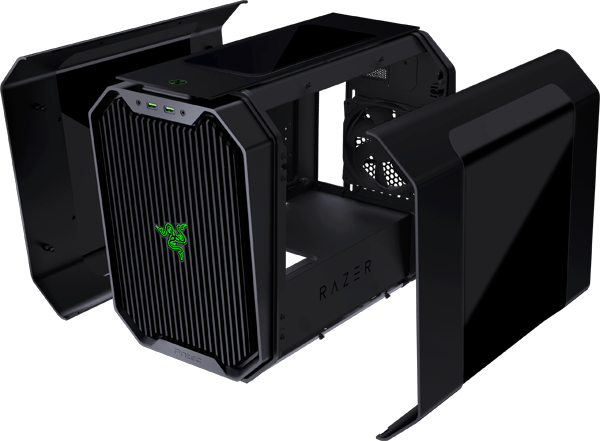 Antec Cube is a PC case from Razer which comes in a cube-shaped box. It's perfect to house Mini-ITX motherboards with ample space for other peripherals too. It has got enough room to accommodate your HDD, SSD, graphics card and all other devices important for initial and future expansions too.
When it comes to small casings, Antec Cube is the one to go for, but its high-end pricing is its biggest hindrance in taking it into consideration. But for a gamer who travels a lot and always want their rig by their side, Antec Cube is a pure bliss.
6- Thermaltake Tower 900 – The Best Gaming PC Case For Hardcore Gamers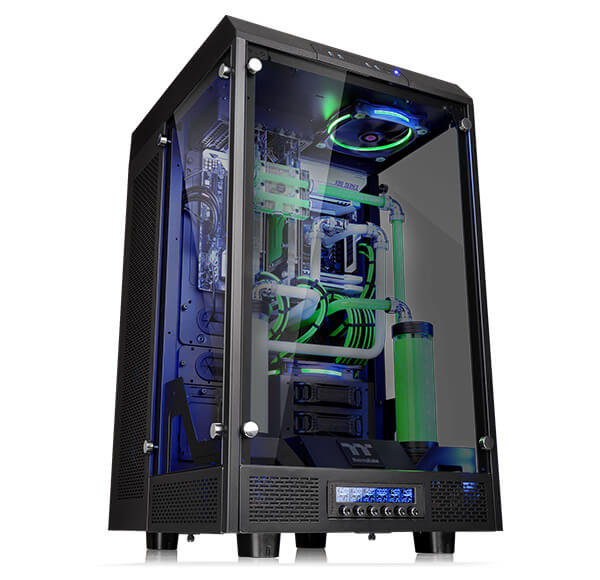 Thermaltake Tower 900 is more or less the epitome of all the tower casings in our list. It's primarily aimed for hardcore gamers who know exactly how to take advantage of a gaming PC case like this and know the right amount of tweaks and adjustments needed to take the casings' performance up a notch.
Thermaltake Tower have a stylish tempered glass design with a plethora of fans, LEDs, and features to make it one of the best pc casings that not only have a cosmetic design but a functional one too.
Get Thermaltake PC Case For Gaming Now
7- CM Storm Stryker – The Sturdiest & Roomy Gaming PC Case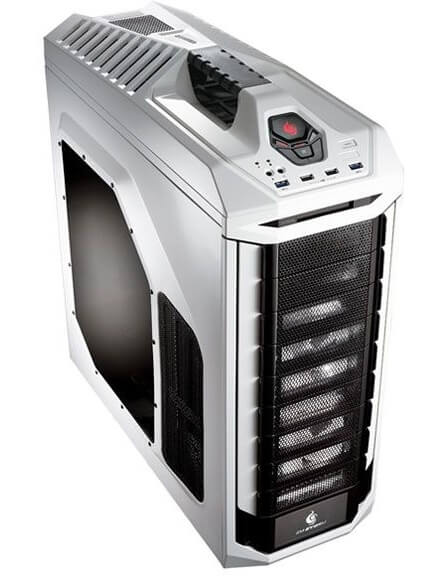 When we see CM Storm Stryker casing, we see sheer power and attitude. This definitely looks like a PC casing which can turn into a transformer anytime! Well, I know that sounds ridiculous, but that's exactly what came to my mind when I first saw it.
CM Storm Stryker is definitely one of those gaming pc cases which are aimed for heavy gaming rigs and gamers who want a sturdier looking casing which speaks volume of what hardware they are housing inside. The only downside to it is the price at which it's being offered which is under $150. Nonetheless, it's still a viable option for gamers who are always on the lookout for expansions of their gaming rig.
Get CM Storm Stryker PC Case Now
Things To Remember When Opting For A Gaming Computer Case
As a hardcore gamer, you know that investing in a gaming PC case is of utmost importance because if you go with something on a temporary basis, the future expansions in your rig can cause a lot of problems. Most of the gamers don't realize the importance of a good gaming PC case because short-sightedness, in this case, can lead to a great hassle afterward.
✎ Read Also: 5 Best Gaming Mouse Under $50 – Both Wireless & Wired
So, here are some of the most important aspects one should look into before considering to buy a gaming PC case that ticks all the boxes on a gamer's list:
Casing Internal Capacity
Front-Panel Ports
Airflow & Fans
Peripherals Slots
Tool-free?
1- Casing Internal Capacity
One day or another, you're going to expand or change something in your gaming rig. But what if your gaming rig can not house another peripheral or two? Are you going to start the migration process of all your rig into another gaming PC case? It's a daunting process to even think about changing your casing just for the sake of a peripheral that could have been easily installed if the casing was a little bigger.
So, always look for roomy casings that can house more peripherals other than you have on your existing rig. You never know when you're going to need them, and trust us, the expansion phase does come along pretty quickly.
2- Front-Panel Ports
Many of us don't like the idea of scouring the back panel of our PC case to find the USB port to connect our devices or USBs because the back panel is the most overlooked and ignored section of a gaming PC case and no one likes to go down the road of finding the right port to insert USB or other devices because it's just a bit annoying.
On the other hand, it's much easier to find the slots when they are located in the front. Moreover, as people are pivoting towards VR, proper front-panel slots are mandatory if you're really spending on a proper PC gaming case.
3- Airflow & Fans
If you have a high-performance gaming PC, there is a possibility that it would heat up. But through proper airflow and cooling system in place, all your peripherals would stay cool and work at optimum conditions. But, there have been cases where graphics card or motherboards do fry up because of no proper airflow or cooling system inside the casing. So, water cooling or radiator system, if supported by the casing, is definitely a plus.
4- Peripherals & Slots
Many, casings do not offer much slots for expansion or room to add another graphics card. So, always check if there are enough slots for HDD or SSD if you would add another one anytime soon. It's always a good decision to keep room of at least 1 extra slot for each peripheral.
5- Tool Free?
Let's face it, nobody likes to manually open the screws of each port to get each device out of its place and then again repeat the whole procedure to close the casing and place everything in its place back again. It's better to look for a casing which is tool-free and is not a hassle for you if you want to change any internal hardware.
In A Nutshell – Is Any Gaming PC Case Resonating With You?
Every gaming PC case is unique and offers different and distinct features which might or might not resonate with every gamer. So, choose your PC case wisely and always look out for the essentials first like a built-in PSU, Airflow, internal capacity, fan system, ports etc. Remember, generally gaming PC cases are a one-time investment and normally gamers don't often change PC cases and only change it again if they need to upgrade their entire gaming rig, which is also a rare occurrence.
The above-mentioned gaming casings are just some of the best gaming PC cases mentioned keeping in mind the customer feedback, and we're sure that there are hundreds other gaming pc cases out there which are just as good as the ones mentioned.
Kindly let us know if you think there's a gaming pc case that should've been mentioned in our list as we would be happy to accommodate it if we find it good enough.