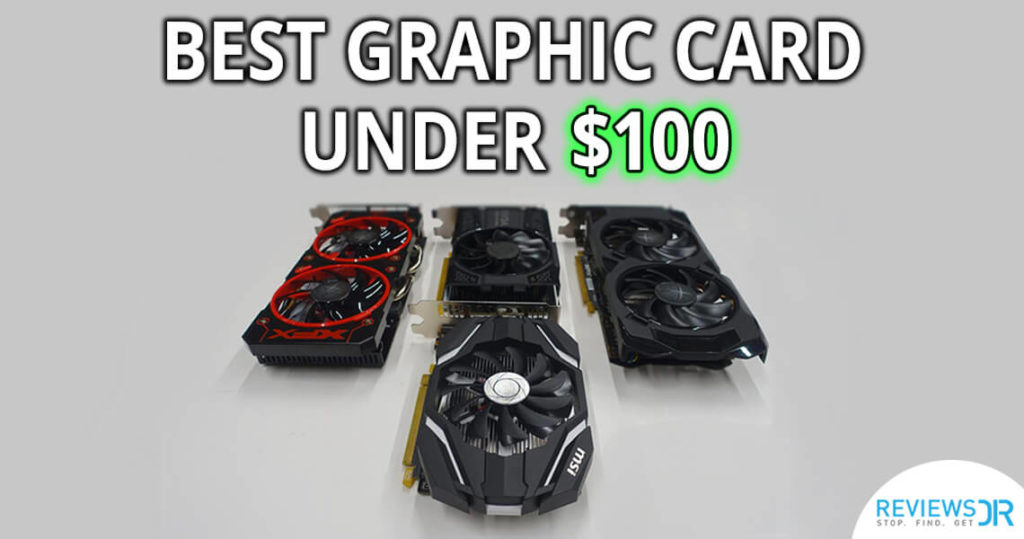 Graphics card is the heart of any gaming rig. A slow GPU can make you mad as hell and a powerful GPU can uplift your gaming experience to a next level. But the prime factor that determines what type of GPU you'll get is 'Money!' To make sure you don't break the bank when it comes to gaming, we have dig down through all the bench-marking, 3D tests and gauged the performance of all the latest games to let you know the best graphics card under $100.
Can I Even Get One Of The Best Graphic Card Under $100? – Here's A Good News!
Usually, the concept is that the more money you invest on building your gaming rig, the better it will be. But is it truly the case? Well, we are not denying the fact that the more, the merrier, but…you should know exactly which configuration would work, otherwise, we mostly observe that people spend thousands of dollars but end up building a gaming rig which could have been better build in half the price.

So, YES! If you know what won't bottleneck the gaming performance of your machine, you can have even the best graphics card under $100 for yourself just by giving a little time to research.
See, we all want to play our favorite games smoothly while enjoying the fine details in the game. Perhaps you aren't satisfied with your old graphics card anymore. Or, you simply want to get a graphics card without actually having to spend too much on it.  Whatever the case may be, you are at the right place, because we've got you covered.
And, in this article, we will discuss best graphics card under 100 dollars, to help you choose the right beast of a GPU for your gaming machine.
Best Graphics Card Under $100 In 2018 – The Top 6 Picks
Since AMD and NVIDIA manufacture one of the best graphics cards for gaming, we will be reviewing only them. So, these graphics cards are a worthy investment as they represent the perfect combination of a good quality and a reasonable price.
AMD's R7 240
RX 460 4GB
AMD Radeon R7 250 by Asus
NVidia GeForce GT 730 by EVGA
NVidia GeForce GT 740 by EVGA
NVidia GeForce GTX 1050 by MSI
Best Graphics Card Under 100 – AMD GPUs
Let's begin first with top recommendations of AMD GPUs. These are the finest models from AMD, that are both in budget and perfect to cater your gaming needs.
1- AMD's R7 240 – Best Budget Graphics Card Under 100 Dollars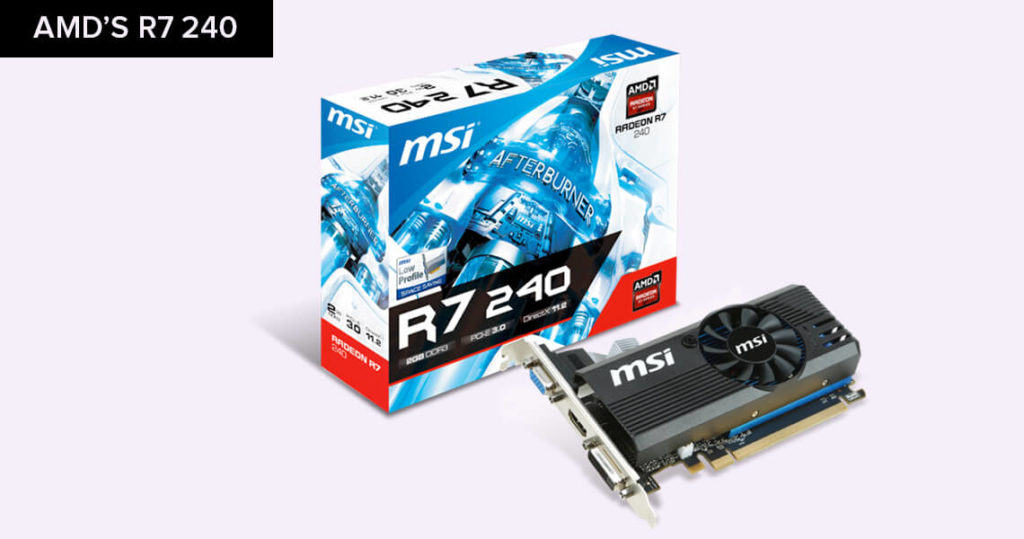 The best AMD graphics card under 100 is here. This graphics card is powered by AMD Radeon R7 240 GPU and has 2GB DDR3, allowing you to enjoy your favorite games such as Minecraft, CSGO, Battlefield 4, and Rocket League, on 720p. In addition, these games will be played smoothly, without any lag. Clearly, this model is not suitable if you want to play games on high settings.
The unit features a large fan, so as to keep an optimal temperature level. With 13 x 9.3 x 2.3 inches and 2 pounds, the card takes up an average amount of space that cards of this performance normally do.
Overall, this model is a good choice for any gamer who plays casual games and doesn't aim for a high-performance graphics card.
| | |
| --- | --- |
| Attributes | Values |
| Interface | 128-bit |
| DirectX | 12 |
| Memory | 2048MB DDR3 memory |
| Memory Interface | 128 bit |
| Clocked At | 900 MHz(Std 780 MHz) |
| System Power Supply Requirement | 400W |
Pros:
Large & Quiet Fan
Perfect for playing online games
No frame drops observed on medium settings
Cons:
Noticed Low FPS on high settings
BUY GIGABYTE AMD RADEON R7 GRAPHICS CARD FOR UNDER $100
2. RX 460 4GB – Top Quality Graphics Card Under $100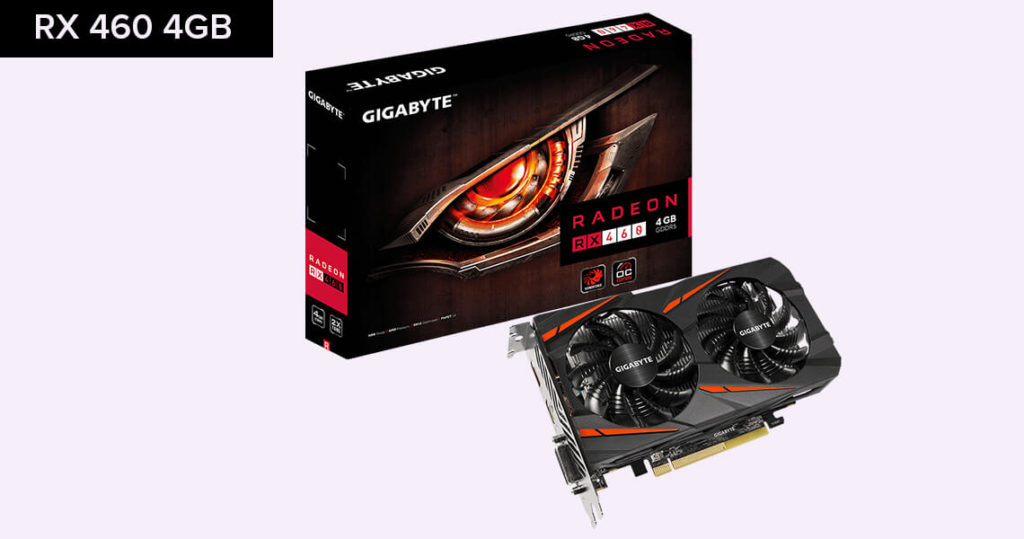 This model is also one of the best graphics cards under 100, and works as a charm. This graphics card is efficient and powerful, and a smart investment as an entry-level card. You can play games like Hitman and Doom, without any problem, because the card is fast. What makes this unit stand out from its competitors is the TDP. It is only 75 watts so it doesn't require a powerful wattage power supply. In fact, it is powered via the PCIeX16 slot.
With 4GB and a 128-bit memory interface, this card can handle 1080p high settings. It comes with a single fan that will do the cooling job properly. But, for the downsides, this unit's drivers tend to crash from time to time. Also, the frame rate will drop on high resolutions.
| | |
| --- | --- |
| Attributes | Values |
| DirectX | 12 |
| Memory | 4gb GDDR5 |
| Memory Interface | 128-Bit |
| Clocked At | 1212 MHz |
Pros:
Plenty of memory
High boost clock speed
Runs on DirectX12
Twin fans for cooling
Supports UHD & HEVC coding
Cons:
The Stock Card's driver is a bit glitchy
Frame rate drops on very high resolutions
BUY GIGABYTE RADEON RX 460 GRAPHICS CARD FOR UNDER 100 DOLLARS
3: AMD Radeon R7 250 by Asus – Recommended Graphics Card for Under $100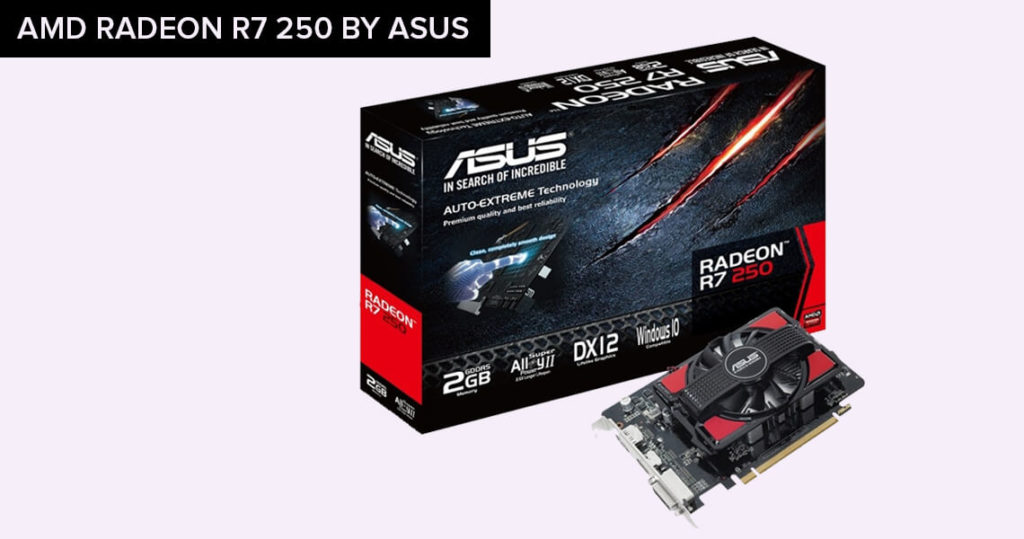 For our third and final AMD graphic card, we have another R7 series product. The 250 is the next product in line from R7 240. 250 is a solid graphics card if you're shooting under 100 dollars, and can perform very well at fairly high resolutions. The card features 384 stream processors and clocks at 1.05 GHz. The best thing about it is that you can just plug it in the PCI Express 16x bus socket, and forget. The card requires no additional power connections. The device can even run Crysis 3, although at about 30 fps, on medium settings and 1280×720 resolution. Still, considering how much of a hog Crysis games are, this is an impressive result.
| | |
| --- | --- |
| Attributes | Values |
| Interface | PCI Express x16, 3.0 |
| Crossfire | CrossFire Ready |
| Memory | 1 GB DDR5 |
| Memory Interface | 128 bit |
| Clocked At | 1.05GHz |
| Memory speed | 1.15GHz |
Pros:
Doesn't require additional power connections
128-bit memory interface
DDR5 RAM
Dust-proof fan
DirectX 12 compatible
Cons:
FPS dropped on high resolutions
BUY ASUS AMD RADEON R7 250 GRAPHICS CARD FOR UNDER 100 DOLLARS
Best Graphics Card Under 100 Dollars – NVIDIA GPUs
Well, NVIDIA sure have some great inventory too. Here is recommendations for gamers looking to buy NVIDIA graphics card under a budget of 100 dollars.
4: NVidia GeForce GT 730 by EVGA – High-Rated Graphics Card for Gaming Under $100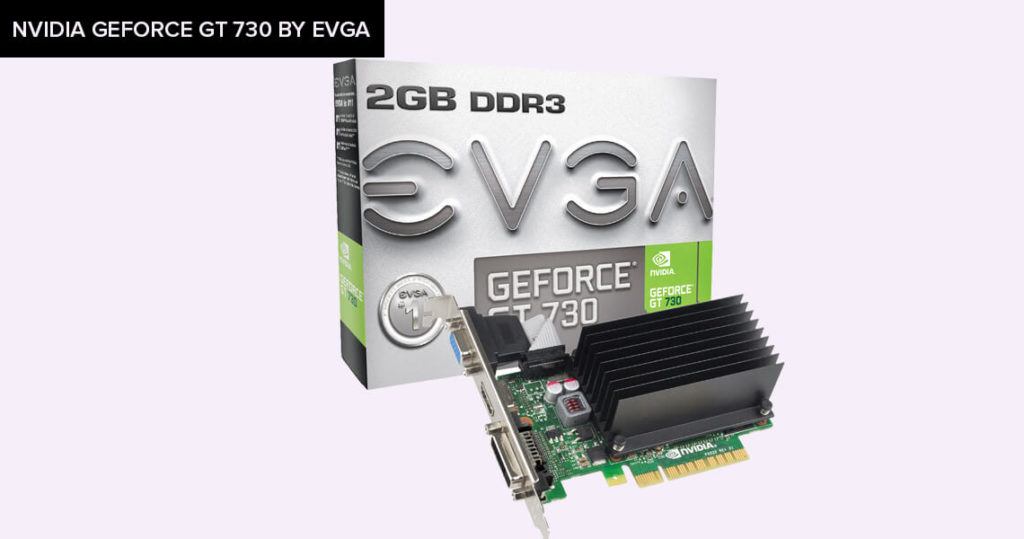 With this, we open our discussion of NVidia graphics cards. GT 730 is one of their older models (this might be an understatement), but, for somebody looking for a budget graphics card, it's good enough. The card comes in four iterations, but the one we're presenting has 4GB DDR3 Ram and is clocked at 902 MHz, with memory speed being clocked at 1.8 GHz. The card can be used to play some mid-range games, with its performance significantly dropping when high-end games are concerned, or high resolutions. This is not a dedicated gaming card by today's standard, so don't expect too much out of it. The card supports DirectX12 and has a HDMI, DisplayPort and DVI connectors.
| | |
| --- | --- |
| Attributes | Values |
| Clocked at | 902 MHz |
| Cores | 384 |
| Memory speed | 1.8GHz |
| Memory | 4 Gb DDR3 |
| Interface | PCI-E 2.0 |
Pros:
4Gb RAM
Fairly fast base speed
384 cores
FHD resolution supported
Cons:
Only good for mid-range and dated games
BUY EVGA GEFORCE GT 730 2GB GRAPHICS CARD FOR UNDER $100
5: NVIDIA GeForce GT 740 by EVGA – Recommended Budget Graphics Card That Costs "A Little Over $100"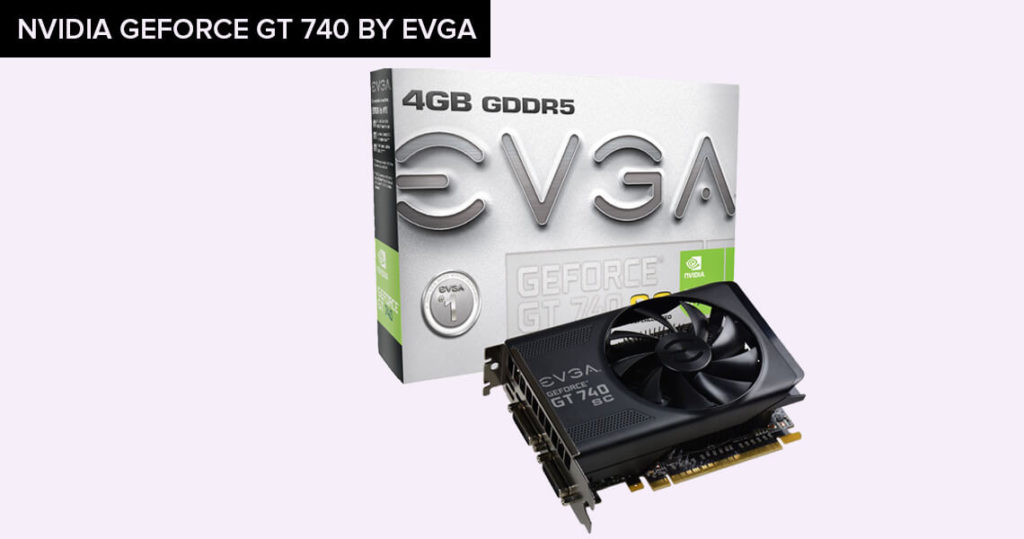 Our next GeForce is the next in line from 730. 740 sacrifices something of the memory to fit a DDR5 RAM. This might seem like so-so trade-off at first, but, believe us, it's more than worth it, and especially considering this device is on this list.
Note: EVGA GT 740 costs around $130 to $150, but considering it's a superclocked version, it'll run most of the top game titles smoothly. 
The DDR5 RAM enables the card to run higher-end games at 30 fps at 1680×1050 resolution, which is a significant benchmark for such a card. On top of that, the device has very high base clock speed, clocking at 1033MHz, with 5GHz memory speed. It's got 32 texture units and 384 steam processors.
| | |
| --- | --- |
| Attributes | Values |
| Interface | PCI-E 3.0 |
| Memory | 1GB DDR5 |
| Memory speed | 5 GHz |
| Base clock | 1033MHz |
| Texture fillers | 32 |
| Cores | 384 |
Pros:
Excellent base clock
DDR5 RAM (1GB)
PCI-E 3.0 interface
Plays higher-end games at 30 FPS
Cons:
Can achieve 30 FPS only on smaller resolutions
BUY EVGA GEFORCE GT 740 GRAPHICS CARD NOW
6: NVIDIA GeForce GTX 1050 By MSI – A Powerful Graphics That Would Cost "A Little Over $100"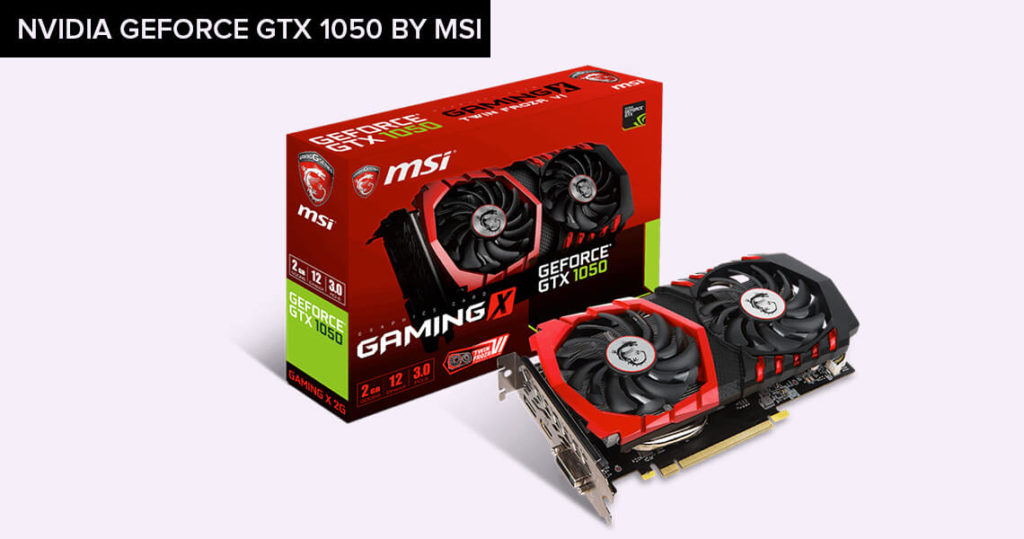 Finally, we come to the absolute best under 100-dollar graphics card. The NVidia GeForce 1050Ti is only a shy away from the state-of-the-art 1080, but, because it's dated, its price dropped significantly, allowing the gamers on a budget to gain access to it.
Note: The Price Of Geforce GTX 1050 MSI Would Fluctuate Between $130 to $165, and if you can increase your budget a little more, this Graphics Card worths your every cent. 
This graphics card features 768 shader processors and 48 texture fillers. Its base clock is clocked at 1290 MHz, which is slightly slower than the 1050, its brother, and has as much RAM (2GB) at the same memory speed (1752 MHz). The card is using DDR5 memory. This card is capable of running even the best games at decent framerates and graphics quality.
| | |
| --- | --- |
| Attributes | Values |
| Interface | PCI-E 3.0 |
| Memory | 2GB DDR5 |
| Memory speed | 1752 MHz |
| Base clock | 1290 MHz |
| Processors | 768 |
Pros:
Can run high-end games at decent FPS.
Solid base clock and memory speed
768 processors
DDR5 graphics
Cons:
Experienced a little lag at high settings
BUY NVIDIA GEFORCE GTX 1050 GRAPHICS CARD UNDER $100
NVIDIA VS AMD – Which One Manufactures The Best Gaming Graphics Cards?
As you probably already know, NVIDIA and AMD graphics cards are the most popular choices among gamers all over the world, with good reasons. However, it is impossible to say which name is the better one, since both offer great graphics cards. So, it is completely up to you which one you will opt for, once you read why we love them.
Both names offer reasonably priced graphics cards, ideal for gamers on a budget. But, we think NVIDIA is slightly better in terms of the price and a better performance.
Which One Has The Best Software Features?
When it comes to supporting software front, both names have solid offerings. While Nvidia graphics cards allow you to record videos in the game with a handy Shadowplay feature and gives the possibility of joining co-op games with ease, AMD's Gaming Evolved Software now also gives similar options, thanks to its improved construction.
Nvidia offers fast and efficient parts, and come with automatic driver updates. AMD's Crimson drivers also do a great job. So, as you can see, both names are great, thus it is a matter of preference which one you will love more. And our list below will help you decide that, so let's take a look at which graphics cards we will be writing about.
What To Look For When Buying Best Video Card For Gaming Under $100?
Naturally, you have to know certain things about graphic cards before opting for a particular model. So, we have this short buyers guide for you, to help you get the best graphics card for gaming under 100.
Clearly, the first thing you should do is think about what you really need out of a graphics card. Tell us, wouldn't be ridiculous to buy a graphics card only to find out that it cannot handle your games? So, be smart and first, decide what you need your graphics card for. Do you need it only for light games, or for those more demanding? Do you want to watch HD movies and videos? When you answer these questions, then, you will know how powerful graphics card you should buy.
One of the most important features you need to pay attention to is RAM. Meaning, how much memory a graphics card has in order to perform well. As you can guess, the more is better in this case, since a graphics card will make more computations so you will get a much better graphics for your games. But, what you need to keep in mind when choosing the ideal amount of RAM is actually the type of RAM. In short, DDR3 RAM is well-known in the world of high-performance graphics, so go with it.
There are two types of coolers when speaking of graphics cards – reference and non-reference. But first, let's talk about the way of how graphics cards are sold and modified, in order to understand these coolers. Famous manufacturers like Nvidia and AMD produce graphics cards and then sell them to users and other companies. Well, these companies then modify the cards in order to sell their own models. The graphics cards that are sold by big names like AMD and Nvidia are called reference while modified cards sold from companies are cold non-reference. Reference cards look ordinary and do what supposed to do. They have a single fan offset on one side, sending the air out of the computer case, and that's pretty much it. Non-Reference coolers are more effective since they feature two fans, blowing the air from the card, then inside of the computer case. Meaning, the emphasis will be put on a cooling system in order for the computer to keep an optimal temperature.
The frame rate in a game refers to how fast images and movements will be produced. For example, when there are low frame rates in your game, you won't be able to game properly. The screen will freeze every once in a while, and movements might be jumpy, hindering your game. So, when it comes to the frame rate, more is definitely better.
Durability of the Graphics Card
The best video card under 100 should be able to last for two years, without decreasing its performance and speed. However, the performance is not the only thing that matters. Meaning a good graphics card needs to be well-built in order to do its job accordingly. Temperature matter and power draw will either make or break your graphic card lifespan. However, since in this article, we are talking about some of the best graphics cards under $100, no need to worry about that. But, we still want to point out that Nvidia is the leader as far as power is concerned.
So, Done Picking The Best Graphics Card Under $100?
We have listed some of the best gaming graphics card under 100 based on the things we mentioned in buyers guide, so rest assured that you will get the best and the latest models only. Well, that would be all we have to say about best budget graphics card under 100.
We believe that this guide would help you find the right thing for your gaming rig, for a great gaming experience. Whichever model you choose, just make sure to know whether it's better synced with your current computer configurations, otherwise, you might end up spending money on a wrong graphics card.