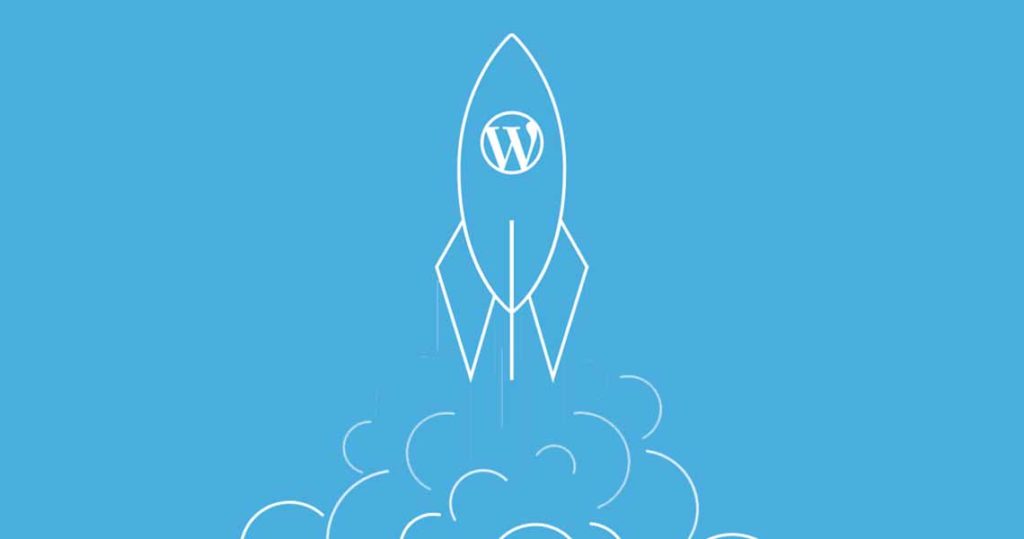 If you own a WordPress blog or website and looking for reliable and fastest WordPress hosting options to boost your site's performance, then this blog is for you. We understood from a lot of our readers that speed is a big issue for them (it's for every webmaster though) with a WordPress website. So thought of coming up with a post where we discuss why speed is so important for a WordPress website, and how fastest WordPress hosting services can help in achieving the goal.
Numerous factors impact the speed of your site, and if your website speed is not okay, then you may end of losing a lot of potential customers. We have recently shared WordPress speed optimization tips, which can significantly boost the performance of your website. In this post, let's focus on what role does WordPress hosting plays in accelerating the performance of website.
WordPress hosting is one of the main reason behind your website's performance, whether it is excellent or downright pathetic. However, do not feel bad, the Internet is overflowing with free tools that can assess your entire online existence for free and provide you an extensive report. Our point of concern is your website's load time. The rule of thumb is anything less than one second is acceptable. Of course, it changes as per type and nature of the site. So what is the load time of your website?
Why Is Speed the Universal God for Websites & How Fastest WordPress Hosting Can be the Savior?
It is not rocket science that speed is the pulse of your website. You can think of speed as the universal God for sites. Everyone has to worship and respect it. Unlike our world, the God is unanimous in the WordPress websites globe. Anyone who fails to deliver in the speed department is bound to face the wrath of visitors. Your traffic will go down day by day until nobody bothers to visit your website. We have presented the ugly but real picture of webmasters who neglect the website load time.
The only and reliable solution to deliver top speed is to opt for Fastest WordPress Hosting. Why? Because we live in the digital world and users will abandon your website if it doesn't load properly, or takes time to load, it actually kills the excitement. With a fast WordPress host by your side, you enjoy the company of happy visitors and customers, and your business grows evenly. Without further ado, let's jump to our recommendations section, and we'll then discuss other factors that influence the decision to sign up fastest hosting for WordPress.
Recommended WordPress Hosting Providers – Those Who Love to Deliver Top Speed
We know that choosing the best, and super-fast WordPress hosting isn't an easy job; therefore, experts at ReviewsDir have come up with top six recommendations for 2018. The below-mentioned hosting providers have reputation in managing all type of business and personal websites, and they all fit well on the tests our technical team has conducted.
Rank
Provider
Price
Details

1

WP Engine

Recommended

2 months free on annual plan

2

Bluehost

Save 50% with an 'Intro' offer

3

SiteGround

You get 60% off

4

DreamHost

5

Inmotion Hosting

Save 12% on monthly plans
Some Common Issues That Slow Down Websites & Why You Need The Fastest WordPress Hosting
We've been going on and on about getting the fastest WordPress hosting as your life depends on it. Well, the life of your website surely depends on the fastest WordPress hosting, whether you admit it or not.
The reason we are stressing so much on speeding up your website is that there are tons of factors that mess with your speed. It is a constant battle. New factors keep emerging every day. The things that you thought has nothing to do with the website speed often slows it down the most. We know you have the general list of elements that interfere with the site speed. However, we found some unique factors that delayed majority of the websites, so we thought of highlighting those for you. Maybe you are already aware of the mentioned issues or find them surprising. But we are sure it is not your usual list. Here we go;
WordPress Host, but cheap and slow
We all love to save money, but the formula doesn't work all the time. If you have a free or cheap WordPress hosting for your website, then you can't expect quality speed without a good investment. These shared and cheap hosting have servers having hundreds of websites on it, and they have minimal quality and performance check. This makes your website extremely slow and unhappy your potential customers.
Now we know this one is going to make a lot of people angry. Google Adsense makes you money. How could we even put this one in here? We are sorry to break it to you, and Google Adsense is one of the culprits that completely slows down your website. So if you are not making money with your Google Adsense account, then you should think about removing it for a while. In case, you are enjoying quite a solid income with it then there isn't much you can do about it.
It is not much of a surprise, but image size remains to be the recurring factor that destroys your website speed. The idea is pretty simple – bigger images take more time to load than the smaller ones. However, the reason to mention it here is that there are many actions you can take to counter the effects. WordPress Plugin repository has many plugins that automate the process of reducing the size of larger image files. One such popular WordPress plugin is WPSmush.it. You can find plenty more. Alternatively, you can install a CDN to speed up the performance of your WordPress website.
When was the last time you saw a website that didn't have social sharing buttons? Of course, you cannot even remember. This factor seems interesting because we least expected it to affect our websites. But the social sharing buttons that we had on our websites were actually slowing down the website. So it is important to have social sharing buttons that simply perform their task and not hamper your website speed.
Sum of All – too many plugins
This one is the mother of all problems. Although WordPress is so popular today because of all the customization you can do with the plugins, on the other hand, these plugins drain the performance of your website and make it slower. WordPress has almost plugins for everything, and it is a normal practice of the webmasters to use plugins to do the job in easy and convenient way. Technically, the issue with plugins is that they send requests to do a particular job, and the more plugins you've on the website, load time increases. It is advisable to always wisely choose the plugins you want on your WordPress website, and always check the rating, rather than just get impressed by the shiny looks of it.
Summary Of The Fastest WordPress Hosting Providers
Why we chose these WordPress hosting providers? Well, we don't want to keep this question a mystery. We conducted the speed tests using two tools – Loadimpact.com and Pingdom.com. The mentioned results are the best of five. All hosting providers were tested using identical websites. So the conditions were similar, and we changed the WordPress hosting providers to assess the load time using tools mentioned above. Without further ado, let's reveal our test results;
1. BlueHost – Fast, But Not The Fastest WordPress Hosting For All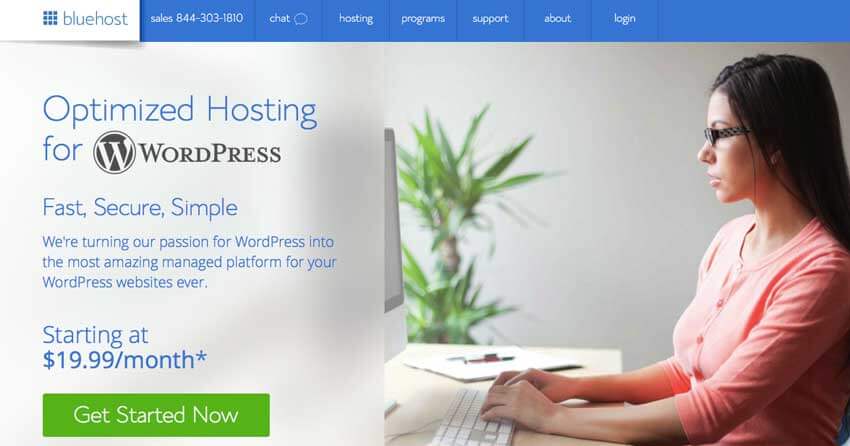 BlueHost is the youngest in the lot as it started operations in 2003. The best part about BlueHost is that WordPress itself has recommended it. The service provider has reasonable pricing plans and impressive features. Let's see how it performed in our two tests. As for Pingdom, BlueHost was a disappointment. It took more than 2 seconds to load a page. However, the score was average i.e. 69. The same result was repeated in Load Impact test as there were way too many inconsistencies. Here's what we found;
Load Impact: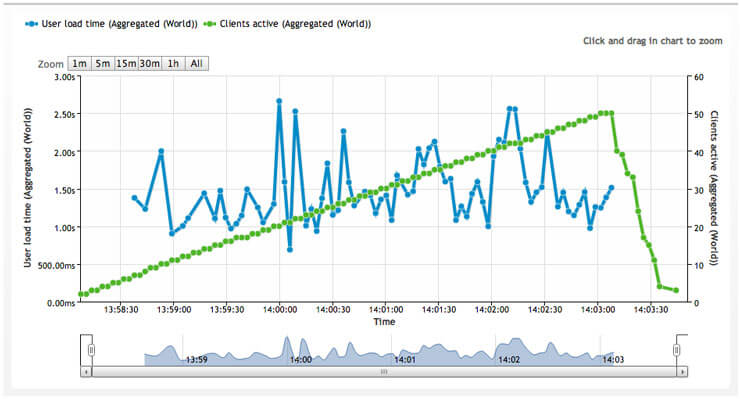 Pingdom:
Score: 69
Load Time: 2.11s
2. SiteGround – An Unexpected Speedy WordPress Hosting Winner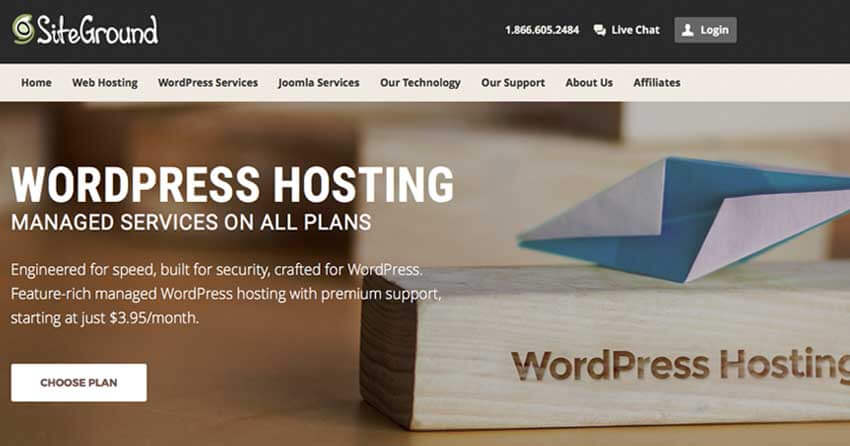 Site Ground was born in 2004, and now it has more than 500,000 websites hosted. It is surely the first choice for most bloggers and first-time users. The major reason is the affordable rates. The speed tests will reveal whether SiteGround is the right choice for its money or you are entering a deal of total loss. SiteGround performed really well in the overall list, especially considering the pricing. We were really impressed with its performance. It doesn't hurt that SiteGround has the lowest page load time. We don't want to say more, why don't you see the results in the following graph and score;
Load Impact: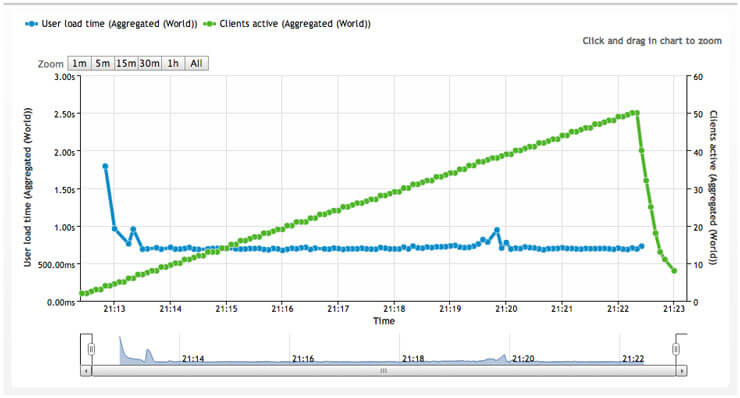 Pingdom:
Score: 70
Load Time: 702 ms
3. DreamHost – An Average Performer, but Fast Host for WordPress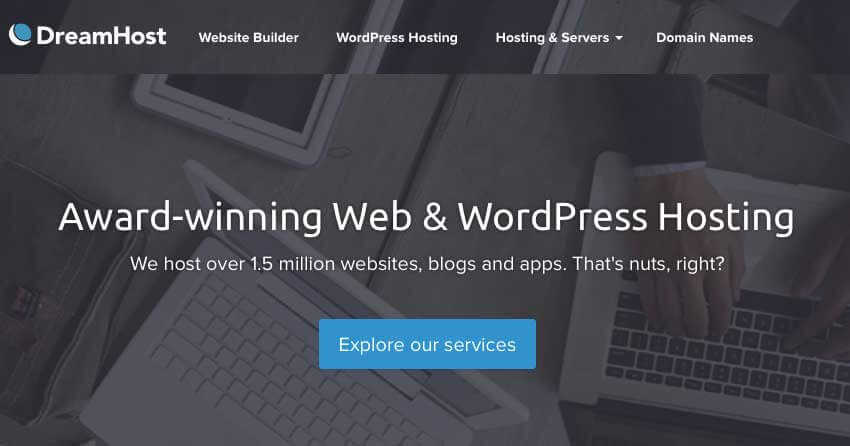 DreamHost is one of the old service providers in the market. It initiated the business in 1997. The number of hosted WordPress websites are over 1.5 million. DreamHost is an amazing candidate in our list. We love its support team. You can reach DreamHost 24/7 through live chat, Twitter, or email. The response will always be prompt. DreamHost Pingdom results were not as good as the others. It took more than one second to load a page, which is too much. As for the Load Impact graph, DreamHost showed a bumpy ride, but it never goes to the bottom of the graph. It may seem inconsistent, but DreamHost has good potential.
Load Impact: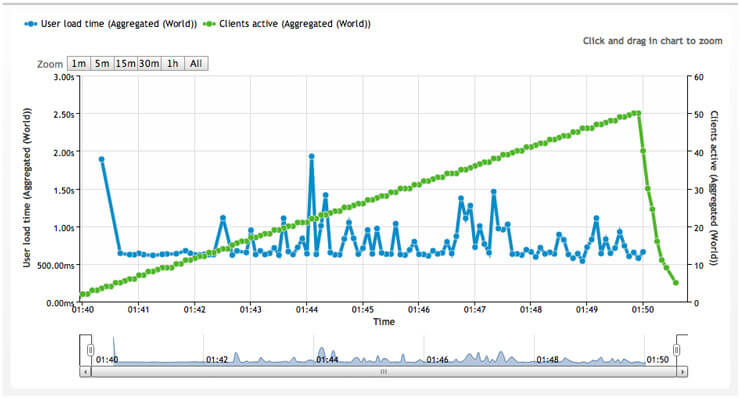 Pingdom:
Score: 71
Load Time: 1.96s
4. InMotion Hosting – Reliable Fastest Hosting for WordPress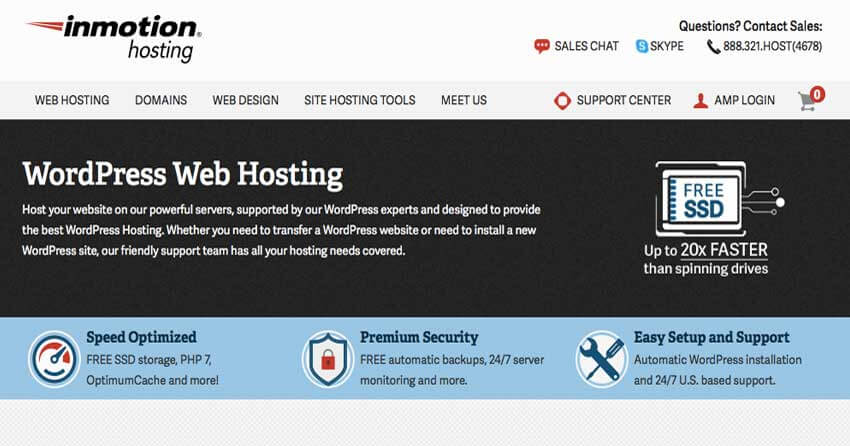 InMotion Hosting started the business in 2001. Since then it has grown into a giant service provider. InMotion Hosting provides all sorts of support. Whether you are looking for WordPress migration or building a new WordPress site, InMotion Hosting has the team to take care of your unique situation. InMotion Hosting took us by surprise with its Loadimpact.com test. You will get the idea once you see the graph. Also, the Pingdom test wasn't too bad either. According to Pingdom, InMotion Hosting load time per page was less than 1 second (953 ms). Following are Loadimpact.com graph and Pingdom results of InMotion Hosting;
Load Impact Test: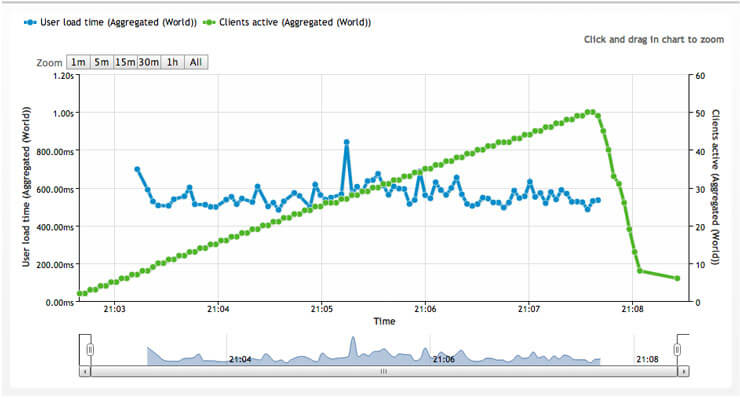 Pingdom:
Score: 70
Load Time: 953ms
6. A2 Hosting – Another top player in Fastest WordPress hosting 2018 league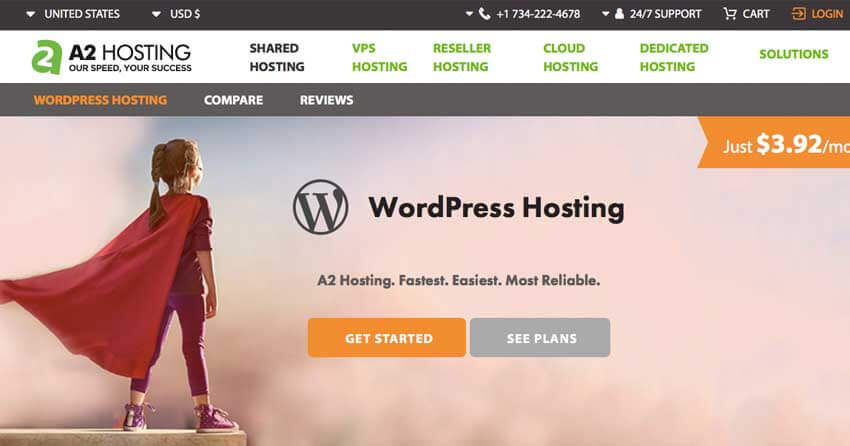 A2 Hosting is in the industry for more than a decade. The major focus of the company is to provide the fastest hosting as well as user-friendly atmosphere. A2 Hosting is a smart service provider but it did the blunder of committing more than it can deliver. A2 Hosting promises to increase the speed by 300% which is a bizarre claim. As said earlier, A2 Hosting performed well but not as per its claims. The Load Impact graph stays in the middle. The Pingdom score is a bit disappointing as it goes over 1 second. The visual representation of the test results of A2 Hosting can be seen below;
Load Impact Test: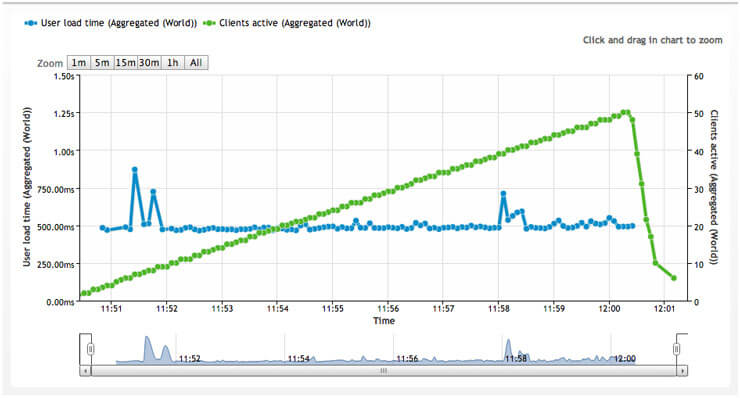 Pingdom:
Score: 70
Load Time: 1.02s
Things to check when Chosing The Fastest WordPress Hosting
We want to talk about the mundane task of actually signing up for a WordPress hosting provider that you like. Following are the probable steps that you will be required to follow in order to get the fastest hosting for WordPress;
You need to select a service provider. We have given you some names, or you can select any WordPress hosting provider of your liking. It is recommended to explore as much details as possible. Reading user reviews also gives an unbiased report so you should search different social media accounts for personal opinions about your chosen WordPress hosting.
Server Locations And Other Factors
A WordPress hosting company that has many servers in the countries where your target audience exists is ideal. You must be aware of the incoming traffic and its various locations. The more servers your host has in required countries, the better it is for the website load time. This is a crucial factor and should be checked thoroughly before making any commitments.
Most hosting providers have multiple pricing plans. The pricier ones have more features while others are sufficient for limited requirements. You are supposed to pick the pricing plan that best suits your need. Fulfill the formalities like paying the fee and signing up. Congratulations! You have subscribed to a WordPress hosting of your choice.
And The Fastest WordPress Hosting 2018 Is …
This is the trickiest part for us because declaring one WordPress hosting provider seems like an ignorant move. We live in a world where very few things can be clearly divided into black and white. Nowadays, it is all about the gray area. In this regard, we have already given you the answer by naming six fantastic WordPress hosting providers.
Let us tell you a secret. It is not about knowing or understanding what the service provider is offering you as a customer. Rather, the knowledge of your own needs and requirements helps in selecting the fastest WordPress Hosting. So the final advice is to know more about your website, its nature, industry, traffic, audience, etc. and then prepare a list of requirements you may need from your hosting provider and finally select the one that matches the profile most closely. It is a sure shot way to get the fastest WordPress hosting in 2018.
Do you want to add any other WordPress Hosting in the list? Comment below your recommendations and experiences with any host, and team at ReviewsDir will test and add the service provider in the next roundup.