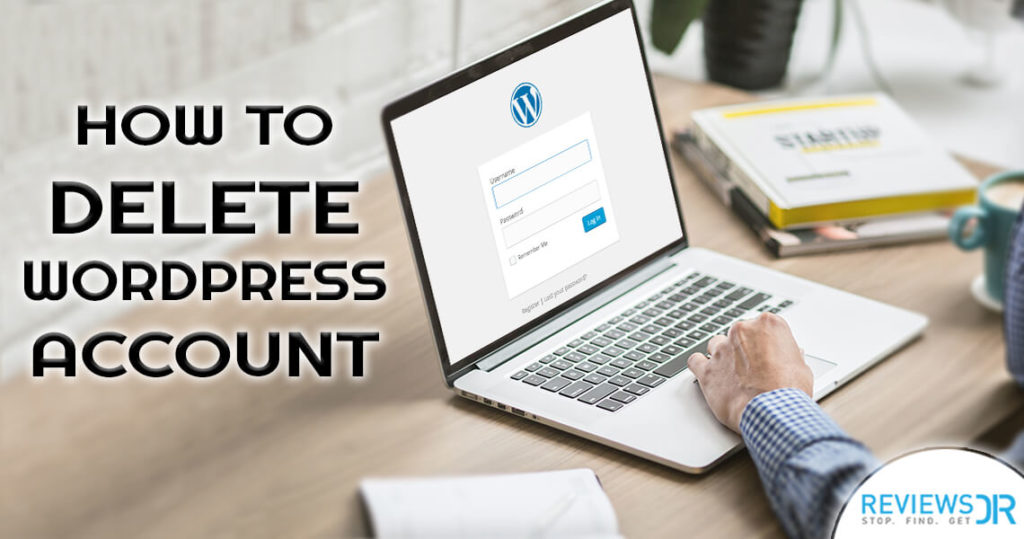 WordPress is heaven for website owners and especially for bloggers. While a vast majority of webmasters use WordPress, some people just want to delete WordPress account or move to another CMS for good. Though the features of WordPress are highly commendable, we understand that sometimes it doesn't go with your requirements. In our today's article, we will walk you through the guide on how to delete a WordPress account permanently without losing any critical data. In this guide, we will also discuss the forethoughts you should take while attempting to remove WordPress blog or website.
Before we proceed, we'd like to apprise that WordPress comes in two different types. The most popular one is WordPress.org which is a feature-rich platform for WordPress. It means that you will have full control of it. The second type is WordPress.com which has some limitations but ideal for bloggers and non-commercial purposes. Our guide will help you to delete a WordPress website from no matter which of the type installed.
How To Delete WordPress Account Permanently
There are multiple ways to remove a WordPress account permanently. In our guide, you will find all the possible solutions related to each platform. Feel free to jump over the section that is more suited to you, or continue reading to master the art of deleting a WordPress site.
No matter what method you prefer to use to delete a WordPress blog, it is advisable to always keep a backup of your content and other essential information. We strongly recommend our readers to use reliable hosting for WordPress that provides decent support and protection.
How To Delete A WordPress Blog Via WP Dashboard
In case you have a website yoursite.wordpress.com – then you'd need to go the dashboard of the website to delete your WordPress account. But before moving forward, we advise you to follow these steps to successfully deleting WordPress site.
Step 1: Take a backup of your website
Even if you are deleting your WP site, it is strongly advisable to keep a copy of your data. This will come in real handy if in case you'd want to revert your decision in the future. You can simply restore the backup of your website at a later point, so keeping a copy is always a good practice. The process is easy, but can't be done in a single click.
To create a backup of your WordPress website, you need to navigate to Tools » Export in the WP dashboard. From all the available options, select 'All Content' and click on 'Download Export File.' This will export all your pages, posts, tags, categories and comments data stored in your WordPress website. Unfortunately, this action will not backup and export your media files. To make a copy of your media uploads also, navigate to 'Media' and download all your files manually.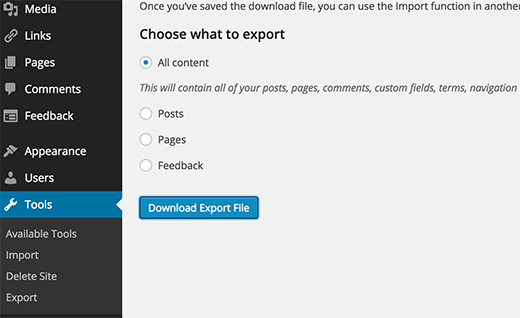 Step 2: Delete Your WordPress.com blog site
Once you have exported the website's data, the next step is to delete your WordPress site from the dashboard. To do so, you need to click on 'Delete Site' option which can be found in Tools section of the WP admin.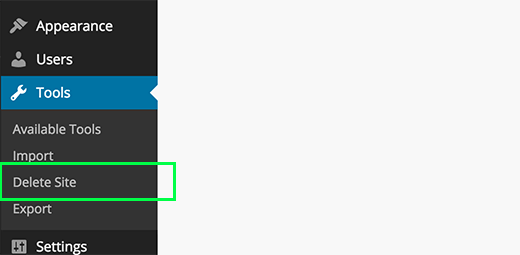 Once you proceed, it will prompt a screen where you will be asked to provide a valid reason to delete WordPress blog. Click on 'Another Reason' from the options and continue. Once you click on it, you will be asked to confirm if all the data has been exported. The popup will also show that the following action will result in loss of all your data on the website, which will not be available to access once the website is deleted. Next is to click on the checkbox and hit the 'Delete Now' button.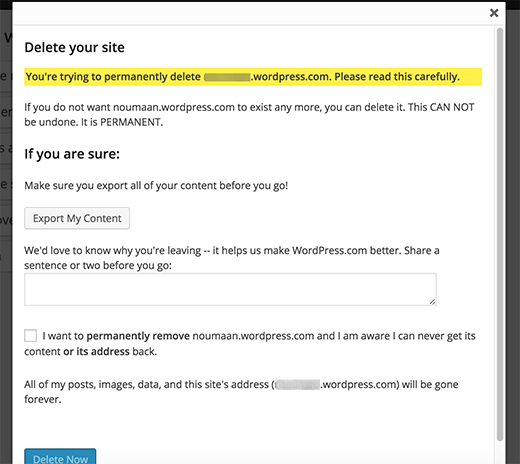 For security purposes, WordPress will send you a confirmation email to make sure that the owner of the website has requested to delete the WP site. Click on the verification link you received in the email and finish the job.
How To Delete WordPress Account With Custom Domains
Deleting a WordPress site is not easy if you have purchased a domain from WordPress. Apparently, you can't remove a WordPress blog if it is on a custom domain. Your website should be in active status to access the domain manager. To accomplish this task, either you have to move the domain to a different registrar or make your WordPress.com site private.
Moving your domain to a different registrar will take a few days. You will find the instruction manual of each registrar on their website.
To make your WordPress.com blog private, go to Dashboard » Settings » Reading. Once you are in the page, scroll down to the 'Site Visibility' section and make your domain private by clicking on 'I want to make my site private…'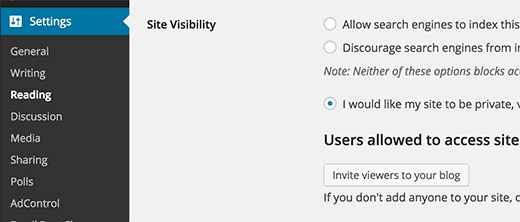 The above step will not delete your WordPress.com blog. However, it will not be publicly accessible. You can only delete the blog once the domain registration expires. Do make sure that your domain is not set for auto-renewal; otherwise, your WordPress.co blog will not be removed.
Deleting a Self-Hosted WordPress Site via cPanel
With WordPress.org you get to enjoy full freedom and unrestricted access to the website, hence making it a lot better option. When it comes to deleting self-hosted WordPress website, the process doesn't require any complicated steps to follow. Read on below and permanently delete your WordPress.org website via cPanel.
Step 1: Take a backup of your WordPress.org website
It is imperative always to create a backup of your website even if you have no plans to restore the website at anytime soon. We recommend our readers to make a complete backup of your website before proceeding to delete WordPress website. In case you want to migrate the website, check out our recommendation of best WordPress migration plugins that can do the job efficiently.
Step 2: How to Delete WordPress Account with cPanel
The next step is to delete the files from your cPanel. To do so, log in to the cPanel dashboard of your web hosting and look for 'File Manager.' Next is to find the root directory of your website and delete all the available files and folders. Phew! That is all it takes to delete WordPress account by using cPanel.

Deleting a Self-Hosted WordPress Site via Console Command
If your website was installed manually on the server, then you can delete the WordPress blog manually via console command also. In this method, the command will remove the website by removing the main WordPress directory from the root. To execute the process, use the command below to remove your WordPress account.
[php]
$ ssh yourusername@ssh.myisp.org
## Switch to your webroot directory
$ cd /var/www
## Remove the entire WordPress directory (in this case /blog)
$ rm -r blog
[/php]
Deleting a Self-Hosted WordPress Site via FTP
Another simple way to delete a WordPress website is to use SFTP client. Use the following steps to delete WordPress account through FTP client permanently.
Open your SFTP client and enter login details
Locate WordPress directory
Right-click on the directory and select the 'Delete' option. You can alternatively select the directory using CTRL key and then hit the DELETE key to remove your WP account.
How to Remove or Clean Website's Database
You can additionally remove your site's database to leave no prints on the server. This can be done either by using PHPMyAdmin or with the help of MySQL command prompt.
How to Remove Database with PHPMyAdmin
You can easily remove WordPress MySQL database by using PHPMyAdmin.
From your web hosting server panel, open the PHPMyAdmin tool
Click on the 'wordpress' database
Navigate to 'Operations' tab and click on 'Remove database'
How to Remove Database with mysql Command
You can also remove WordPress database by using MySQL command. Copy the below command and change the username and password as needed.
[php]
$ mysql -h HOST -u USERNAME -pPASSWORD -D wordpress
$ DROP wordpress
[/php]
Final Words from the Editor
We hope the above methods help you in deleting WordPress website permanently. It is to be noted that when you delete a site, it still stays on the web for some time as the search engine (Google) typically creates a cache of each website that takes some time to disappear from the Internet completely.
If you are having difficulties with any of the steps mentioned above, then drop a comment below, and we will try to help you in the best possible way.