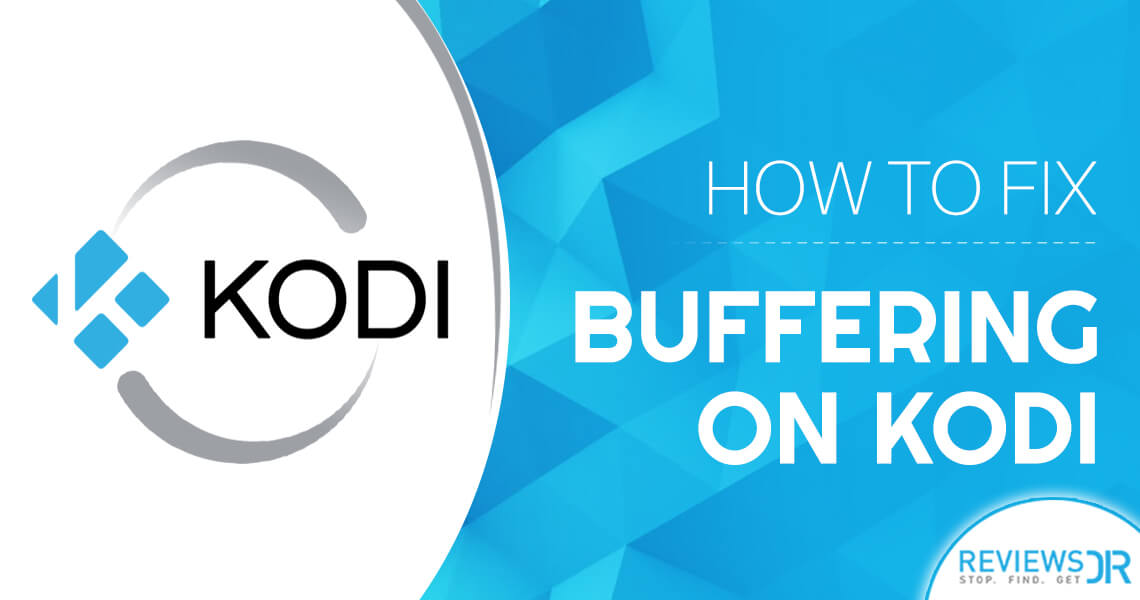 Streaming services are the new way to watch TV, movies and everything in between. The ratio of convenience in streaming is so much more that we often don't think about the downside at all. The only time we consider the shortcoming of streaming devices is when anything wicked happens like buffering. Imagine being immersed in an intense thriller and just when the plot is about to unfold completely, your screen freezes. The level of frustration at this point is so extreme that we cannot express in words. Let's just say this is the worst way to watch anything online. Buffering truly sucks.
Since Kodi is the best streaming device out there and has millions of users, we will talk about Kodi buffering issues. The media player is so good at its job that many of you have faced buffering rarely. However, the reason you are here reading "how to fix buffering on Kodi" can only suggest that you are also baffled of the problem.
You are at luck here since our team of researchers has found a number of solutions to fix Kodi buffering issues. If one doesn't work, you can apply another until you have the Kodi buffering fix for your media player. Let's check out the solutions and uncover how to fix buffering on Kodi today;
How to Fix Buffering Issues On Kodi
As said earlier, we have found multiple fixes for Kodi buffering. Our team has tested all the methods and they all worked to resolve the issue at hand. You need to understand that the root cause of Kodi buffering issues can be different and that's why there is no single fix available. You need to try a combination of actions in order to achieve desirable results. Following are some of the things that you can apply for resolution to fix Kodi buffering issues.
Kodi Buffering Fix #1: Tweaking Kodi
You can tweak Kodi with the help of a Kodi add-on Ares Wizard. For installing this add-on, you should Turn On the unknown sources on the Kodi. You can turn it on by clicking on the Systems > System Settings > Add-ons > Enable Unknown Sources.
Now you can begin the process of installing the Ares Wizard by following these steps;
Open Settings > File Manager
Click Add Source and write this URL; – http://repo.ares-projcet.com/magic/
Coming back to home screen, click Add-ons and click on the box at top left corner
Click on Install from the zip file, locate the file repository.aresproject.zip and then click it
Next, click Install from Repository and select Ares Project
Open Program Add-ons and install Ares Wizard.
Congratulations! You have installed Ares Wizard on your Kodi. Now it is time to use it. You can put the add-on into action by following this procedure.
On the home screen, click Program Add-ons and start Ares Wizard.
On Ares Wizard page, click Tweaks.
Go to Advanced settings wizard, click Next, and then Generate Settings and apply the settings. A .xml file will be created automatically.
Restart Kodi and there will be no buffering for sure.
Kodi Buffering Fix #2: Clean Database Of Useless Files
At times, a simple action like cleaning your database of useless files can do the magic and solve any lagging issue. So let's try cleaning the database of unnecessary items to fix Kodi buffering problem.
Open Kodi Settings > File Manager > Profile Directory > Database.
Under database, choose Addons.db
Android users: simply click Addons.db and delete the DB.
PC users: search %Appdata in windows and open Kodi > User Data > DataBase and find Addons.db and delete it.
Kodi Buffering Fix #3: Clear Kodi Cache
Kodi cache can be cleaned by installing a Kodi add-on RAW Maintenance. Following is the simple procedure to get the add-on on your Kodi.
Open Settings > File Manager
Click Add Source and write this URL; – http://solved.no-issue.is/
Coming back to home screen, click Add-ons and click on the box at top left corner
Click on Install from the zip file, locate the file repository.rawmaintenance.zip and then click it
Next, click Install from Repository and select RAW Maintenance
Open Program Add-ons and install RAW Maintenance.
Just installing the add-on is not enough, you have to use it as well. You can use RAW Maintenance by;
On the home screen, click Program Add-ons and open RAW Maintenance.
On RAW Maintenance page, click Clear the Cache & Purge Packages.
Restart Kodi and your cache will be cleared.
The beauty of Kodi lies in its Addons. You can pretty much do anything and everything with the help of addons. You can check our list of working Kodi Addons to see how you can fully enjoy the greatness of Kodi player.
Kodi Buffering Fix #4: Use A VPN Connection
Kodi buffering is a huge problem for binge watchers and Kodi buffering fix is indeed an essential thing to do. However, Kodi can be a problem in itself. The media player has already garnered so much attention for being the agent of pirated and illegal content. The users, whether they are innocent or not, are treated as the suspects by the copyrights firms. You never know when a legal notice might find your address for watching copyrighted material on Kodi. But is Kodi illegal to use? We have written a detailed post that explains the use of Kodi is completely legal and how to make it safe, read here!
When the air is filled with so much speculation and fear, it is always advised to take precautions before you become the victim. In case of Kodi, VPNs are your solid caretakers. They will never let you down. VPN for Kodi will make you invisible on the internet. How can someone catch you when they cannot even see you online.
We have a recommended list of VPNs for Kodi, you can check them here;
But What Is The Reason Behind Kodi Buffering?
To understand the concept of buffering, you must get the process of video streaming. Whenever you watch a video on Kodi, your device stores a chunk of file ahead of time in its temporary local cache. The video stream is actually from the stored cache while the device keeps downloading upcoming chunks in the cache.
The reason your device keep downloading the upcoming part in the cache is to ensure smooth and seamless video streaming. This way even if the internet connection is average, you can watch the video without interruption.
Now coming back to buffering issues with Kodi, it happens when the process of caching is not working properly. You receive the annoying buffering message when your device fails to download the chunk ahead of time. It is one of the biggest reasons for Kodi not working properly and frequently sending buffering issues. Buffering is a common phenomenon and there can be many reasons for it. We have mentioned the most common ones hers;
It may come as a shock to most people. Your internet service provider (ISP) has the power to slow down your internet speed when you are streaming videos on Kodi. The easy solution to escape the brutality of your ISP is by having a VPN as it will make you disappear online and impossible for your ISP to identify you.
Kodi's default cache settings are perfect. There is no need of interfering with them. If you have already then switching it back to default will be a good idea. However, some devices like Fire TV or FireStick may require a tad bit of tweaking in the cache advanced settings for Kodi to work seamlessly.
In case, you are not able to figure out the reason behind Kodi buffering, there is no harm in checking out the hardware. Your router, Ethernet cable, hard drive or maybe the device can be the root cause of buffering.
Inappropriate Internet Package:
Video streaming requires a certain level of connection speed. You cannot expect the best video streaming experience with an internet package that offers less than 1 Mbps speed. Make sure you have bought the right internet package. It shouldn't cost you a fortune but still, give adequate speed that's mandatory for video streaming. To improve the speed of your connection, the use of fast VPN connection is highly recommended as it significantly increases the speed.
At times, Kodi buffering is nobody's fault. The stream that you are trying to access can be causing issues because of server issues. It is hard to figure out this one but you can watch other streams, if they are working fine and only one is lagging then it is a simple case of server slowdown. There isn't much you can do here but thankfully many streams have your favorite show so you can switch to another one.
Conclusion: Fix Kodi Buffering As It Is Annoying As Hell
Kodi buffering makes the watchers life miserable. You shouldn't have to cope with buffering, lagging or interruption of any sorts. There are many ways to fixing Kodi buffering issues. We have mentioned and explained three easiest methods to solve your buffering issues. Also, identifying what's causing buffering helps a lot in the solution. So you should find out the cause first and then take the suitable action. However, don't forget the Kodi VPN whenever you are watching TV shows or anything on Kodi. You can always give a try to free VPNs for Kodi, however, we encourage our readers to go with premium options as you will get to enjoy more with a few bucks investment.
Was our Kodi buffering fix helpful? Let us know in the comments section below.