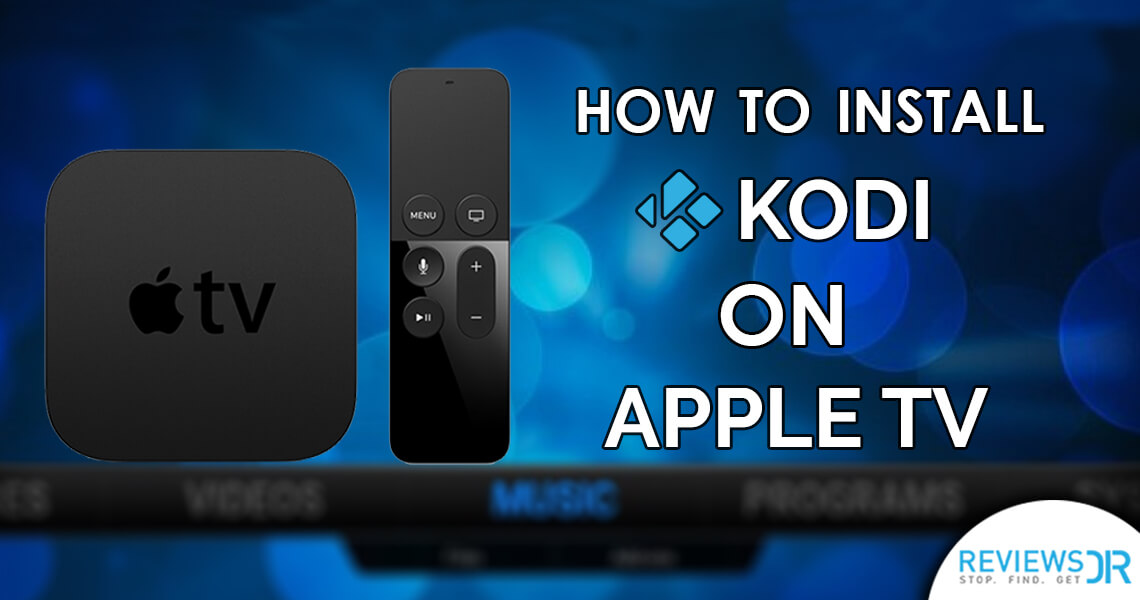 There's much hype about installing Kodi on Amazon Fire TV stick, but this is not the only TV device which can be a great pair with Kodi. Kodi + Apple TV are meant to be together. Just so you know, Kodi and Apple TV  both are build to optimize media consumption, so that's why, in that sense, they are a perfect pairing. Today, we will teach you how to install Kodi on Apple TV 2, 3, and 4.
However, Apple has always been a control freak when it comes to approving applications to be listed in its App Store. And, since Kodi is an open-source application and Apple does not allow to list open-source software in its App Store.
It doesn't mean you cannot install Kodi on Apple TV. It means you need more work to do in the process which is a little bit complicated than just downloading an app. This article will provide you a detailed tutorial on how to install Kodi on Apple TV.
A Quick Advice – Always Be Safe With Kodi VPN
Before moving ahead, we advise all users to ensure that they are using an active VPN connection with Kodi. A VPN is the only tool that provides security and accessibility at the same time. It encrypts your traffic and routes it through a secure tunnel. As well as, it hides your IP and replace it with your desired country's IP so that you can access blocked content on Kodi.
By the end of the article, we will provide you a list of Top 5 best VPNs. These VPNs are handpicked after complete analysis and testing.
✎ Read Also: What Is Kodi And How To Install VPN On Kodi?
So, let's start our easy step-by-step process to install Kodi on Apple TV.
Detailed Tutorial on How to Install Kodi on Apple TV
We will divide the process into two parts:
Requirements
Step-by-Step Guide
Requirements
Before moving to the installation part, there are a few things that you need to download onto your Mac before you start the process.
Installing Kodi on your Apple TV will be much easier if you line-up all these ducks in a row before starting the process.
Step-By-Step Process
First, connect your Apple TV to your Mac device by simply connecting USB-C to USB-A.
Now, launch Xcode on your Mac device and select "Create a new Xcode Project"
Select "Application" under tvOS and click on "Next" button
On the next screen under product name field, add a unique name like 'Your Name + Apple TV' and click on "Next" button
After it is done, Xcode will generate an error which says: "Matching Provisioning Profile" You don't have to worry about the error
Click on "Fix Issue" and wait until the issue is resolved
Once the error is removed, Xcode will create a provisioning profile based on your developer account.
Now, you need to sign in to your Apple Developer Account. Click on "Add Option" and then enter your username and password which you have created for Apple Developer Account
Once you are logged in, you will need to select Apple TV 4 from the dropdown menu
Minimize Xcode scree and open the iOS App Signer from the desktop
Click "Browse" on the iOS App Signer and select Kodi.ipa file that you have downloaded before starting the process
Now, select your Apple ID and click on iOS App Signer's Signing Certificate Box
Select the Project name you just created before at 'Provisioning Profile' in Xcode
"Input File" is the next stop, simply select it and put the '.deb' the file we downloaded earlier
After you entered all these information, click on "Start" It will give you an IPA file
Go back to Xcode Screen and select "Windows" then "Devices" and then select the 'Apple TV 4.'
Next, click on the '+' (Plus sign icon) button under the "Installed Apps" section
Lastly, locate the 'IPA File' created by 'iOS Signing App.'
Tada! Your Kodi is all set to be used on Apple TV 4 device. Apple TV 3 and Apple TV 2 users cannot use Kodi using these steps.
But there's always a workaround, check out our detailed guide on how to setup Kodi on Apple TV 3 and Apple TV 2.
✎ Read Also: 5 Best Free VPN for Kodi in 2017 – Is It Worth It?
How to Install Kodi on Apple TV 3 And Apple TV 2
As mentioned earlier, you cannot download Kodi directly on Apple TV 3 and Apple TV 2 as you can do with Apple TV 4 with the steps defined above. But you can mirror your Mac screen with your Apple TV screen.
All you need to do is to download Kodi on to your Mac device and then download "AirParrot" which will allow you to mirror just one specific app. The unfortunate part of this process is that you cannot use your device for anything else while your Apple TV 3 is still receiving content from Kodi app.
If you are a Windows user, you can use the same process to mirror your Windows device with Apple TV 3. And, Android users will need to download "Mirroring 360" app from Google Play Store. This app serves the same purpose as AirParrot.
✎ Read Also: 57 Best Kodi Add-ons For TV, Movies, Sports, Anime, Music And More
Concluding Thoughts
For some of our reader it must be a lot of work to install Kodi on Apple TV, but believe me, every effort to do this job is worth the hassle. Kodi is the best media player, and management tool available in the market and Apple is built to fulfill your streaming desires.
Once you follow the simple steps given above, in no time you will find you have Kodi up and running on your Apple TV device. And, once you are converted to Kodi, you will never look back.
Do remember, it is always good to be safe and secure with a VPN while using Kodi on any device. There are hundreds of Kodi VPNs available in the market, but only a few deliver as they promised. We have handpicked top 5 VPNs for Kodi. Check out the table below: