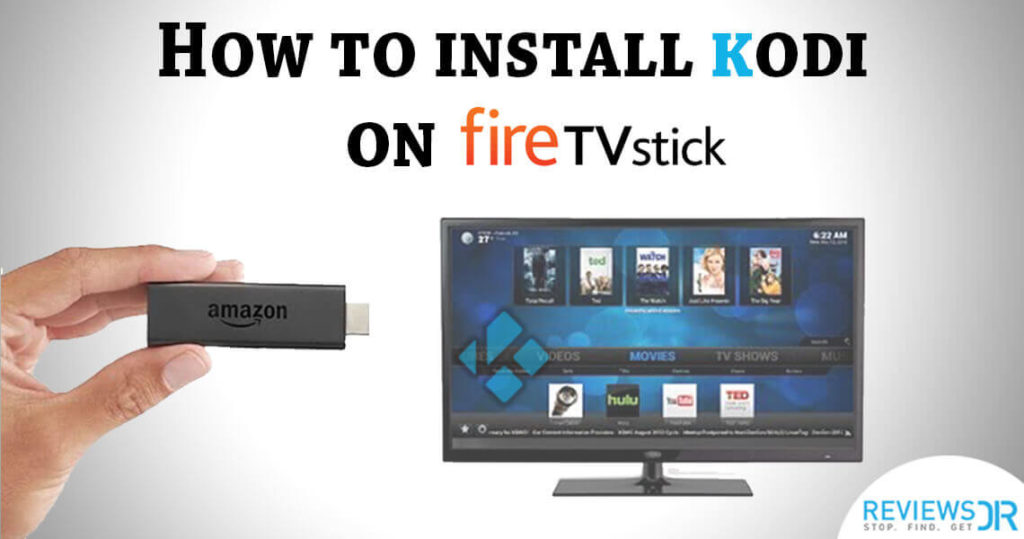 Amazon Fire TV and Fire TV Stick is an excellent streaming option for cord-cutters, but when it comes to its media center options, they're a tad bit limited. However, if you install Kodi on Firestick or Fire TV, you get hundreds if not thousands of options to stream unlimited content without even needing an Amazon Prime subscription.
Now, Kodi for sure open up a whole new dimension for Firestick users as different Kodi add-ons offer different streaming options but stay away from buying those 'Pre-loaded Firesticks or Fire TV' that comes with Kodi and its different add-ons pre-installed, because mostly these 'Piracy Boxes' contain different viruses, malware, and trojans, which can potentially steal your valuable data, hammer unwanted advertisements and may contain malicious add-ons. So, it'll be much better to install Kodi on Firestick yourself as the whole process is super-easy.
Kodi + Fire Stick – A Unique Yet Powerful Streaming Combo!
Kodi, previously called XBMC, won the hearts of millions of its users back in 2016 with its Jarvis release, but the recent Kodi 17.3 Krypton version has been the apple of the users' eye; making everyone update Kodi on Firestick. And that's where everyone started searching for how to Install Kodi 17 On Firestick or update Kodi 17 on Firestick.
If you have been listening to the news, version 17.2 of Krypton Kodi has caused a lot of trouble to its users.  The number of bugs caused them to release a newer version within a month of its previous update.
Installing Kodi 17 On Firestick – Upgrade Or Not To Upgrade?
The fundamental source of binge-watching pleasure is streaming Kodi on Fire TV coupled with some reputable Kodi add-ons available. For Kodi Jarvis version users, here comes the motivation: All Kodi versions from 17.1+ support HTTPS streaming! This is an extremely important update as all add-ons are being moved to HTTPS protocol to ensure maximum security.
Although you might have just downloaded Kodi 17.2 on your precious Firestick, you are in for a treat by the Kodi Development team. Your up-to-date Kodi 17.3 is 5 minutes away to be installed!
New To Kodi Or Firestick? A Quick Overview Before You Put Kodi On Firestick
Kodi is a streaming media player available on all platforms including Mac, Windows, Linux, Android, iPhone, Chromecast; you name it, Kodi Developers have the client for it. Kodi has the best community, features and has some of the best streaming add-ons there are in any media streaming player out there.
Fire Stick is a product by Amazon which is specifically made for streaming purpose. It is the size of a USB flash drive that you can just plug into your Fire TV or Smart TV's HDMI port and instantly get started with streaming content from Netflix, Hulu, Youtube and other famous streaming channels over WiFi.
Load Kodi On Firestick For Ultimate Streaming Experience
With the Amazon Firestick's top notch streaming media box with Kodi's back, you are in for an awe-inspiring jaw dropping experience.
Tired Of Looking For Lengthy Installation Guides But Still Kodi Not Working On Firestick?
Ever since the Amazon upgrade of Fire TV stick, previously released Kodi versions have stopped working on Firestick. Owners addicted to the smooth streaming and unlimited accesses to worldwide content through Kodi seek ways to overcome this painful obstacle.
Do not worry! Setting up Kodi on Firestick is still easily possible!
How To Install Kodi 17 On Firestick In Simple Steps
Although Firestick has a slow processing power compared to Amazon Fire TV, it is totally worth a shot. Here is a simple, easy-to-follow guide for you with snapshots.
Step 1:
1: Launch and load your Firestick device.
2: Go to "Settings".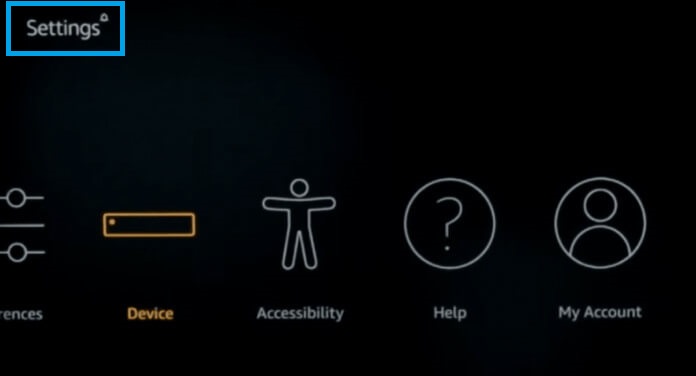 3: Go to the "Device" option and select it.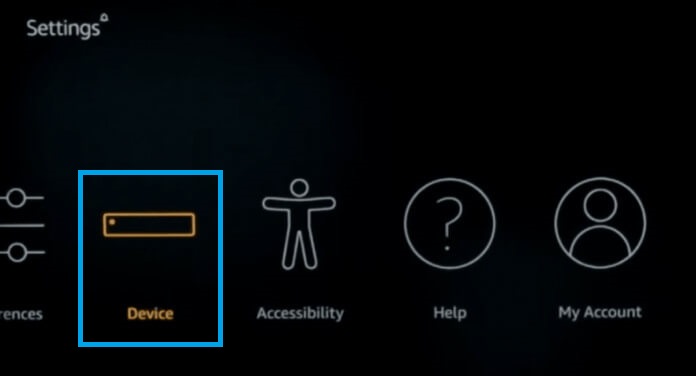 4: After selecting the Device option, choose "Developer options".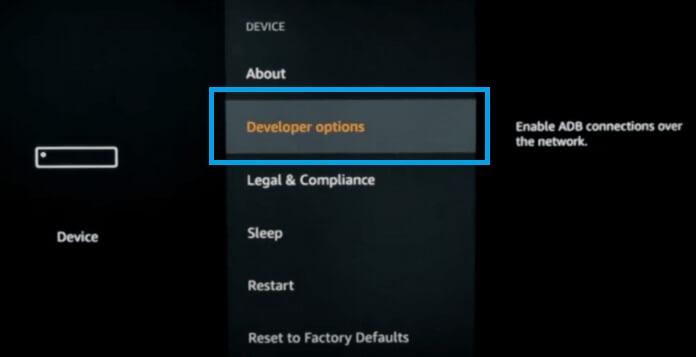 5: Click on "App from Unknown Sources". It will be 'Off' by default. Please switch it to 'On".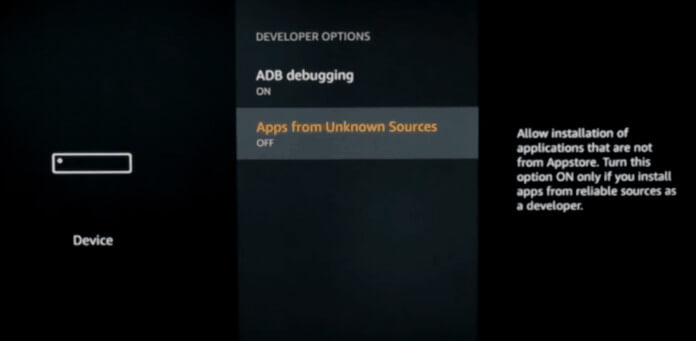 6: When you will turn this option 'On', a warning message will appear. Do not worry about it. The message will say, "When you use application from unknown sources, your Amazon Fire TV Stick and personal data are less secure and there is a risk of unexpected behavior. You agree that you are solely responsible for any damage to your device or loss of data that may result from using these applications." Just click on the "Turn On" option to get the Kodi upgrade on Firestick.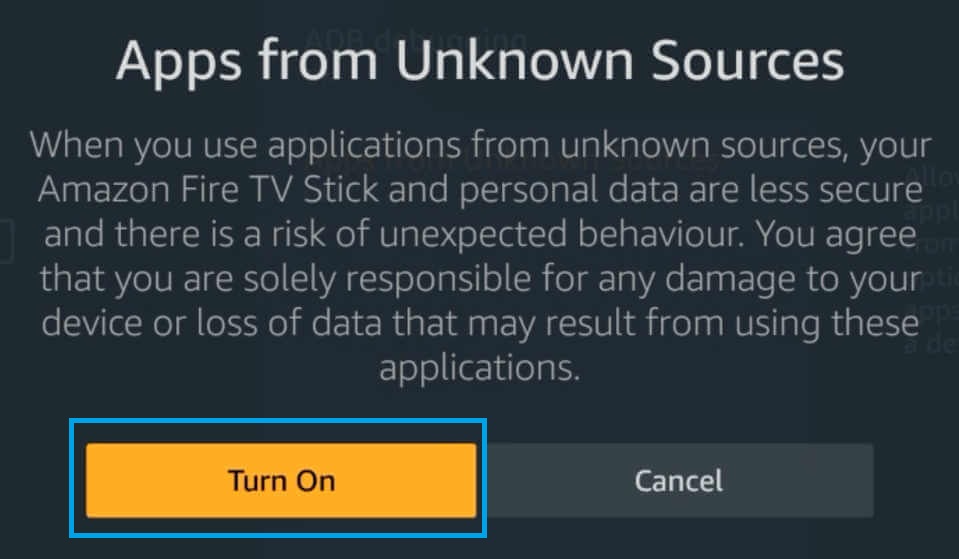 Step 2:
1: Return to the Home Screen of Amazon Firestick. Go to the top "Search" bar. The bar with the magnifying glass is the search bar.
2: Now you have to download "ES File Explorer". To search that, type in "ES File Explorer".
3: Go down and search for "ES File Explorer" from the list of all the results shown on the screen.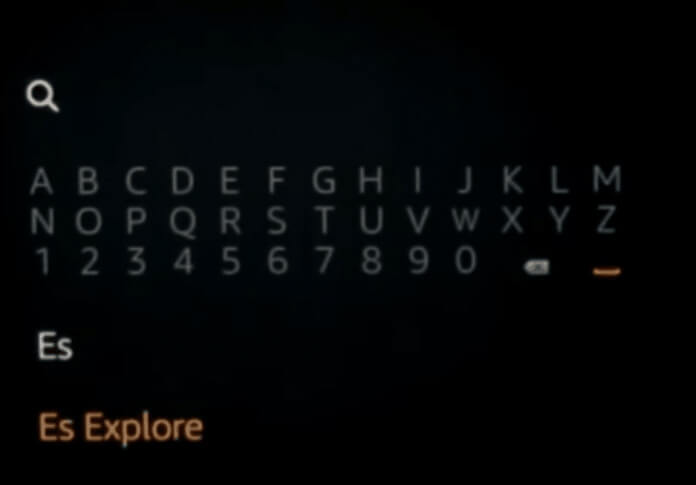 4: Selecting the "Download" button will get "ES File Explorer" on your Amazon Firestick.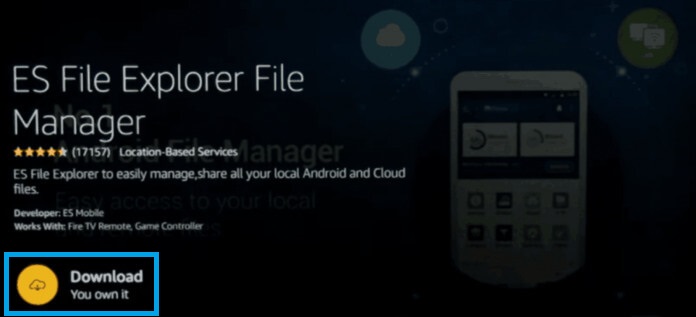 5: The download will take a little time. As soon as it gets downloaded, choose the "Open" option.
Step 3:
1: That application shall launch now. From the list at the left-most side, choose the "Favorites" menu from the home screen.
2: You will find the "Add" option at the top left-hand corner. Select that.
3: Two options will be shown. A "Path" and a "Name" slots have to be filled.
4: Select "Add" button after ensuring that all the details are correct. This will add Kodi to your favorites.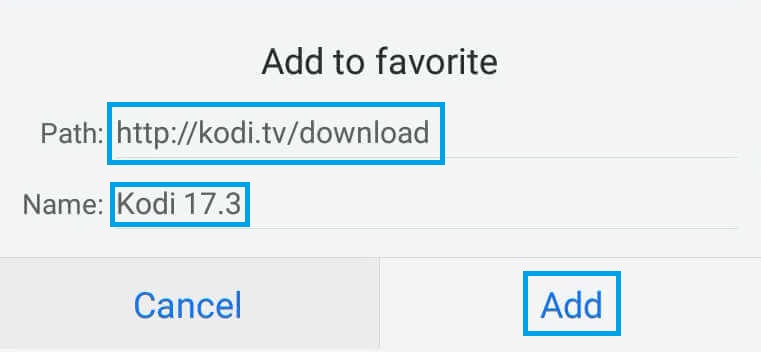 Step 4:
1: Setting Kodi 17.3 on Firestick is almost done. Go down all the way to the options available at the scroll on left side.
2: Select "Kodi 17.3"; the name that has been set by you.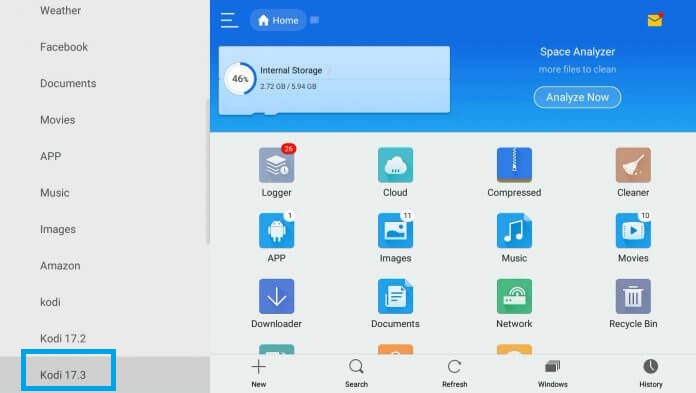 Step 5:
1: After clicking on this, official Kodi download page will be displayed.
2: Look up for the "Older Releases" option. At the end of the paragraph, "here" word will be highlighted in blue. Click on it.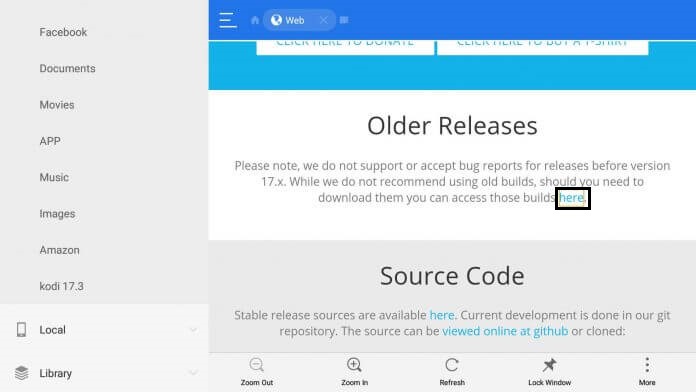 3: After it leads you to the next page, go to "android/" option.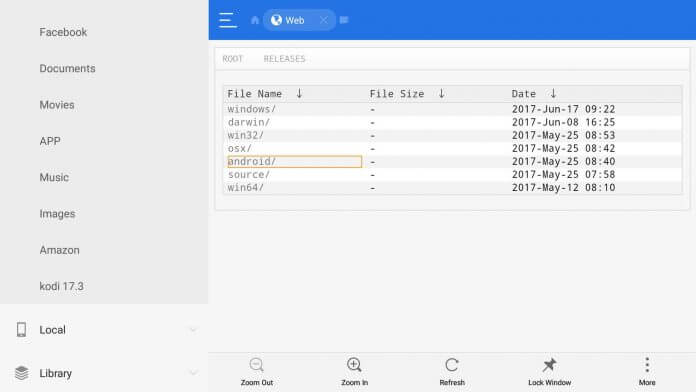 4: Choose the "arm/" box.
5: Select the "kodi-17.3-Krypton-armeabi-v7a.apk" box.
6: Please wait while Kodi downloads (which starts automatically). If your download does not start automatically, go to the "More" option with three dots at the right-hand side.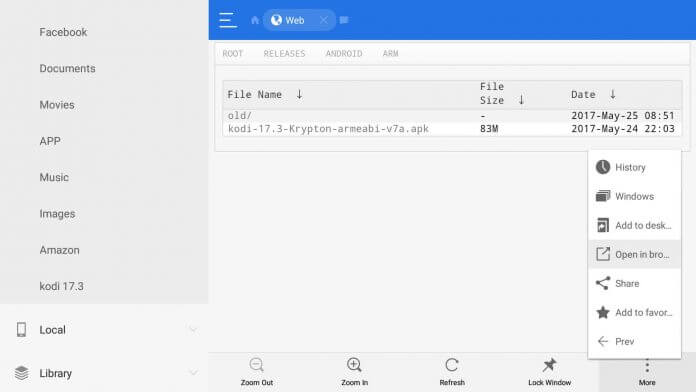 Choose the "Open in browser" option. A dialogue box shall ask you to choose between 'ES Downloader' and some internal Amazon app. Select "ES Downloader".
For ease of future preferences, choose "Always" and continue.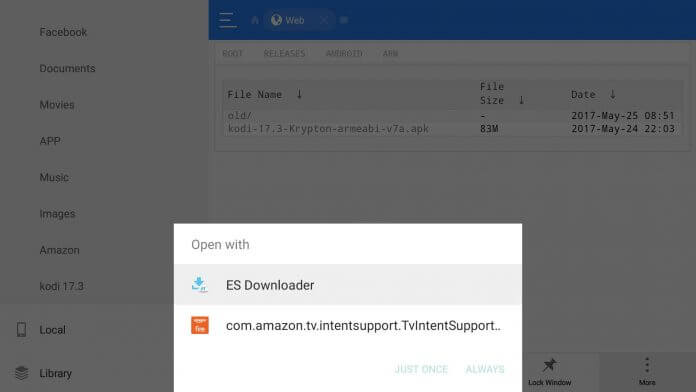 7: This will allow you to download Kodi 17.3 on your firestick. You can see the status bar and check when the download is complete. Please wait till the download reaches a 100%.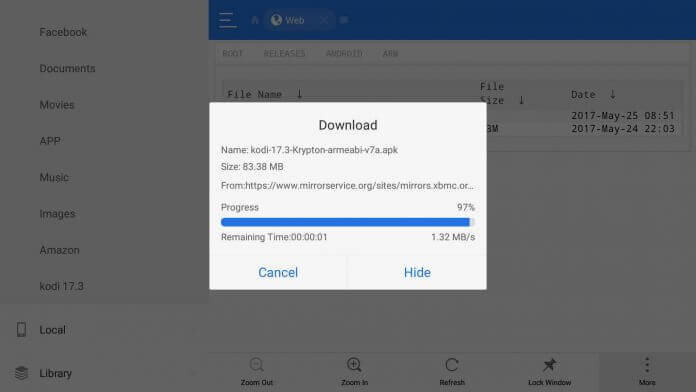 8: At download completion, the pop-up message displays a completion message. Go and click on "Open File".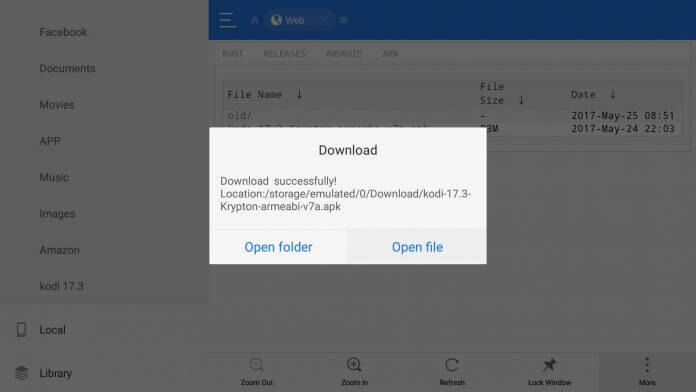 9: Click on "Install" from the window being displayed.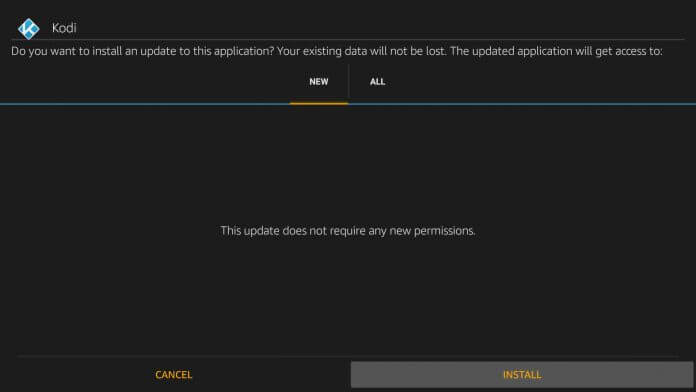 10: Kodi installation shall start taking place. As it takes a while to fully install on your device, please wait.
11: Select the "Open" button after completion of installation phase.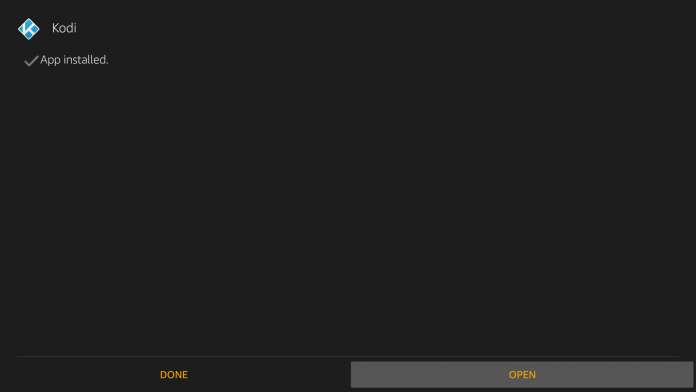 Congratulations! You've successfully put Kodi on Firestick. Kodi's latest version 17.3 is ready to be used and launched on your Firestick! The first time takes a while. Do not panic. The process will be much quicker for the rest of the times.
The much awaited Kodi home screen is now ready to be used by you! Install Kodi add-ons of your choice right away!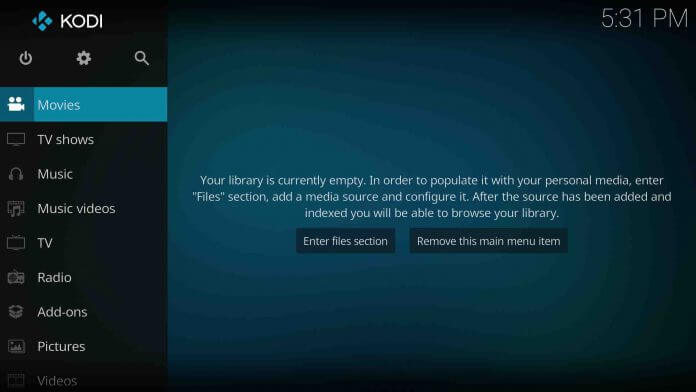 Fed-Up Of Kodi Buffering Too Much? Want To Access Inaccessible Content On The Web? A Kodi VPN Is Here For The Rescue!
Feedbacks from Kodi users have proven the already known fact that the combination of a VPN and Kodi v17.0+ solves all streaming problems!
Kodi 17.3 has major security tweaks that aim to provide an ultimate streaming experience without endangering its viewers. But, Krypton Kodi on Firestickusers has infringement of copyright notices storming their doorsteps, leaving them insecure more than ever.
This problem just needs a good spoofing protecting from a trusted Kodi VPN that can blow all your worries away. Not only this, VPN lets you add Kodi add-ons that are unavailable to others in your region! Access that censored and restricted add-on right now!
Kodi 18 Beta on Firestick – The Legal Affair!
Amazon Firestick users want the best of everything out in the world. For the tech savvy fanatics, version 18 Beta is out there for Kodi addicts. Try it out and experience the new horizons available at your service by Kodi Developers.
Please make sure you add licensed and legal streaming apps and Kodi add-ons. If you are unsure about the nature of the content being viewed by your preferred add-ons, it is recommended to you to acquire a VPN protection as soon as possible before the DMCA notices come knocking at your door for watching pirated content.
Although we do not encourage streaming illegal content on Kodi or Firestick but just in case you're yourself not aware of the legality of the content you're vieweing on your devices, it's better you equip yourself with a VPN. If afterwards you come to the realization of the nature of add-ons, as a good digital smaritan, it's your right to discontinue any illegal streaming resources.
Done Installing Kodi On Firestick? Get Full Access to All Kodi Add-ons On Your FireStick Now!
Do not let your ISP take away all the fun of using Kodi. Your full enjoyment package with unrestricted access to millions of global music, videos, and TV shows are just a VPN away.
Worried about your children installing an unlicensed add-on? Can you imagine getting into trouble for an apparently harmless cartoon, choose the VPN that suits you and your family and sleep a night without any dark cloud hanging over your home.
Kodi 17.3 Krypton on your Firestick device is definitely the entertainment package that you deserve. Enjoy live streaming and much more on your television right away!