Roku, one of the most popular media streaming set-top boxes is an ultimate source of movies, TV shows, and other kinds of media. With access to over 500,000 movies and TV episodes, it seems like Roku users don't have to search for another place for their entertainment. However, this isn't the case always. Those of you who dedicated their time to searching and downloading movies and making them a part of your locally stored collection know that sometimes Roku isn't enough alone. This is where another highly-capable application, named Kodi, comes into play. In this article, we'll explain how to install Kodi on Roku, and what Kodi on Roku means to the binge watchers.
The best thing about Kodi is that that it's an entertainment hub. It includes movies, TV shows, music, photos, Internet radio, in addition to extensive customization. This free-of-charge application has a vibrant community of developers who are expanding Kodi's abilities through add-ons. So, you might be wondering how to install Kodi on Roku?
You may think that Kodi and Roku are a match made in heaven, but you'll be surprised to know that the Kodi App is not available on Roku just yet. But don't fret since we're here to give you good news about the Kodi App for Roku, which is still in the works. You can still use screen mirroring to overcome this obstacle, which is exactly what we'll talk about. So, let's see how to mirror Kodi to your Roku device, in addition to plenty of other tips and tricks.
So Is It Really Impossible to Install Kodi on Roku? *MYTH*
So, the question is: can you install Kodi on Roku? We're sad to bring you this news, but no. There is absolutely no way to install Kodi on Roku directly. Nevertheless, there is a way to mirror Kodi from your other devices to your Roku set-top box. You'll get to use this app just like it's installed on Roku. You'll still get to stream your locally stored movies, music, and TV shows, in addition to having access to other popular streaming services like Netflix, Hulu, or HBO Go.
Let's take a closer look at why Kodi and Roku work together so great as they do. After that, we'll tell you how to mirror this application from different kinds of devices. We'll cover different devices and platforms so that anyone won't be left out.
How to Install Kodi On Roku?
Regardless of what kind of device you're using, there are a few basic steps to preparing your Roku device for Kodi. This will allow you to connect your Kodi with your Roku and enjoy your media on a large TV screen.
To prepare your Roku for Kodi, you need to enable mirroring. This is done by visiting Roku's settings and making sure that this device can be paired with your Android or Windows PC device. If you continue reading this article, you'll find additional and specific information on casting Kodi from your Android phone or tablet, or from your Windows PC.
Here are the steps for enabling screen mirroring on Roku:
On your Roku remote, press the Home button;
Now go to Roku's Settings and navigate to System Update. It's important to keep your Roku updates to enable seamless screen mirroring. If there's an update, apply it;
Finally, go to the Screen Mirroring within Settings and enable this option.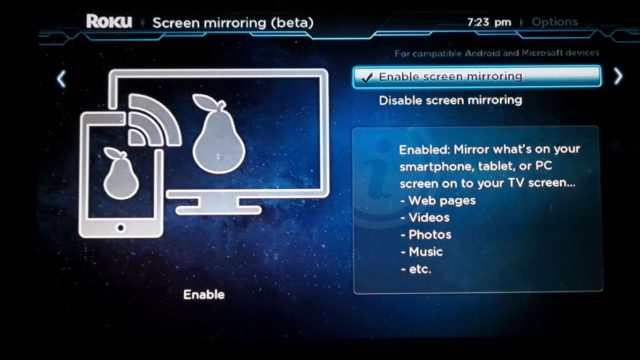 The first time you connect your device to Roku via screen mirroring, you'll be asked to accept this connection. If you click on "Accept," you'll enable mirroring only for this one time. To make it permanent, pick "Always Accept." This way, you won't have to go through these steps every time you want to use Kodi on Roku.
Why Is Kodi on Roku the Perfect Blend for Streamers?
The truth is that Roku already comes equipped with everything you need to enjoy all kinds of media. However, the biggest strength of Kodi is that it can be installed on a wide variety of devices. For example, you might be running a Linux flavor on your PC and using Nvidia Shield to stream media and play games on your TV. Thanks to Kodi, you can connect all of those devices and stream your content via Roku.
If you're looking to cut the cable TV cord finally, Kodi and Roku bring everything you'll possibly need. Even more than that, you'll get to enjoy in streaming movies and TV shows when and where you want it.
Why is Installing Kodi on Roku Stick Not Possible? What About Other Devices?
Roku offers a wide range of set-top boxes in addition to Smart TVs. Currently, you can find more of less powerful streaming devices like Roku Express, Premiere, and Ultra. There is also a very small streaming device, called Roku Stick. Nonetheless, it's important to understand that all of those devices work on the same kind of platform. What this means is that you can't install Kodi on any of those devices – but you can mirror it.
✎ Read Also: How To Install Kodi On Firestick In 5 Simple & Easy Steps
Can I use Kodi on Roku 2, 3, and 4?
In 2016, Roku brought a complete overhaul to their product lineup and expanded it to five different models. Still, even though this is the 5th major version of the original Roku, it still failed to bring compatibility with Kodi. Many of us hoped that Roku would finally open up its limits and allow a bunch of third-party apps to be installed by users, but it seems like we'll have to wait a bit more.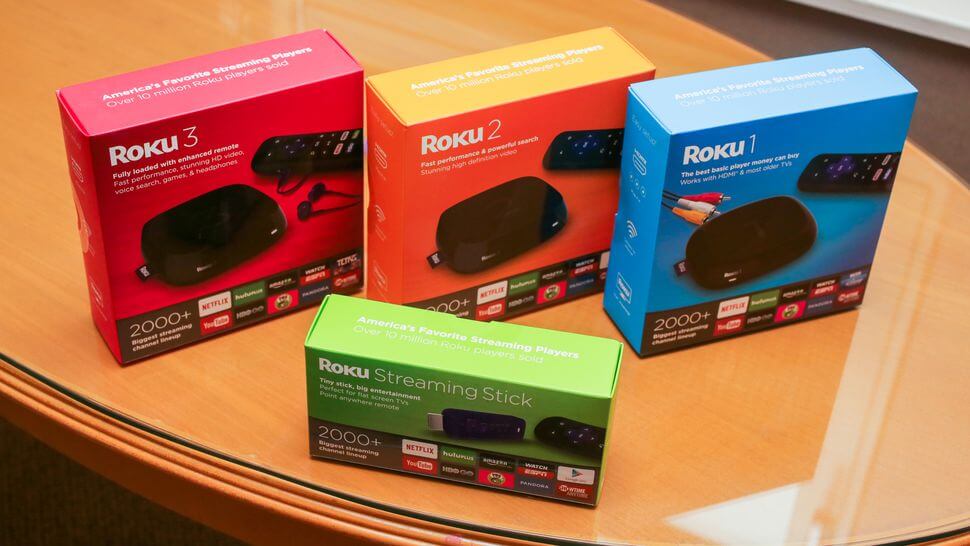 When it comes to previous generations (Roku 2, 3, 4), there are no differences between them in terms of Kodi compatibility. You still need to rely on mirroring.
What Do You Need to Know About Putting Kodi on Roku?
There are two ways to get Kodi on Roku. We previously said that mirroring is the only way to achieve this. However, there are two ways to mirror another device's screen to Roku, based on different wireless protocols. If your wireless connection is stable, fast, and not cluttered by other devices, you can count on wireless mirroring.
How to Stream Kodi Content to Roku?
If you decide to use your wireless Internet connection to stream Kodi content to Roku, make sure this connection is stable and strong. Roku already supports Miracast, which is one of the widely used screen mirroring protocols. The good news is that Miracast is also present on different smartphones and computers, which means that you're already set.
Streaming is done by launching Kodi on your phone or computer, and mirroring your content on Roku as it plays on some other device. Later in this guide, we'll go through different devices and their streaming methods.
How to Mirror Kodi to Your Roku Device?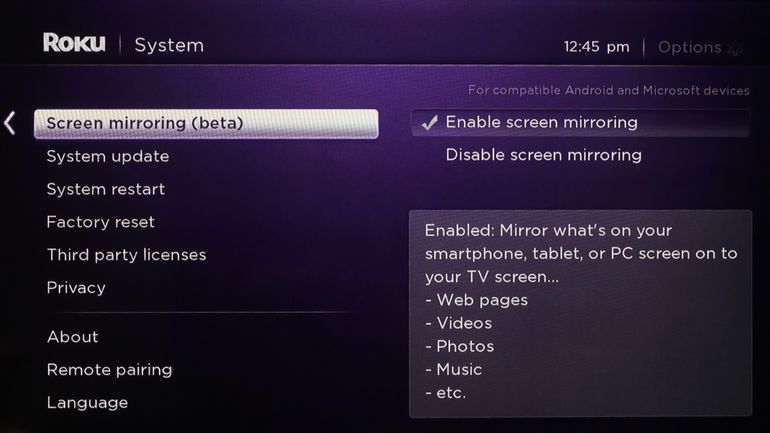 When it comes to mirroring, this means that you're copying your device's screen to another device's screen. In other words, you can connect your Windows PC to Roku and mirror your computer's screen to any Roku device. This also uses your Internet connection, so it's important to keep it strong and stable.
The best thing about mirroring is that it can be done from your Android and iOS devices, in addition to computers and laptops running Windows and MacOS. Let's see how Android and Windows users can take advantage of Kodi on Roku.
Get Kodi on Roku Using an Android Device
To enable screen mirroring from your Android device to Roku, your phone or tablet needs to run Android 4.4.2 or higher. In case you're not sure if your device qualifies, go to Settings and find the About section. This is where you'll usually see detailed hardware and software specs of your phone or tablet. Another important thing is to have your Android device and your Roku device connected to the same Internet network.
Now, we'll show you how to mirror your Android screen to Roku and enjoy Kodi as much as you want.
Go to the Settings app on your Android;
Navigate to the Display section within the Settings;
Find the Mirroring/Screen Cast option;
You'll see a list of different options, but the most important thing is to enable mirroring simply. You can also see the option to "Enable Wireless Display";
Finally, pick your Roku device from the cast screen.
✎ Read Also: 5 Best VPNs for Android to Be Anonymous and Secure Online
Get Kodi on Roku Using a Windows PC
The main prerequisite to using Kodi on Roku via Windows PCs is that your computer is running Windows 8.1 or higher. Here are the steps needed to enable mirroring on Roku.
Open Settings on your Windows PC. If you're unsure how to do this, activate the Start menu and search for Settings;
Now find the "PC and Devices" section;
From there, click on Devices, then Add Device.
You should see a list of devices that support wireless streaming and your Roku device will be among one of those. Tap on it to connect.
You can now use Kodi, which is going to be mirrored to your Roku and your TV screen.
✎ Read Also: 5 Best VPNs for Windows to Use in 2017
Get Kodi on Roku Using an iPhone or a MacOS Device
When it comes to Apple devices, they are more restricted when it comes to streaming and mirroring. At this point, it's not possible to stream Kodi to Roku. Still, you can use Kodi on your Apple-made devices locally and enjoy your media collections on different handheld devices and computers.
Tips & Tricks – The Best Features to Try on Kodi and Roku
Once you mirror your device's screen and finally get Kodi on Roku, you'll get to enjoy in numerous great features. Here are some of the best features to try on Kodi.
Movies: Kodi is known for supporting different kinds of media formats that can be played without any issues. This is also one of the reasons why you might want to expand Roku's capabilities. Aside from streaming online media, this application supports formats like ISO, H264, and even 3D movies that come in different formats.
TV Shows: You can use Kodi to organize episodes into seasons and other types of collections. If something is still not available on Roku, it might be available on some of Kodi's sources.
Music: Just like with other types of media, Kodi supports all kinds of popular and less popular audio formats. These are AAC, MP3, FLAC, and OCG.
Free Channels Available to Watch on Roku
If you ever get bored on your locally stored media collection in Kodi, you can take advantage of Roku's free channels. There are actually lots of free channels on Roku so we're to help you narrow down your choice. Here are a couple of suggestions.
NewsOn is a very interesting channel that streams news from around the country. You can even find your local news station and catch up on your local news.
PBS offers interesting documentaries and programming that you can enjoy completely free of charge.
PopCornFlix is there for any movie lovers. Even though its collection of movies isn't the largest one out there, you'll always find something interesting to watch.
And, What VPNs Should Work Great When You Install Kodi on Roku
There are a number of reasons why you'd need VPN for Kodi. Below are some of the very best VPN providers that can give the best streaming experience to stream Kodi and Roku.
Final Thoughts
We sincerely hope that we resolved any dilemmas about getting Kodi on Roku. Even though you can't install and run it natively, mirroring is still a viable option to getting this amazing application to your favorite streaming set-top box.
In case you'd like to add something, don't hesitate to post your thoughts in the comments section. We're interested in any tips and tricks, and we'll gladly include them in our guide.