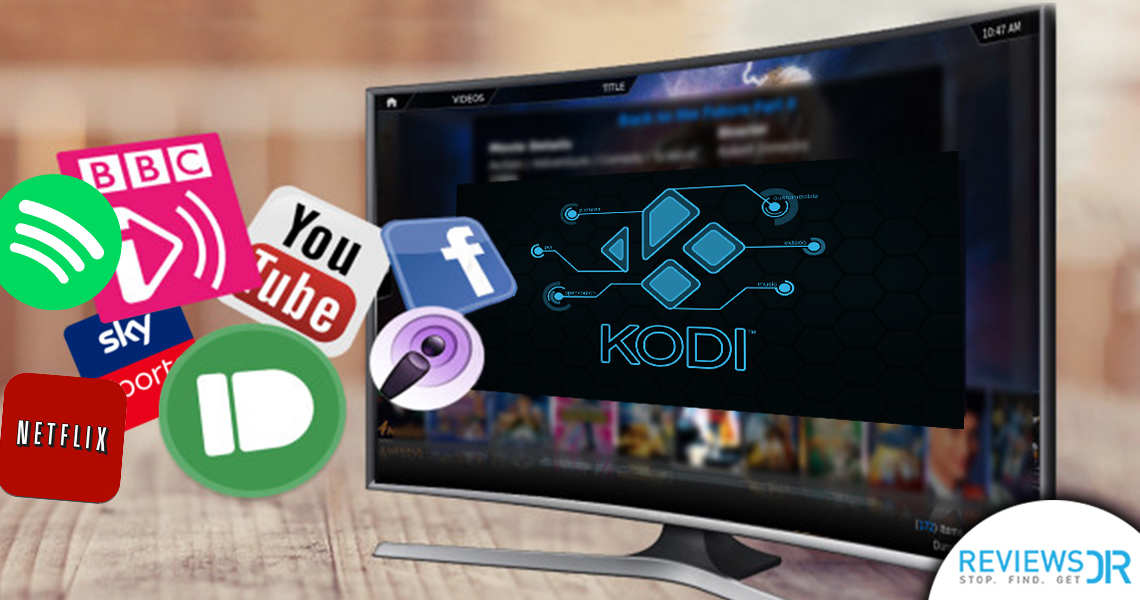 Kodi is a heaven for binge-watchers – a media player that brings all your sources of entertainment in one place. Thanks to the fantastic community that brings all the digital content to be streamed from Kodi media player. The player is itself doing an amazing job and has tons of remarkable features to play. While Kodi player is a magical wand for entertainment cravers, we've to agree that it's not easy to use also. We don't mean that it is complicated (it is simple though), however, for newbies, it can be a little tough to crack the gems of Kodi fully. But not to worry, as learning a bunch of Kodi tips will undoubtedly improve your experience with Kodi media player and make you stream like a pro.
As a gesture to share knowledge and empower our readers, we have decided to share the most useful Kodi tips and tricks we know.
10 Kodi Tips To Make Your Kodi The Best Media Player
Without further ado, we will jump right into the Kodi hacks and tips that can immensely improve your experience with the Kodi player. Each of the tricks will take you to a new level, and we are sure that by the end of this article, you'll be a champ of Kodi. So let's get started.
Kodi Tip 1: Custom Shutdown Timer
Did you know that Kodi has custom shutdown timer also? You can set a timer to switch it off at a particular time. It is a really helpful tool as it helps you to shut down Kodi automatically without having to do the manual work. This Kodi trick is indeed a useful way to give rest to your media player with an automatic counter. We've been doing this with our Kodi player, and we're already loving it.
How To Set Up Custom Shutdown Timer In Kodi?
Step 1: Start Kodi.
Step 2: On the bottom left corner of the home screen, press the power button.
Step 3: Press Custom shutdown timer, add the timings and activate it.
Step 4: Your Custom shutdown timer is activated. In case, you want to switch it off; you can use the same process.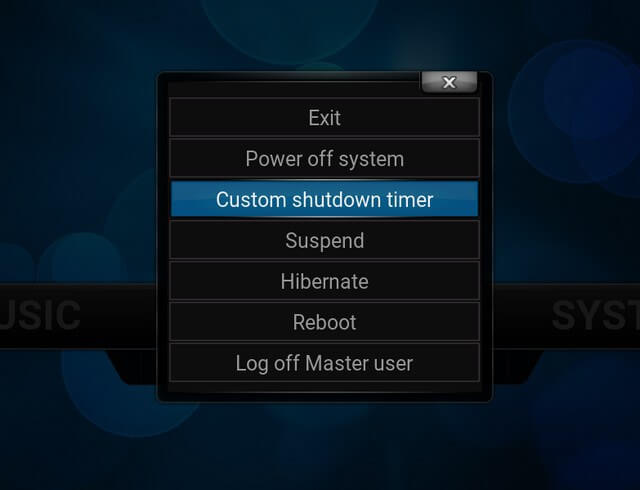 Kodi Tip 2: View All Add-ons On Your Kodi
Add-ons are like the channels on Kodi, each allowing you to watch the different content of your liking. Kodi without add-ons is as good as nothing. Having many Kodi add-ons is a good thing because it gives you choices, but it can get confusing at the same time. The solution is to know what add-ons you have installed on the Kodi and not clutter the media player with too many unwanted ones. The section where you can see all Kodi add-ons will display everything – from the built-in Kodi add-ons to the third party Kodi add-ons you installed to increase the usability of the software. Check our post of best Kodi Add-ons to install on your Kodi media player.
How To View All Add-ons On Your Kodi Player?
Step 1: Open Kodi.
Step 2: Go to System and then Settings.
Step 3: Now select Add-ons and move to My Add-ons.
Step 4: Here, you can see the add-ons present on your Kodi device.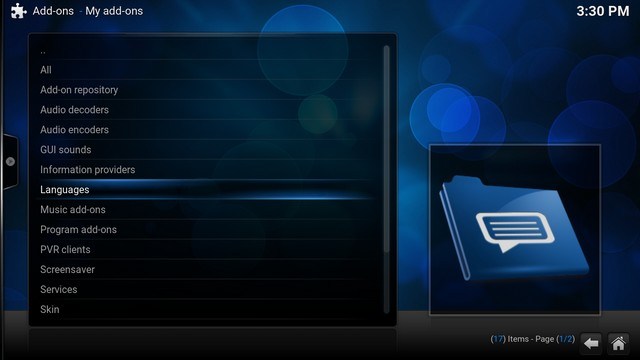 Kodi Tip 3: Change or Disable RSS Feed
Next in our Kodi tips and trick is disabling or changing RSS feed settings. Kodi has RSS feed running at the bottom of the homepage. It is from the Kodi official website. You can change the RSS feed or shut it down entirely. Disabling RSS feed is pretty easy. We will mention the steps later on. However, editing RSS feed is a bit different. You have to install an add-on "RSS Editor" to add, change or replace RSS feeds in Kodi.
How To Disable RSS Feed In Kodi Media Player:
Step 1: Open Kodi.
Step 2: Go to System and then Settings.
Step 3: Now select Appearance.
Step 4: Here you can disable "Show RSS news feeds".
Kodi Tip #4: Create Multiple Profiles
Kodi also allows you to create multiple profiles. It is basically like having a user profile on PC, which merely separates your content and favorites. Kodi profiles have usernames and passwords. You can edit the profile name, picture, lock methods, directory, media sources and many other options. It is good to have individual profiles on Kodi when two or more than two people are using the same Kodi device. A piece of advice to always keep your passwords protected or use a secure Wi-Fi network.
How To Create A Profile On Kodi Player:
Step 1: Open Kodi.
Step 2: Go to System and then Settings.
Step 3: Now select Profiles.
Step 4: Click on Add profile and create a new one.
Kodi Tip 5: Personalized Home Screen
By default, Kodi home screen is pretty empty and simple. However, you can add the colors of your personality in it by customizing it as per your taste. Kodi has options like Music, Video, Programs, etc. on the home screen already. You can add more options on it or choose to keep it empty. In fact, you can select your most visited add-ons and bring it on the home screen for quick access. In addition to the icons and options, you can change the wallpaper on the home page as well. That's by far one of the most amazing Kodi tricks we can all use to have a fantastic dashboard-like view.
How To Customize Home Screen In Kodi:
Step 1: Open Kodi.
Step 2: Go to System and then Settings.
Step 3: Now select Appearance.
Step 4: Choose Skin and then Settings.
Step 5: Here, select Home Window option to edit the information displayed on the home screen like video, albums, music, weather, etc.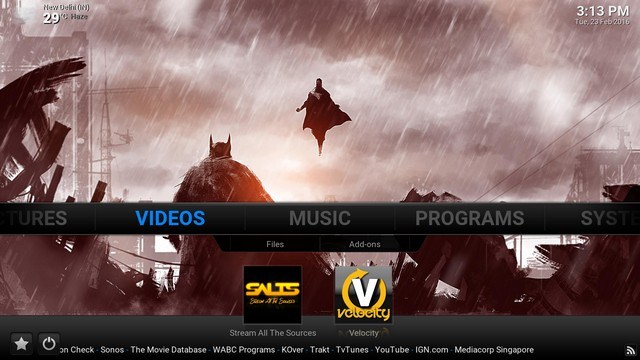 Kodi Tip 6: Adding Add-ons To Favorites
Kodi lets you have your favorites add-ons or their sub-categories on the home screen for fast access. The favorites button is right beside the power button in the form of a star. And the add-on can be added to favorites, be it music, program, video, etc. The process of adding an add-on to favorites in Kodi is very simple and easy. With this Kodi customization trick, you can have all your favorite addons at one place to use it whenever you want.
How To Add An Add-on To Favorites In Kodi:
Step 1: Open Kodi.
Step 2: Go to My Add-ons.
Step 3: Right-click on the add-on that you want to appear in the favorites.
Step 4: Select the option Add to favorites.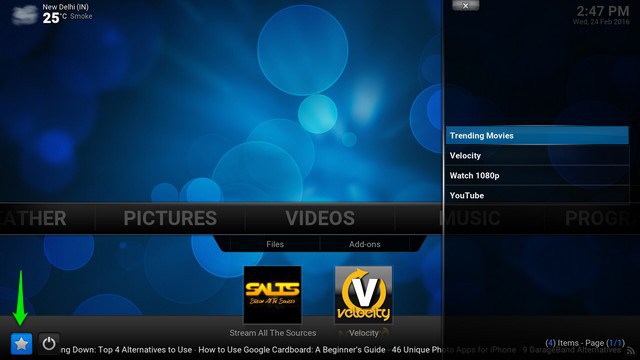 Kodi Tip 7: Select Region And Language
Next in Kodi tips and trick is changing the region and language. You can change the region and language in the Kodi to make it more user-friendly for yourself. The default language and region is English and US respectively. Kodi supports many regions and languages, but there is a long list of the same that's not supported by Kodi. The chances are that you will be able to find most popular languages like French, Russian, etc. However, Hindi, Chinese, and many other languages are not available on Kodi. Changing region and language is just another way to customize Kodi. You can always connect to fastest VPN service connection to change your location and to stream safely on Kodi.
How To Change The Language In Kodi Media Player:
Step 1: Open Kodi.
Step 2: Go to System and then Settings.
Step 3: Now select Appearance.
Step 4: Here choose International, you will see a list of languages, select anyone you want.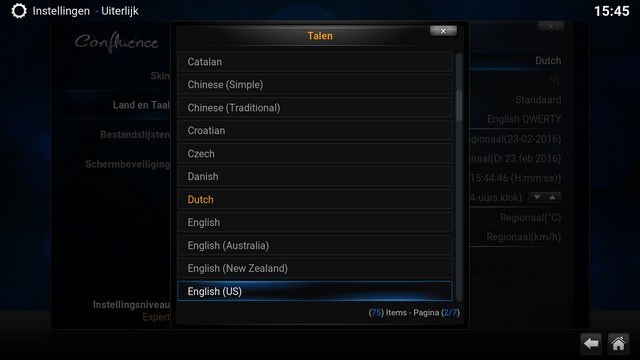 Kodi Tip 8: Enable Sleep Option
Sleep option is significant if you are habitual of leaving the device on and sleeping at night. The sleep option in Kodi works in the same manner as in any of your desktop or laptop. You can set a specific duration for Sleep option to save power on your Kodi device.
How To Enable Sleep Option In Kodi:
Step 1: Open Kodi.
Step 2: Go to System and then Settings.
Step 3: Select System and then Power Saving.
Step 4: Here you can activate Put display to sleep when idle and select the time duration.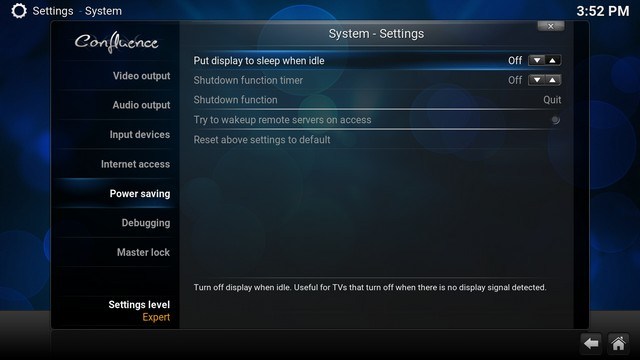 Kodi Tip 9: Adjust Settings Level
Kodi is brilliant in the sense that it has provided different settings level. Kodi is a platform that requires maximum customization to enjoy it fully. The default settings level is standard which is mild – it is neither too hard nor too easy. However, depending on your technical expertise, you can adjust it to Basic or Advanced or Expert. The reason Kodi has added these levels to ensure that everyone can customize it, regardless of their technical knowledge. If you notice, the bottom left corner mentions the current settings level.
How To Adjust The Settings Level in Kodi Player:
Step 1: Open Kodi.
Step 2: Go to System and then Settings.
Step 3: On the lower left corner, click on Settings level
Step 4: Change it to Standard or Basic or Advanced or Expert, as per your preference.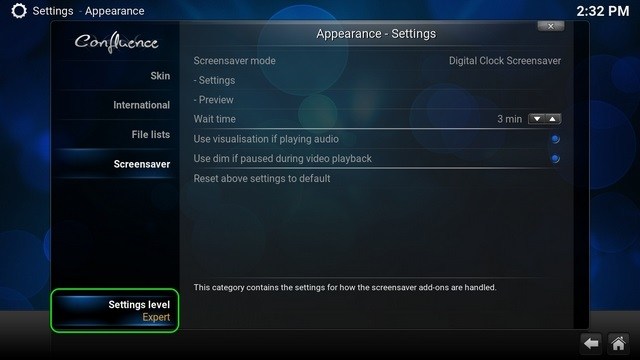 Kodi Tip 10: Enable Remote Control
The ability to control the Kodi device remotely is truly a blessing. You can do it through an Android device by installing an app. There are many Android apps on the play store for remote controlling Kodi. Of course, you need to enable remote control option in the Kodi first before any remote Android app can work.
How To Enable Remote Control Option In Kodi Media Player:
Step 1: Open Kodi.
Step 2: Go to System and then Settings.
Step 3: Select Services and then Web Server and select "Allow remote control via HTTP."
Step 4: Now enter Remote Control tab, then Web Server, and enable "Allow remote control by programs on other systems."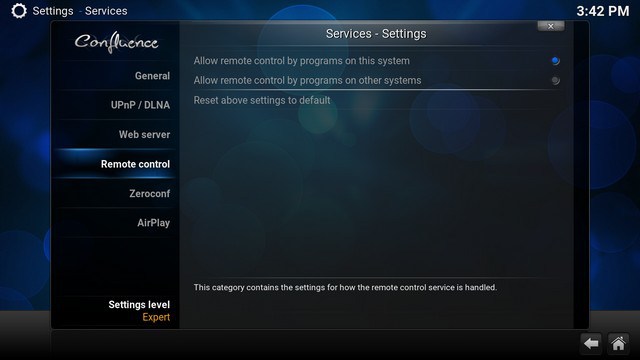 Note: The above mentioned steps are for Kore, the official remote app for Kodi. You can use this Kodi tip by installing other available apps also.
Kodi Tips And Tricks Truly Transforms The Platform
In our experience, Kodi tips and tricks truly transform the platform as per your taste. These are just minor adjustments but the results are often gratifying. We will recommend you to change Kodi media player with the help of the above mentioned Kodi tips and we guarantee that you will love the alteration. Kodi is a promising platform and it can give you so much joy. You just have to know the tricks of the trade, which, by the way, we have told you already.
The story doesn't end here. There can be several other Kodi tips and tricks that we can discover. Do you know any additional Kodi tips and tricks? Please share if you have any new trick to share with our readers. And don't forget to connect to a VPN when you stream on Kodi. Enjoy streaming on Kodi!