MMA fans, buckle-up as you're about to witness the greatest MMA event happening in Asia, Singapore this Friday, 26th May 2017. The Singapore Indoor Stadium is the venue which will be filled with roars and chants of hundreds of MMA fans witnessing the world-class MMA fights happening live. But, if you are unable to make it to the venue, then sit back and relax as we'll let you know how to watch One Championship: Dynasty Of Heroes live streaming online. Bear in mind that the channels mentioned are not available everywhere, so geo-restriction would come as a hassle, but fear not, we've also discussed its solution too.
Also Read: How To Watch Quest For Gold Live Online
One Championship: Dynasty Of Heroes Main Events
Angela Lee VS Istela Nunes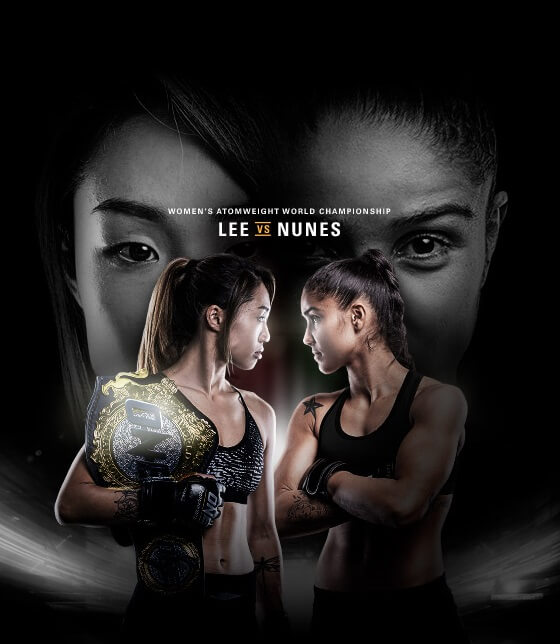 The featured and most talked about fight on One Championship: Dynasty Of Heroes fight card is for One Women's Atomweight World Championship between Angela Lee who is the undefeated reigning champion, against Istela Nunes who is two times Muay Thai World Champion. Although winning chances for Nunes looks thin, but, One Championship is famous for its unpredictability and anything can happen between the fight.
Ben Askren VS Agilan Thani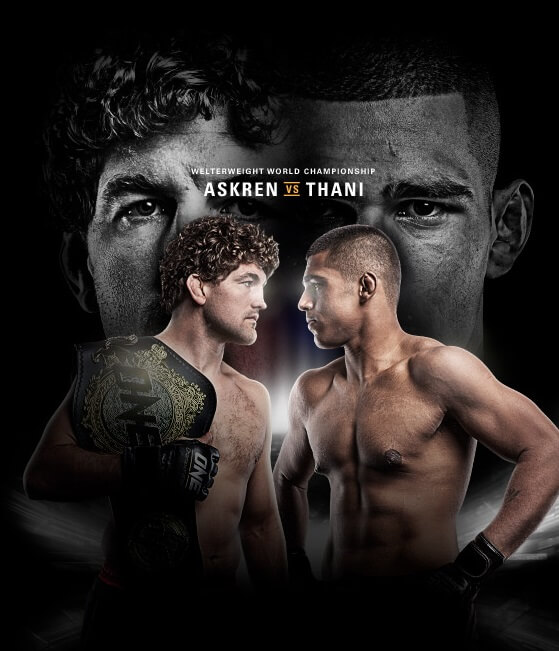 The other main event for One Championship: Dynasty Of Heroes is Askren Vs Thani fight. Ben "Funky" Askren is the current champion and Agilan "Alligator" Thani is the contender. This fight is for One Welterweight World Championship. This will be Askren's first fight in over a year and Thani is the undefeated Malaysian Champion. So, will we see a title exchange in this fight? Only time will tell.
One Championship: Dynasty Of Heroes Online Streaming Channels (Free & Paid)
So, these are the channels which will be broadcasting live streaming of One Championship: Dynasty Of Heroes online, but due to geo-restrictions and licensing issues, the channels are not available everywhere. But no worries, you can use these VPNs to access the restricted channels to live stream one championship online from anywhere in the world:
One Championship – Dynasty Of Heroes Complete Fight Card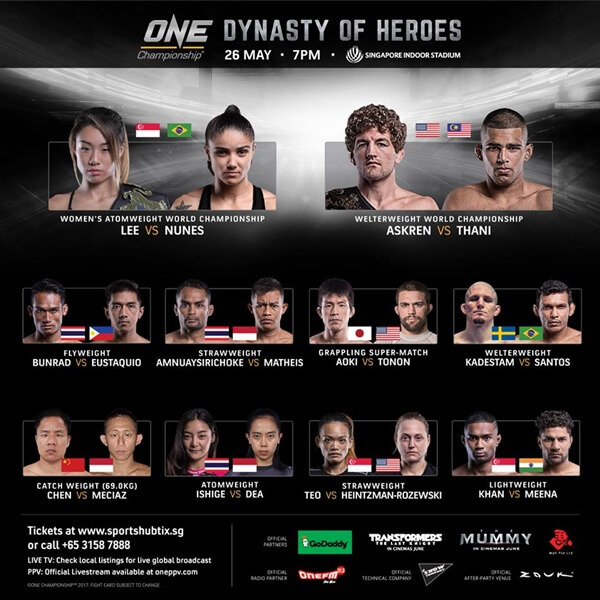 Angela Lee vs. Istela Nunes for ONE women's strawweight title
Ben Askren vs. Agilan Thani for ONE welterweight title
Shinya Aoki vs. Garry Tonon in an exhibition grappling bout
Amir Khan vs. Rajinder Meena
Luis Santos vs. Vuyisile Colossa
Dejdamrong sor Amnuaysirichoke vs. Adrian Matheis
Tiffany Teo vs. Rebecca Heintzman
Rika Ishige vs. Jomary Torres
Geje Eustacio vs. Anatpong Bunrad
Chen Lei vs. Jeremy Meciaz
So, Are You Ready To Watch One Championship: Dynasty Of Heroes Live Streaming Online?
FloCombat is live streaming One Championship: Dynasty of Heroes online, but it's a subscription based service, so, that's a legit way to watch the fight. Moreover, you can directly watch the fight by subscribing to the official One FC website to watch Dynasty Of Heroes fights live online for $9.99. If you're a US resident or a viewer who's trying to access the channels from European Countries, then your best bet is a VPN to watch the event. Viewers in Asian countries are mostly better off without it because they can contact their local cable provider to check if they're live streaming One championship in their area. Nonetheless, it's going to be a spectacular MMA event which is a must-watch.
One Championship: Dynasty Of Heroes Official Preview